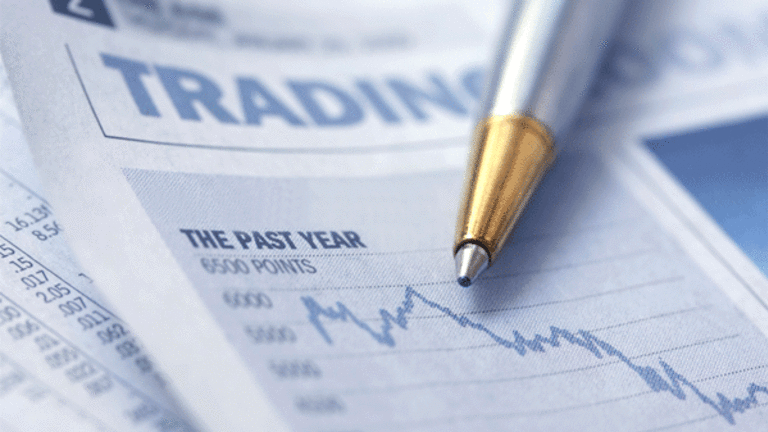 Leveraged ETFs: A Call for Coordination
A joint effort on the part of the CFTC, FINRA and SEC would be beneficial for the ETF consumer in the long haul.
A joint effort on the part of the CFTC, FINRA and SEC would be beneficial for the ETF consumer in the long haul.
WILLIAMSTOWN, MASS. (TheStreet.com) -- Morgan Stanley (MS) - Get Report (MS) - Get ReportSmith Barney is the latest firm to put the kibosh on leveraged ETFs. The wealth management division has noted that it will be making three major changes concerning the use of leveraged ETF products.
First, the firm will no longer solicit purchases of leveraged and inverse ETF products in traditional brokerage accounts. Second, advisory accounts will not be allowed to purchase leveraged funds. Finally, customer-driven purchases of leveraged ETF products will be more highly regulated.
Morgan Stanley Smith Barney's move to restrict leveraged ETFs comes in the wake of a widespread controversy surrounding the non-traditional funds.
Edward Jones
and
UBS
(UBS) - Get Report
were two of the first firms to curb the products with firms like
Ameriprise
(AMP) - Get Report
following soon after.
The Financial Industry Regulatory Authority's (FINRA) recent concern over the use of leveraged ETFs helped to spark the onslaught. In June, FINRA released a notice asserting that leveraged ETFs are "typically not suitable" for retail investors planning to invest for more than one day. FINRA later softened its statement by allowing that leveraged ETFs can be appropriate for short-term investors whose strategies are "closely monitored" by financial professionals.
Regulatory scrutiny has already proven to be a blow to the funds. Leveraged ETFs had net outflows of $1.56 billion in July, a strong reversal after a $1.8 billion gain the previous month, according to
TrimTabs Investment Research
. In the first seven months of 2009,
leveraged ETFs attracted more than $7 billion
.
Leveraged fund issuers like
Direxion
,
ProShares
and
Rydex
have responded to the regulatory squeeze by increasing disclosure on their websites and advertising. Direxion, creator of highly popular funds like
Daily Financial Bull 3X
(FAS) - Get Report
,
Daily Financial Bear
(FAZ) - Get Report
,
Daily Emerging Markets Bull 3X
(EDC) - Get Report
and
Daily Emerging Markets Bear 3X
(EDZ) - Get Report
, has extensive disclaimers on its website.
"The ETFs are not suitable for all investors and should be utilized only by sophisticated investors who understand leverage risk, consequences of seeking daily leveraged investment results and intend to actively monitor and manage their investments," notes the disclosure at the bottom of Direxion's online product list. "The Funds are not designed to track the underlying index over a longer period of time."
Direxion is also combating the outflow through diversification. The fund recently filed to premier a
130/30 hedge-fund strategy ETF
, similar to the
ProShares Credit Suisse 130/30 ETF
(CSM) - Get Report
. This sophisticated strategy will employ leverage in both directions, but will be likely aimed at a longer-term horizon for investors.
The sophistication of many nontraditional ETF strategies, like leveraged ETFs and futures-based commodity ETFs, takes away from the transparency that many investors expect from ETF investments. While these funds are
hedge-able by large profitable trading divisions
at firms like
Goldman Sachs
(GS) - Get Report
, it is difficult for retail investors to hedge with the underlying investments in these funds.
The Commodities Futures Trading Commission is attacking the problem from one side while FINRA routs out the problem from the other. While the issue for the former is commodities ETFs and for the latter leveraged ETFs,
futures and swaps are the issue in both cases
.
The CFTC, FINRA and SEC should join forces to regulate the use of these products, rather than launching separate campaigns. ETF issuers have used futures and swaps to enhance, and complicate, investment vehicles known for transparency and accessibility. While these funds are appropriate for sophisticated investors, traders in these funds should be identified as such before purchasing shares.
A coordinated effort on the part of these agencies would be beneficial for the ETF consumer in the long haul. A reclassification of traditional and non-traditional ETF products and an examination of sales procedures would help to protect consumers while allowing the ETF industry to grow.
-- written by Don Dion in Williamstown, Mass.
At the time of publication, Dion had no positions in the stocks or funds mentioned.
Don Dion is president and founder of
, a fee-based investment advisory firm to affluent individuals, families and nonprofit organizations, where he is responsible for setting investment policy, creating custom portfolios and overseeing the performance of client accounts. Founded in 1996 and based in Williamstown, Mass., Dion Money Management manages assets for clients in 49 states and 11 countries. Dion is a licensed attorney in Massachusetts and Maine and has more than 25 years' experience working in the financial markets, having founded and run two publicly traded companies before establishing Dion Money Management.
Dion also is publisher of the Fidelity Independent Adviser family of newsletters, which provides to a broad range of investors his commentary on the financial markets, with a specific emphasis on mutual funds and exchange-traded funds. With more than 100,000 subscribers in the U.S. and 29 other countries, Fidelity Independent Adviser publishes six monthly newsletters and three weekly newsletters. Its flagship publication, Fidelity Independent Adviser, has been published monthly for 11 years and reaches 40,000 subscribers.