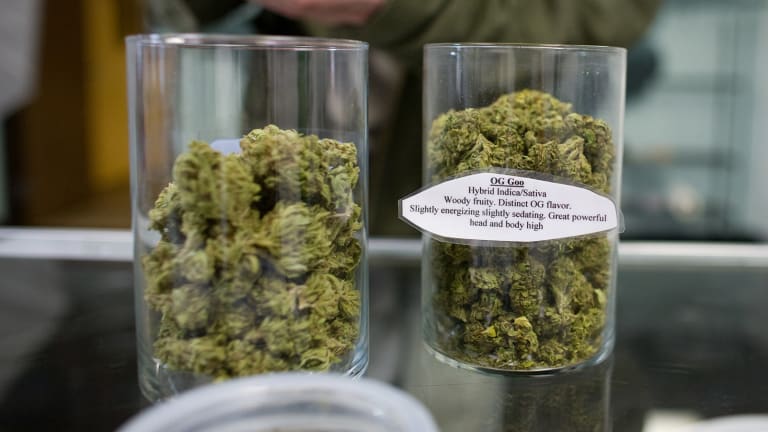 Launch of Cannabis ETF May Not Be Best Option for Investors
Although a cannabis ETF launched in April, investors are still likely to find more value in buying individual stocks in the sector, according to traders.
Although a cannabis ETF launched in April, investors are still likely to find more value in buying individual stocks in the sector, according to traders.
Although a cannabis ETF launched in April, investors are still likely to find more value in buying individual stocks in the sector, according to traders.
The Horizons Medical Marijuana Life Sciences ETF (HMMJ.TO) launched in April and could spur additional ETFs in the cannabis sector, but traders are cautious about this new investment. The fund includes both American and Canadian stocks with Insys Therapeutics (INSY) as its largest holding, consisting of 10.72% of its assets, followed by Aurora Cannabis (ACB) at 10.04% and Scotts Miracle-Gro Company (SMG) - Get Report at 9.8%.
"Although we are favorable to this development, we were concerned with its launch at the time due to the valuations of some of its holdings," said Michael Berger, founder of Technical420, a Miami-based company that conducts research on cannabis stocks, and a former Raymond James energy analyst. "While we think this is a good approach, we are cautious having a passive approach in a sector as volatile as the cannabis industry."
The fund is down 13% since inception, following a pullback from the highs in Canada's cannabis industry has pulled back from its highs.
While sector ETFs have traditionally posed less of a risk for retail investors who are loath to invest in individual stocks, cannabis ETFs could be ahead of their time, said Jason Spatafora, co-founder of Marijuanastocks.com and a Miami-based trader and investor known as @WolfofWeedST on Twitter.
"I'm of the opinion that it's still relatively early for these ETFs," he said.
Cannabis stocks remain largely undervalued as investors are skittish. The current options for mainstream investors in this budding sector are limited to a handful of companies listed on the Nasdaq, including GW Pharmaceuticals (GWPH) - Get Report  Insys Therapeutics, a Phoenix company known for its cancer pain management drug but is developing a cannabis-based drug for the treatment of epilepsy; Cara Therapeutics (CARA) - Get Report , a Shelton, Conn.-based clinical state biopharmaceutical company that develops and commercializes pain relief drugs; and Zynerba Pharmaceuticals (ZYNE) - Get Report , a Devon, Pa.-based company focused on developing and commercializing synthetic cannabinoid therapeutics.
Since "pot stocks" are cyclical, investors can easily follow their patterns which have emerged over the last few years, said Spatafora.
"Believe it or not there is a seasonality to many of these companies that typically goes from October through April," he said. "If investors take a look at charts based on the portfolio of companies this ETF is invested in, a pattern should emerge, which can tip investors off to exits and entry points excluding the fact of industry catalysts that can be impactful."
Owning individual equities in the cannabis sector generates higher returns than when compared to an ETF, said Berger. Investing in this sector is not suited for passive investors who prefer the buy and hold mentality.
"We take an active approach within the sector and believe investors should take advantage of individual opportunities," he said.
The rapid increase in the number of publicly traded cannabis companies has resulted in "fatigue" among investors, especially ones focused on the Canadian sector, said Berger. Other stocks which would be a good addition to a portfolio include the international approach taken by Canopy Growth (TWMJF) and Aurora Cannabis (ACBFF), he said. He also recommends Emblem Corp. (EMMBF), because it also focuses on the biotech side in addition to its cannabis business.
The Horizons Medical Marijuana Life Sciences ETF allocated 10% of its holdings to GW Pharmaceuticals (GWPH), which it is "one of the most attractive investment opportunities," that percentage was too high, he said. The company's stock pulled back by over 20% during the past quarter and most of its catalysts occurred in the first half of 2017.
"If we were Horizons, we would have never provided the stock an 10% allocation at the price levels it was purchased at," Berger said.
Another niche investment entering the market in a few months is a streaming model typically seen in the mining sector, said Spatafora. One company utilizing this strategy is Cannabis Wheaton (TSX.V:CBW), a Canadian company making direct investment into public and private companies.
Streaming business models are typically found in the mining industry and refer to when a company strikes a deal with a miner to purchase all or part of its future metal production in exchange for cash upfront. One well-known company is silver giant Silver Wheaton (SLW) .
"This works well because mining is a very cash intensive business and requires a lot of upfront capital," he said. "The cannabis industry is about to undergo a massive plant expansion that will be an serious capital burden on current marijuana producers, giving Cannabis Wheaton an advantage as a funder and equity partner based on terms of agreements."