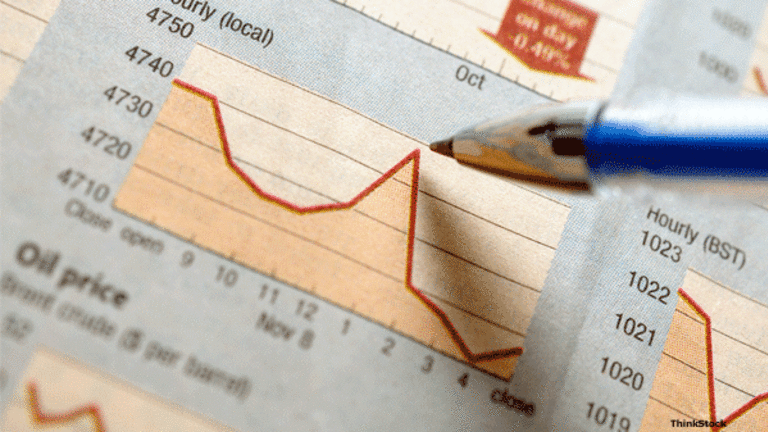 Large Bank ETFs Eye Earnings
A strong showing in earnings from big banks this week could further separate large bank ETFs from their regional rivals.
NEW YORK (
) -- Large financial institutions like
JP Morgan Chase
(JPM) - Get JPMorgan Chase & Co. Report
and
Goldman Sachs
(GS) - Get Goldman Sachs Group, Inc. Report
have bouncedback harder than many of their regional banking peers, a trend reflected in their respective ETFs.
While large-cap oriented funds
iShares Dow Jones US Financial Services
(IYG) - Get iShares US Financial Services ETF Report
and
SPDR KBW Capital Markets
(KCE) - Get SPDR S&P Capital Markets ETF Report
have risen 23% and 49% year to date, regional peers likeiShares Dow Jones US Regional Banks (IAT) and SPDR KBW Regional Banking KRE have fallen 10% and 24% respectively.
As a broad sector, financials have recovered substantially from March lows, but certain sub-sectors continue to lag others as investors recover from widespread market downturn.
Earnings announcements from big banks like JP Morgan,
Bank of America
(SYMBOL)
,
Wells Fargo
(WFC) - Get Wells Fargo & Company Report
, Goldman Sachs, and
Citigroup
(C) - Get Citigroup Inc. Report
could help to further separate the big boysfrom the rest of the pack.
J.P Morgan's Wednesday earnings announcement underscored the improvement for large financial institutions. Despite problems with delinquencies in its consumer and credit-cardoperations, it reported strong profits in its earnings call. Pricey deposits from Washington Mutual and the recovery of leveraged loansand mortgage securities helped to fuel the $3.6 billion in posted profit.
The banking sector, particularly small banks, still have a long road to recovery.
During the Q&A portion of the earnings call, a representative from JPM fielded a call fromanalyst Meredith Whitney about the firm's exposure to commercial real estate. The representative noted: "Commercial real estate and the values have already dropped, and it's going to be recognized over the next couple of years. We believe you are seeing several hundred additional smaller regional based banks go -- you know, not make it."
Nearly 100 U.S. banks have already failed in 2009, including the seizure of three bankslast week that brought the total to 98. There has been a correlation between size-of-underlying-banks and performance when it comes to regional banking ETFs KRE and IAT. While bothETFs cover the regional banking sector, IAT's portfolio is concentrated in larger super-regional banks as opposed to KRE's smaller banking sampling.
KRE and IAT are a case of two similar sounding ETFs with different underlying portfolios.According to Morningstar, KRE has the bulk of underlying assets, more than 87%, allocatedto small- and micro-cap firms. IAT has less than 23% allocated to small- and micro-firms, with the bulk of assets in large- and medium-cap firms.
Large, liquid and balanced ETFs like KRE are a good way to add small-cap exposure to yourportfolio. As smaller banks come under pressure, however, KRE's methodology has left thefund lagging IAT. In the year period ending Oct. 13, KRE fell 31.43% while IAT felljust 21.1%.
Regional banks, and the ETFs that track them, could continue to feel pressure in the shortterm. Reserves accrued for losses could continue to cause write-downs as commercial realestate slumps.
KRE's components may continue to lag IAT's as smaller banks fold. Beforebetting on IAT, however, investors should consider the fact that the fund's top fivecomponents, which comprise more than 44% of assets, could make the fund a volatile bet ifone takes a turn for the worst.
-- Written by Don Dion in Williamstown, Mass.
At the time of publication, Dion does not have any positions in the funds mentioned.
Don Dion is president and founder of
, a fee-based investment advisory firm to affluent individuals, families and nonprofit organizations, where he is responsible for setting investment policy, creating custom portfolios and overseeing the performance of client accounts. Founded in 1996 and based in Williamstown, Mass., Dion Money Management manages assets for clients in 49 states and 11 countries. Dion is a licensed attorney in Massachusetts and Maine and has more than 25 years' experience working in the financial markets, having founded and run two publicly traded companies before establishing Dion Money Management.
Dion also is publisher of the Fidelity Independent Adviser family of newsletters, which provides to a broad range of investors his commentary on the financial markets, with a specific emphasis on mutual funds and exchange-traded funds. With more than 100,000 subscribers in the U.S. and 29 other countries, Fidelity Independent Adviser publishes six monthly newsletters and three weekly newsletters. Its flagship publication, Fidelity Independent Adviser, has been published monthly for 11 years and reaches 40,000 subscribers.