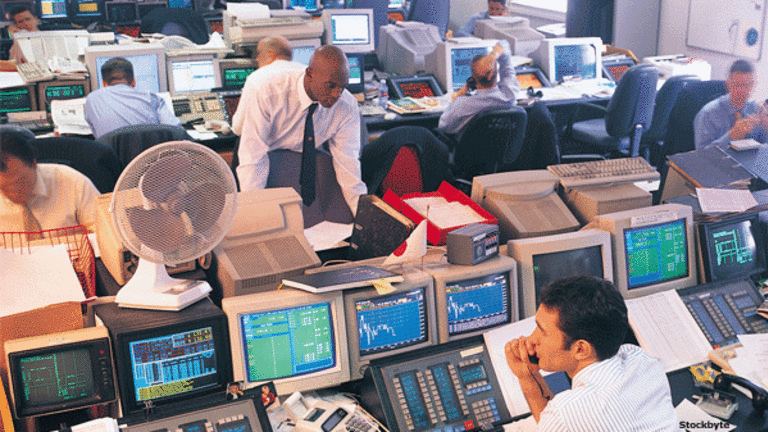 Keep an Eye on the Homebuilders
New signs of institutional buying in the home construction market make this an ETF worth watching.
Editor's note: This piece originally ran earlier today on our newest Premium service, ETF Profits. Click here for a 14-day trial to this exciting product!
Markets are known to be counterintuitive, and that's certainly the case now as major stock indices could be poised to hit fresh highs in the near term while oil prices are sky high, unemployment is rampant and the housing market remains sluggish.
After the market's strong performance on Friday, it's safe to say that the sound charts outnumber the weak ones. This is a positive. Along with several individual stocks, there's no shortage of ETFs that continue to work nicely.
The forgotten stepchild of the seven-month market rally has been the home builders -- and rightly so due to weak fundamentals. But I see a potential opportunity in the
iShares Dow Jones U.S. Home Construction
(ITB)
fund due to subtle signs of institutional buying.
The fund generally mirrors the performance of the Dow Jones U.S. Select Home Construction Index. Top holdings include
NVR
(NVR)
,
Lennar
(LEN)
,
Toll Brothers
(TOL)
and
D.R.Horton
(DHI)
, but the fund doesn't focus exclusively on homebuilders. Other top housing-related holdings include
Home Depot
(HD)
,
Lowe's
(LOW)
and
Sherwin-Williams
(SHW)
. ITB yields 0.6% and has a market capitalization of nearly $500 million.
Despite still-significant headwinds in the housing market (mainly too much supply and weak demand), I have seen some signs of institutional buying in several homebuilders, making the ITB an excellent ETF to watch. I'm not ready to buy it yet, but I will be if it crosses $14.
Why wait? Simply put, the odds are most in your favor when you buy with the trend. If ITB clears $14, the trend will be upward, and that means you could see more bouts of institutional buying as big investors place their bets on what could be a sooner-than-expected recovery in the housing market. Shares of ITB were recently trading around $13.15, down 0.2% on the day.
Recent price and volume trends in ITB indicate that it is being accumulated, and that is a good sign. Notice all the recent price gains on above-average volume (blue volume bars in the accompanying chart) and muted selling pressure. The chart pattern here has the look of a double-bottom formation, but it still needs time to fully take shape. This is a bullish technical formation, and it has yielded many successful breakouts over the years.
A key element of the double-bottom pattern is when the second leg down undercuts the first. This serves to shake out sellers. The fewer sellers there are, the easier it is for a breakout to take shape. Still, ITB needs to prove itself more. The main issue right now with this ETF is that it is still beneath its 50-day moving average, which could prove to be resistance -- or a ceiling -- for a while.
Recent housing data reveal a housing market that is still trying to find its footing. Good news is followed up by bad news and vice versa. On Feb. 24, January new-home sales came in at 284,000 units, below the 310,000-unit estimate. December new-home sales were revised lower to 325,000 units from 329,000 units. A day earlier, January existing-home sales clocked in at 5.36 million units, above the estimate for 5.23 million units. December existing-home sales were revised lower to 5.22 million units from 5.28 million units.
As I wrote last week, when it comes to overall market action, I believe the bulls can make a pretty good case for more strength in the indices. But those looking for a pullback have some ammunition as well. Recent heavier-volume declines in the indices since Feb. 9 must be heeded. For now, you don't want to be on the sidelines holding cash, but you don't want to be fully invested either. Nibble here and there, but use stops so that small losses don't get out of control. I generally limit losses to between 5% and 10% below my purchase price.
Some ETFs I highlighted last week continue to sport strong technicals and should participate nicely if the market enjoys another upward thrust. These include the
Semiconductors HOLDRs Trust
(SMH)
,
SPDR S&P Retail
(XRT)
and the
iShares Nasdaq Biotechnology
(IBB)
.
I took a long position in the
iShares UltraShort QQQ
(QID)
on Mar. 2, and it's currently trading around $50.64 (about 2% below my purchase price). The market's strength last Thursday was followed up by a resilient performance on Friday. This has me reassessing my position in QID, but there's no need for me to be too quick on the trigger. I will cut losses and move on if QID trades down to the $48.25 to $48.50 area. I never average down in price because I don't like throwing good money after bad.
At the time of publication, Shreve was long QID, although positions can change at any time..
Ken Shreve is manager of TheStreet's
model portfolio. An experienced commentator in the financial markets, Ken Shreve got his start with
Investor's Business Daily
in 1995, where he worked under the tutelage of one of the great growth investors, IBD Chairman and Founder William J. O'Neil. Over the years, Ken has taught several high-level workshops with William O'Neil & Co. Portfolio Managers. In recent years, his daily market wrap video was one of the most-visited areas of Investors.com. Ken continues to provide market commentary on national radio and has appeared numerous times on
CNBC
.