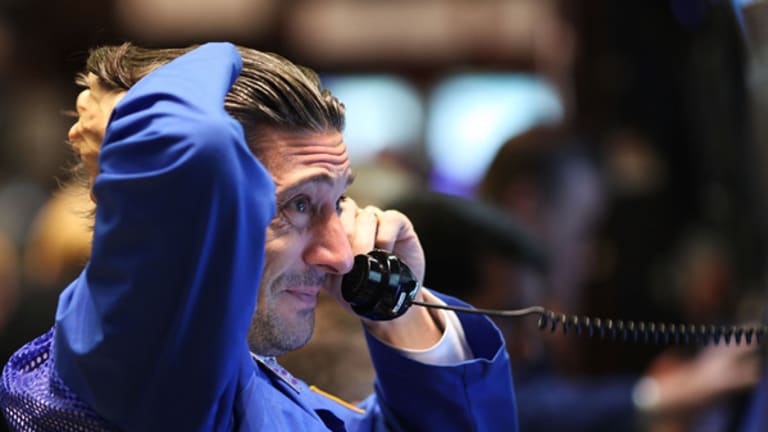 Jeremy Siegel Says Get Ready to Buy
The 'Wizard of Wharton' wouldn't let cash sit idle for long.
The "Wizard of Wharton" says don't worry.
"If investors have cash on the sidelines, they should not wait too long to put it to use," says Jeremy Siegel, Wharton business school professor at the University of Pennsylvania and well-known markets commentator. "There are good values out there in equities -- especially in financial stocks -- and you will be rewarded in the long run if you start dollar cost-averaging now."
To most investors, however, "the long run" seems a long way away when the market alternates daily between triple-digit gains and losses. Those wide swings are reflected in the spiking volatility index, or VIX, also commonly known as the "fear index," which has jumped from 12 to 26.5 over the past two months.
"Volatility is highest I can remember since 9/11," says Siegel. "Investors were spoiled by low volatility for so long, and they need to get used to it."
Once investors steel their stomachs to the market's waviness, Siegel says, exchange-traded funds, or ETFs, are the best way for them to put their toes in the water. ETFs are open-ended mutual funds, typically tracking an index, which can be traded like stocks throughout the course of the day.
| | |
| --- | --- |
| Want more? Check out TheStreet.com TV video. Gregg Greenberg sat down with Wharton Professor Jeremy Siegel. | |
They are also a structure that Siegel knows quite well. When he is not in front of the blackboard at Wharton, he is the senior investment strategy adviser to the ETF provider
Wisdom Tree Investments
undefined
.
Siegel's picks for investors who are ready to nibble away at beaten-down stocks are
WisdomTree Total Dividend fund
(DTD) - Get Free Report
, a domestic large-cap blend fund that ranks
General Electric
(GE) - Get Free Report
,
Citigroup
(C) - Get Free Report
and
Bank of America
(BAC) - Get Free Report
among its top holdings, as well as the
WisdomTree DEFA
(DWM) - Get Free Report
, a large-cap foreign stock fund that holds names such as
HSBC
(HBC)
and
BP
(BP) - Get Free Report
.
For investors who are truly ready to take on some risk, Siegel suggests taking a look at the
WisdomTree Emerging Markets High-Yielding Equity Fund
(DEM) - Get Free Report
, which is a fundamentally weighted index that tracks high dividend-yielding stocks selected from 19 emerging-market nations in Europe, Asia and Latin America. Companies are weighted in the index on the basis of annual cash dividends paid.
"Not too long ago, the emerging markets would see a bloodbath after one of the selloffs we've been seeing. But they are safer now than during the Asian currency crisis, for example," says Siegel. "They had depreciating currencies back then, but now they are appreciating. They are seeing capital inflows now instead of money trying to escape the country."
So if the recent credit shockwaves and hedge fund implosions won't do it, what would scare Siegel?
"I would get nervous if I saw lending truly freeze up in areas outside low-quality mortgages like autos and credit cards. If that happens, the
Fed
will cut aggressively, but I don't see it yet," says Siegel.
"As for hedge funds blowing up, that ultimately could be good for the equity market, because we will start to see some transparency again. A huge amount of money was removed from the system and hidden in places we did not know about. Now it's being discovered."
Before joining TheStreet.com, Gregg Greenberg was a writer and segment producer for CNBC's Closing Bell. He previously worked at FleetBoston and Lehman Brothers in their Private Client Services divisions, covering high net-worth individuals and midsize hedge funds. Greenberg attended New York University's School of Business and Economic Reporting. He also has an M.B.A. from Cornell University's Johnson School of Business, and a B.A. in history from Amherst College.