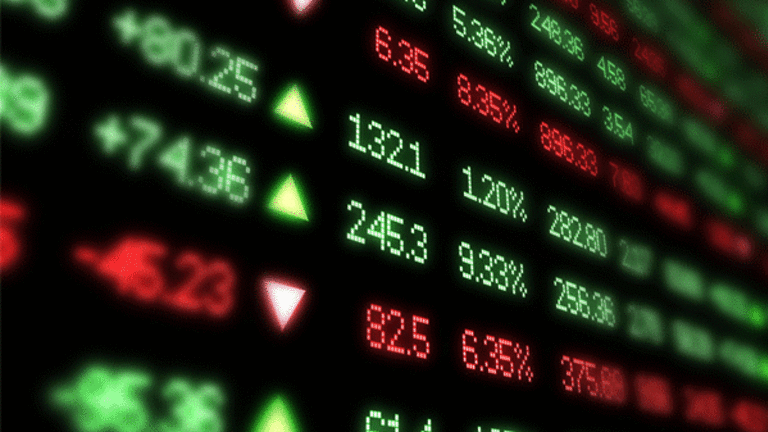 Japan ETF Investors Eye Yen's Strength
Investors need to consider the strength of the yen against the U.S. dollar before deciding on a Japan ETF investment.
Investors need to consider the strength of the yen against the U.S. dollar before deciding on a Japan ETF investment.
NEW YORK (TheStreet) -- Japan's markets are currently trading near seven-month lows, but there is reason to believe that a turnaround could occur in the nearfuture.
Japanese corporations are expected to have a good earnings season in the coming weeks, making this a potentially opportune time for investors to gain exposure to the country with an ETF such as
iShares MSCI Japan Index
(EWJ) - Get Report
or
WisdomTree Japan Hedged Equity Fund
(DXJ) - Get Report
.
Investors looking at Japan should take the yen's strength against the U.S. dollar into consideration when planning an ETF investment.
EWJ is unhedged to currency fluctuations, so a strengthening in the yen against the dollar will translate into an equal percentage gain in EWJ,before the performance of equity holdings is taken into account.
This can be helpful when the yen is gaining ground, as it has over thepast few months.
For instance, in the trailing three-month period, while the yen roseabout 5% against the dollar, EWJ was only down about 10%, whereas thebroader Japanese markets were down by about 15%.
Going forward though, the yen is reaching a point in its exchange ratewhen Japan's business leaders start to become concerned that itsstrength against the euro and the dollar will eat into sales and profitsgoing forward.
For instance, earlier this week, the chairman of the Japan AutoManufacturers Association made a comment requesting that the government act to prevent the yen from advancing against foreigncurrencies.
While the government seems willing to weaken the yen, it has yet to be seen, suggesting it may not have the power to influence currencymarkets.
However, considering that the yen is now pushing up against levels ofstrength that acted as resistance in the past, it appears likely thatthere will be room for the yen to weaken against the dollar goingforward.
This means that investors looking at EWJ right now will find that thesame currency effect that helped the fund in the past three months,could act as a drag on performance if it begins to move in the oppositedirection.
ETF investors interested in Japan are fortunate though since there is asolution to this problem in the form of DXJ. This ETF hedges againstcurrency fluctuations so that investors are exclusively exposed to theequity holdings in its portfolio, which are comparable to those of EWJ.
Investors that are new to Japan can choose between EWJ and DXJ depending on which way they think the yen will move against the dollar over the course of their investment time horizon. For a period of yenstrengthening, EWJ is the best choice. For a period of weakening, gowith DXJ.
Very savvy investors could even switch between the two funds over the course of their interest in the country in order to maintain exposure toJapan while taking advantage of or avoiding currency fluctuationsdepending on the circumstances.
Despite the rapid expansion of ETFs, Japan remains one of the fewcountries that investors have the choice to use a fund that hedgesagainst currency fluctuations.
Investors looking to play earnings season in the country over the nextfew weeks should take advantage of this and pay attention to thecurrency factor before deciding how to bet on the country.
-- Written by Don Dion in Williamstown, Mass.
Readers Also Like:
>>10 CEOs Earning a Year's Salary in an Hour
At the time of publication, Dion Money Management was long iShares MSCI Japan Index.
Don Dion is president and founder of
, a fee-based investment advisory firm to affluent individuals, families and nonprofit organizations, where he is responsible for setting investment policy, creating custom portfolios and overseeing the performance of client accounts. Founded in 1996 and based in Williamstown, Mass., Dion Money Management manages assets for clients in 49 states and 11 countries. Dion is a licensed attorney in Massachusetts and Maine and has more than 25 years' experience working in the financial markets, having founded and run two publicly traded companies before establishing Dion Money Management.
Dion also is publisher of the Fidelity Independent Adviser family of newsletters, which provides to a broad range of investors his commentary on the financial markets, with a specific emphasis on mutual funds and exchange-traded funds. With more than 100,000 subscribers in the U.S. and 29 other countries, Fidelity Independent Adviser publishes six monthly newsletters and three weekly newsletters. Its flagship publication, Fidelity Independent Adviser, has been published monthly for 11 years and reaches 40,000 subscribers.