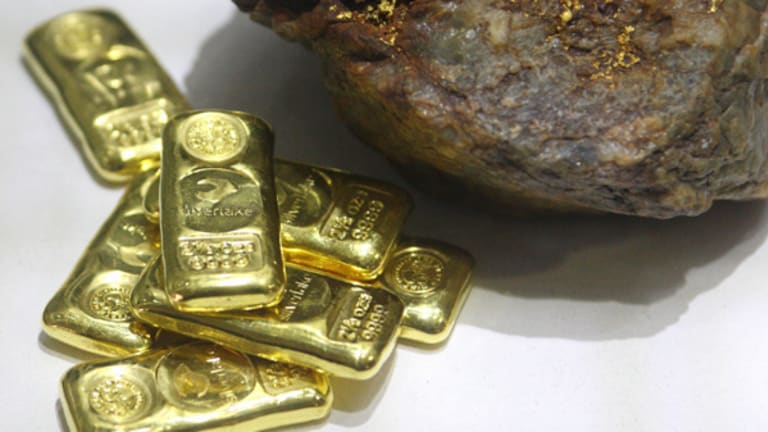 Is Gold Just Another Metals ETF?
If the world economy is stabilizing, is there still a need for a gold fund?
NEW YORK (ETF Expert) -- There was a time when gold exchange-traded funds seemed unstoppable. They worked when the global economy hummed. They provided relative safety when the world economy collapsed.
They hedged against inflation. Heck, they even appeared to hedge against deflation. There were very few folks who benefited from bad-mouthing the yellow metal as the commodity ran from $850 an ounce up through $1,900 an ounce.
It follows that when the
Federal Reserve
double-downed on its commitment to electronic money creation for quantitative easing (QE) last September, one might have anticipated a surge in gold prices. Dollar devaluation has often led to spikes in alternatives to fiat currencies like
SPDR Gold Trust
(GLD)
and
iShares COMEX Gold Trust
(IAU)
.
Something changed over the last year, however. Not only have gold ETFs been a drag on diversified portfolios, but their price movement have lined up with industrial metals. For example, GLD has demonstrated a remarkably high correlation (.93) to
iPath Copper
(JJC)
across a 12-month period. Industrial metals like copper have struggled for several years due to the global slowdown in economic growth, particularly in China.
On the other hand, useful metals like copper do not typically travel the same path as precious metals. The three-year correlation coefficient between JJC and GLD is -.05. What's more, prior to the start of 2012, these assets nearly demonstrated a strong inverse relationship, not a strong positive one.
Perhaps ironically, metals ETFs, resources-based stock ETFs and resources-based country ETFs all received a much-needed boost last week. The reason? Chinese imports had surged nearly 11% from a year earlier. Stabilizing and/or improving demand from one of the world's fastest growing economies is certainly capable of sending commodities skyward and resources-related stocks rocketing.
So here are several questions for the gold bugs as well as the naysayers. If the world economy were actually stabilizing -- even improving -- would a gold ETF be more desirable or less desirable?
Economic growth often coincides with inflation. While gold will never be as "useful" as silver, platinum, copper or palladium, the Chinese have always coveted the shiny metal. What if the world economy continues to deteriorate, in spite of green shoots or a few positive data points?
Economic uncertainty as well as unprecedented levels of monetary stimulus used to encourage inflows into gold ETFs. While gold has been moving in lock-step with industrial metals for a year or more, history has often treated precious metals differently.
This article was written by an independent contributor, separate from TheStreet's regular news coverage.
Disclosure Statement: ETF Expert is a website that makes the world of ETFs easier to understand. Gary Gordon, Pacific Park Financial and/or its clients may hold positions in ETFs, mutual funds and investment assets mentioned. The commentary does not constitute individualized investment advice. The opinions offered are not personalized recommendations to buy, sell or hold securities. At times, issuers of exchange-traded products compensate Pacific Park Financial or its subsidiaries for advertising at the ETF Expert website. ETF Expert content is created independently of any advertising relationships. You may review additional ETF Expert at the site.
Gary Gordon reads:
On Twitter, Gary Gordon follows: