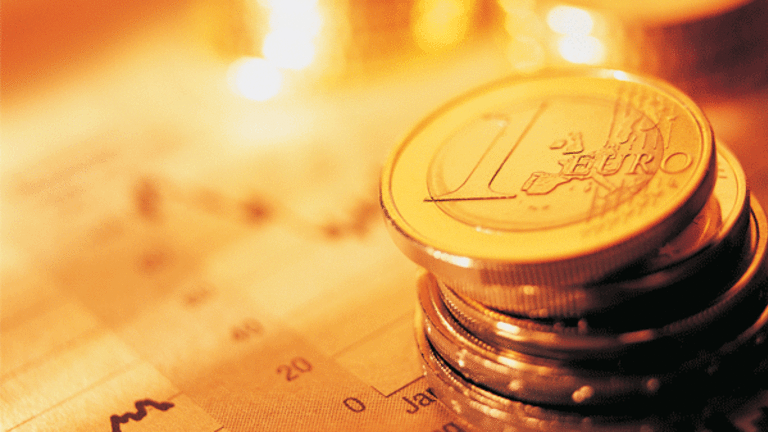 IPFF Puts Yield Into Fixed Income Portfolio
The iShares fund can be part of a solution for investors looking for safe yield in a zero percent world.
NEW YORK (TheStreet) -- Over the weekend the Barron's cover story was about how to construct an income portfolio. Oddly, the article left out preferred stocks and preferred stock ETFs -- surprising especially since last week iShares launched the iShares S&P International Preferred Stock Index Fund (IPFF) .
Financial institutions issue by far the most preferred stock and, indeed, financials make up 84% of this new fund. But fortunately there is no exposure to the eurozone. Canada is the largest country at 73% followed by the U.K. at 10% and New Zealand at 8% before getting smaller from there.
The larger issuers in the fund include
Swedbank
from Sweden,
Quayside Holdings
and
Kiwi Capital Securities
which are both from New Zealand, energy company
Transcanada
and the large Canadian banks like
Royal Bank of Canada
and
Toronto Dominion
.
Follow
TheStreet
on
and become a fan on
For some other nuts and bolts, the expense ratio of the fund is 0.55%, 93% of the holdings are perpetual preferreds and the credit ratings range from A to BB, with 34% of the fund having no rating.
IPFF is likely to be very similar to the
Global X Canada Preferred ETF
(CNPF)
which started trading last May and obviously is 100% Canada, owning the same issues from Transcanada and all the banks.
iShares reports the yield of the underlying index at 5.75%, implying a 5.2% yield for the fund after accounting for the 0.55% expense ratio. The nature of ETF yields is such that the payouts can be lumpy, based on when the constituent companies pay and the rate at which new assets migrate into the fund.
Knowing the Risks
Currency values pose a risk to this ETF. If the dollar were to go up a lot, as it did in 2008, then investors should expect IPFF to go down a lot. This is not necessarily an argument against buying the fund, but for having proper sizing in a fixed income portfolio.
The other big risk is the nature of preferred stocks trading during a crisis. In 2008, we saw preferred stocks in the U.S. and the UK drop by more than 50%. If the fundamentals in Canada were to go through something similar then it is logical to expect the preferred stocks from the Canadian to also drop by more than 50%. I think this is an extremely remote possibility but 2008 sets a baseline of worst-case scenarios for many asset classes, not just preferred stocks. It is worth noting that the preferred stocks of the surviving banks did recover.
This fund obviously plays into an increasingly important theme, which is that investors are trying to find relatively safe yield in what amounts to a zero percent world. We've covered the need and demand for yield recently and noted that one source would be fixed income products denominated in foreign currencies.
IPFF should be thought of as part of the solution for incorporating yield into a fixed income portfolio. It would also make sense to consider including funds like the
Guggenheim BulletShares 2015 Corporate Bond Fund
(BCSF)
. The fund's trailing yield of 2.4% is low but better than zero and, going out to 2015, it does not take on extreme interest-rate risk. The
iShares Barclays Aggregate Bond Fund
(AGG)
has a trailing yield of 3.2% and takes on a longer average maturity than BCSF, but could certainly be thought of as a core fixed income holding.
Another segment to consider is foreign bond ETFs like the
WisdomTree Australia and New Zealand Debt
(AUNZ)
-- although a new fund, it will likely yield close to 4%.
The above are just examples. The key takeaway is exposure that under normal market conditions are vulnerable to different things so that not every fixed income holding would go down at the same time.
Readers Also Like:
>>
10 Bank Stocks Ready for a 2012 Dividend Boost
>>
10 Dividend Stocks for a Safe 2012
At the time of publication, Nusbaum had no positions in any of the shares mentioned, although positions may change at any time.
Roger Nusbaum is a portfolio manager with Your Source Financial of Phoenix, and the author of Random Roger's Big Picture Blog. Under no circumstances does the information in this column represent a recommendation to buy or sell stocks. Nusbaum appreciates your feedback;
to send him an email.