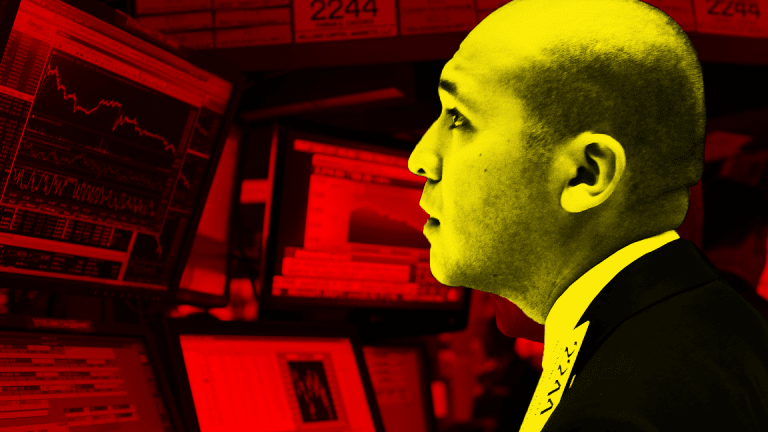 Volatility-Linked ETPs Still Threaten to Roil Market Next Time VIX Soars
With the VIX more than doubling, inverse ETFs lost nearly all of their value, says J.P. Morgan analyst Kenneth Worthington.
With the VIX more than doubling, inverse ETFs lost nearly all of their value, says J.P. Morgan analyst Kenneth Worthington.
Even after contributing to the U.S. stock market's recent sell-off, some trading products tied to the Cboe Volatility Index are still seeing robust volumes and retain the potential to roil the market the next time volatility rapidly swells.
The VelocityShares Daily Inverse VIX Short-Term exchange-traded note, or (XIV) , allows traders to short the market's volatility index, or I:VIX . The VIX, which is also known as the investor fear gauge, uses the price of options on the S&P 500 to estimate how volatile those options will be between the current date and the option's expiration date.
The VIX began rising in earnest on Monday, Feb. 5, surging to 37, after spending almost an entire year hovering around 10. The volatility index then rose as high as 50 on Tuesday before paring some of those gains. The sudden rise sent traders scrambling to unwind bets on a calm market, leading the inverse VIX to plummet.
"Short volatility strategies took a death blow on Monday, losing 90% to 95% of their value and [assets under management]," J.P. Morgan analyst Kenneth Worthington wrote in a Feb. 7 research note. "With the VIX more than doubling, inverse ETFs lost nearly all of their value."
Following the surge in volatility, Credit Suisse announced that it will end trading for XIV on Feb. 20.
"This inverse VIX thing, the XIV for short, was practically designed to fail," TheStreet founder Jim Cramer said on CNBC Tuesday night. "It should never have been built."
"Many a hedge fund manager figured they'd take advantage of the market's placid nature ... by loading up on XIV, which was a way to bet against volatility," Cramer said. "Of course, the VIX tends to have these huge spikes when the market gets clobbered and you least expect it, and that translated into the utter destruction of this inverse VIX product."
But the XIV wasn't the only inverse ETP to experience a sudden shift.
The XIV's sister ETP, VelocityShares Daily Inverse VIX Medium-Term ETN (ZIV) - Get Report , and ProShares Short VIX Short-Term Futures (SVXY) - Get Report , which serves as the inverse for the S&P 500 VIX Short-Term Futures Index, were temporarily halted from trading on Tuesday after sustaining heavy losses.
Yet, all three of these ETP saw transactions largely increase over the last three trading sessions. The XIV saw volume of about 14.6 million trades on Friday, Feb. 2, which jumped to 47.9 million on Monday and then eased back to 19.4 million on Tuesday, according to Bloomberg data.
For the SVXY, there were 27.2 million transactions on Friday, then volume surged to approximately 67.3 million on Monday before paring back to 44.1 million on Tuesday.
The ZIV exhibited a similar pattern as the XIV and SVXY, albeit on a slightly smaller scale. Volume of 235,000 on Friday rose to 333,000 on Monday and climbed to 695,000 on Tuesday.
The main problem many investors do not understand is the risk of being an inverse ETP, Mark Sebastian, founder of OptionPit.com and former member of the Cboe, wrote for TheStreet's sister publication, Real Money.
"If one reads the prospectus of XIV, there is a provision in it that states if the VIX futures index that it tracks, VXX.IV, is up 80% in one day they can shut down the ETP," Sebastian said. "SVXY, a similar ETP, has similar but less specific language."
To be sure, if the market transitions from one where shorting volatility is the preferred strategy to one where hedging risk is dominant, "VIX may be less relevant versus SPX and CME's E-Mini," said J.P. Morgan's Worthington.