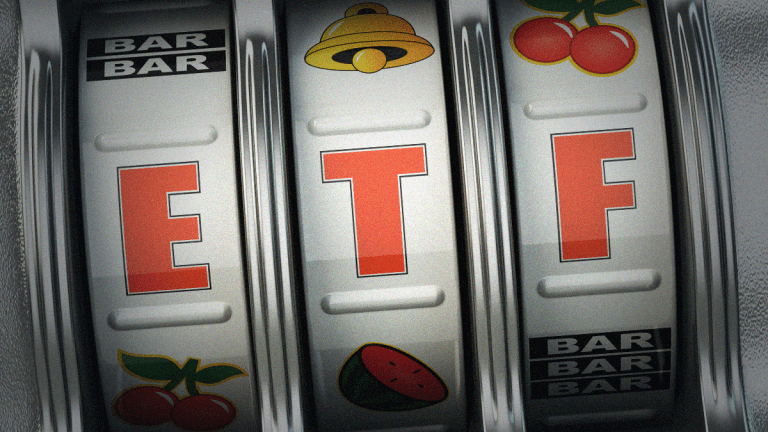 Investors Bought ETFs in June at Fastest Pace in 17 Months
Following a wave of fee cuts by firms including TD Ameritrade, net issuance of ETFs surges to about $54 billion in June, on track for the highest monthly level since January 2018.
The popularity of exchange-traded funds is accelerating -- in a boon to big sponsors like BlackRock (BLK) and brokerage firms including TD Ameritrade (AMTD)  , and at the expense of traditional mutual funds like Janus Henderson (JHG) . 
The Investment Company Institute said Tuesday that new issuance of ETFs rose to about $54 billion globally in the four weeks through June 26. That puts the industry on track for its fastest monthly issuance since January 2018's $73 billion. It's also a bounceback from May, when investors redeemed a net $11.2 billion of ETFs.
Traditional mutual funds, managed by human stock- and bond-pickers, have suffered under competition from ETFs, which can be traded with the ease of a stock on an exchange and typically use computers to manage low-cost investment strategies, such as tracking indexes like the S&P 500.
Appetite for ETFs has rebounded in the past month as the Federal Reserve signaled a willingness to cut official U.S. interest rates to juice the U.S. economy, pushing the S&P 500 up about 18% this year. 
The demand for ETFs may also have been helped by a string of recent fee-cut announcements from firms that sell ETFs, including TD Ameritrade and Vanguard.
According to the Investment Company Institute, which is the main business association representing money managers, the median expense ratio on an ETF was 0.47% in 2018, compared with 1.16% for long-term equity-focused mutual funds.