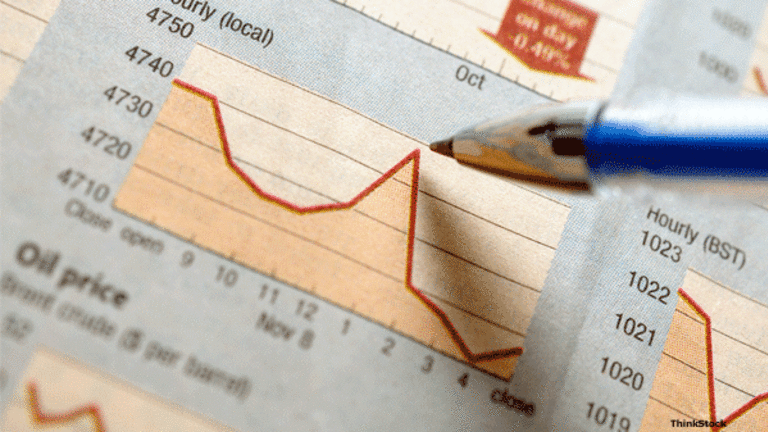 Inflation Drove September ETF Flows
Investors poured into anti-dollar and anti-inflation investments in September, as the five top funds captured more than 50% of total net inflows.
Investors poured into anti-dollar and anti-inflation investments in September, as the five top funds captured more than 50% of total net inflows.
SPDR Gold Shares
(GLD)
, was tops with $2 billion in net inflows. It was followed by iShares
Barclays
(BCS)
TIPS
(TIP)
, $847 million;
Vanguard MSCI Emerging Markets
(VWO)
, $770 million;
iShares MSCI Emerging Markets
(EEM)
, $651 million;
ProShares UltraShort 20+ Year Treasury
(TBT)
, $538 million.
The top five outflows were led by the
SPDR S&P 500
(SPY)
, $1,795 million;
iShares MSCI Japan
(EWJ)
, $725 million;
Diamonds
(DIA)
, $614 million;
SPDR Energy
(XLE)
, $420 million;
iShares Barclays Short Treasury
(SHV)
, $331 million. (SHV is not an inverse ETF.)
Another fund seeing a large outflow was
iShares FTSE/Xinhua China 25
(FXI)
, with $247 million in net outflows. FXI saw huge outflows in August when Chinese stocks corrected, and the selling continued into September. Assets under management (AUM) increased, however, as the underlying assets appreciated.
One of the fastest-growing ETFs in September was
Direxion Daily Real Estate Bull 3X
(DRN)
. It saw inflows of $69 million and AUM of $125 million on Sept. 30. DRN had inflows of $152 million in August, but volume nearly doubled from $588 million in August to $1.026 million in September.
Another grower was
ProShares Short 20+ Year Treasury
(TBF)
, launched in August and which offers one times inverse exposure to the Barclays 20+ Year Treasury Index. AUM climbed from $5 million in August to $31 million in September, and volume went up almost eight times.
One of the fastest-shrinking ETFs was
PowerShares Dynamic Retail
(PMR)
, which saw $39 million in outflows and AUM of $25 million at the end of September. ETNs with large outflows included
PowerShares DB Base Metals Short ETN
(BOS)
,
PowerShares DB Crude Oil Short ETN
(SCO)
and
iPath Sugar ETN
(SGG)
. Sugar was a hot commodity in August, but the speculative run waned last month. The PowerShares funds may have suffered from the halo-effect of the closing of PowerShares DB Crude Oil Double Short.
In terms of absolute dollar volume-gainers,
SPDR Gold Shares
(GLD)
saw volume increase $18 billion, from $14.7 billion to $32.7 billion.
Market Vectors Gold Miners
(GDX)
was right behind it, up $9 billion from $4 to $13 billion. Both were large increases relative to August volume, and
iShares MSCI Japan
(EWJ)
saw a large jump as well, from $4.5 billion to $7 billion.
First Trust ISE-Revere Natural Gas
(FCG)
saw large inflows and a big increase in volume. AUM grew from $144 million to $340 million thanks to $162 million in net inflows, while volume grew from $0.098 billion to $0.359 billion.
United States Natural Gas
(UNG)
began issuing new shares on Sept. 28, but its net inflows were flat. Volume was slightly lower, from $9.8 billion to $9.6 billion.
Some funds that saw a decline in traders' interest included
iShares MSCI Peru
(EPU)
,
iShares MSCI Netherlands
(EWN)
and
Market Vectors Africa
(AFK)
, although all three had net inflows for the month.
In terms of fund families, Barclays saw the largest inflow, $3,781 million, followed by Vanguard, $2,663 million; ProShares $819 million; Direxion, $406 million; and Wisdom Tree, $366 million. Wisdom Tree had a great month, with 30% of its 2009 inflows coming in September, but that was beat by First Trust. Its popular natural gas ETF helped it snag $234 million in assets, about half of its 2009 total and about 16% of AUM.
Measured by asset class, U.S equity ETFs saw net outflows of $947 million. Outflows came from the long and long leveraged funds, while inflows came from short and short leveraged funds -- a clearly bearish trend in September.
Global and international ETF flows were positive across the board, but long ETFs captured nearly all of the $2,753 million in inflows.
Investors got bullish on real estate, though flows were positive across all ETF types, while commodities ETFs saw outflows from the short and leveraged short ETFs.
The surprise of the month was fixed income. It saw $4,649 million in inflows, with $4,046 flowing into long ETFs and $576 million flowing into short leveraged ETFs.
State Street
(STT)
Global Advisers remains the volume leader by a mile, however. It saw $573 billion worth of shares change hands in September, well ahead of the $308 billion in Barclays ETFs; $140 billion in ProShares; $125 billion in Direxion; and $95 billion in PowerShares.
Turnover remains high at Direxion, with volume at 28 times assets. ProShares has seen turnover dip from 7 in August to 5.7 in September, now roughly equivalent with the HOLDRs turnover of 5.6 times. State street remains the leader among the larger issuers, with turnover of 3.5 times versus 0.9 for Barclays and 0.3 for Vanguard.
The big story of September is the popularity of anti-dollar and anti-inflation ETFs. Fixed income was a growth driver for the industry last month. First Trust has a legitimate hit on their hands with FCG, and it makes up close to 25% of firm wide AUM. Wisdom Tree had an excellent month and continues to establish itself as a buy-and-hold contender.
At the time of publication, Dion was long TIP.
Don Dion is president and founder of
, a fee-based investment advisory firm to affluent individuals, families and nonprofit organizations, where he is responsible for setting investment policy, creating custom portfolios and overseeing the performance of client accounts. Founded in 1996 and based in Williamstown, Mass., Dion Money Management manages assets for clients in 49 states and 11 countries. Dion is a licensed attorney in Massachusetts and Maine and has more than 25 years' experience working in the financial markets, having founded and run two publicly traded companies before establishing Dion Money Management.
Dion also is publisher of the Fidelity Independent Adviser family of newsletters, which provides to a broad range of investors his commentary on the financial markets, with a specific emphasis on mutual funds and exchange-traded funds. With more than 100,000 subscribers in the U.S. and 29 other countries, Fidelity Independent Adviser publishes six monthly newsletters and three weekly newsletters. Its flagship publication, Fidelity Independent Adviser, has been published monthly for 11 years and reaches 40,000 subscribers.