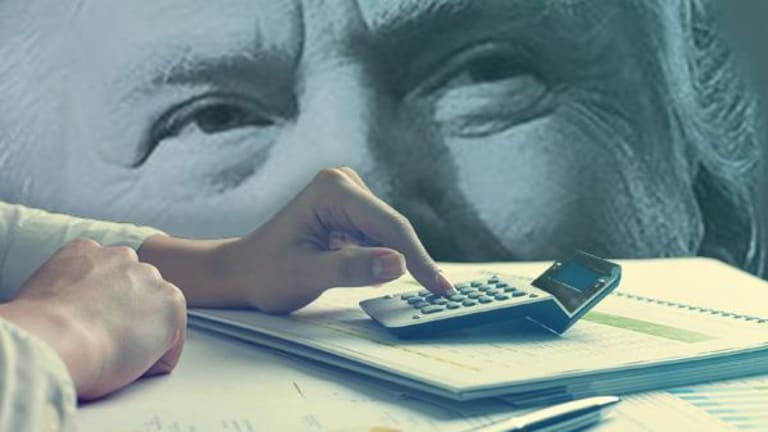 Publish date:
In Trump Era, VIX Funds Draw Interest - Despite Sub-Par Performance
VIX Funds Drawing In Assets, But They're Likely Not A Good Long-Term Play For Regular Investors
VIX Funds Drawing In Assets, But They're Likely Not A Good Long-Term Play For Regular Investors
The long-term prognosis for stock market volatility is a bullish one, as futures traders are creating a significant gap between current VIX contracts and contracts six months down the road.
Currently, December VIX futures contracts are trading just under $15.00, but contracts expiring in June, 2016 are trading at trading at $19.00. Those gaps demonstrate the high level of uncertainty traders have over U.S. financial markets, in the aftermath of one of the most contentious presidential elections in American history.
Key VIX-flavored exchange traded funds like iPath S&P 500 VIX Short-Term Futures ETN (VXX) - Get Report , ProShares VIX Short-Term Futures ETF (VIXY) - Get Report , ProShares Ultra VIX Short-Term Futures (UVXY) - Get Report  and VelocityShares Daily 2X VIX Short Term ETN (TVIX) - Get Report are the beneficiaries, as investors are beginning to pour cash into volatility funds.
Despite falling over 60% this year, performance-wise, VXX has raked in over $85 million in the past 30 days. Also, UXVY recently posted a 25% gain on assets into the fund, leading up to the election.
VIX-related funds have changed their stripes, to a degree, allowing investors more options to hop on the volatility bandwagon than in the past. For instance, two volatility funds - Rex Volmax Short VIX weekly (VMIN) and Rex Volmax Long Weekly (VMAX) - offer weekly contracts, whereas before, VIX funds only focused on monthly contracts. "That's a closer-to-reality way to invest in the VIX funds than other products," notes Greg King, chief executive officer at Rex Shares. King says the more options the better, as he says "the market does expect future volatility."
Other VIX traders agree, noting that volatility funds are notorious for underperforming for the long-term.
"The VIX ETFs are designed to lose 30% to 60% in a year, so they are not suitable for long-term investments," explains Jeff Bishop, a professional trader and lead manager at TopStockPicks.com. "Traders should only use them as short-term trading vehicles as hedges against market declines."
Bishop relies on UVXY for hedging purposes, "mainly because it's leveraged and it provides twice the returns in the very short-term," he says. "It really trades like a stock and is very fluid."
Bishop says his favorite way to trade UVXY is by selling naked calls. "Since UVXY loses 60% a year through decay, the odds are stacked in favor of the seller on these options," he explains. "When UVXY has a string of up days, I want to be a seller on out of the money options which tend to have a huge premium. Risk management is important here since once in a while this trade can really go against you."
For those with less risk tolerance, Bishop suggests selling an out of the money spread on UVXY options "to hedge the downside risk."
In general, though, VIX traders warn retail investors to steer clear of volatility funds.
"Most of the volatility 'ETFs' are actually 'ETNs' which is a type of ETP (exchange traded product)," says Gabriel Pincus, president and portfolio manager of GA Pincus Funds.
Pincus says those ETNs are "really dangerous products" that shouldn't be owned by retail investors, or non-professionals. "Funds that track the VIX or volatility are not for the faint hearted - they are incredibly risky and have significant tracking errors when compared to the VIX," he offers. "The products are specially created to come close to matching the performance of the VIX on an intraday basis but once you hold the position overnight your returns will diminish drastically."
Pincus says volatility ETPs usually don't have large assets under management (despite the recent uptick in inflows) but most trading activity is comprised of day-traders who buy in the morning and sell in the afternoon.
"Trump's presidency may increase volatility but these products won't help a novice make money," he adds. "If retail investors buy this stuff they're just throwing their money down the drain."