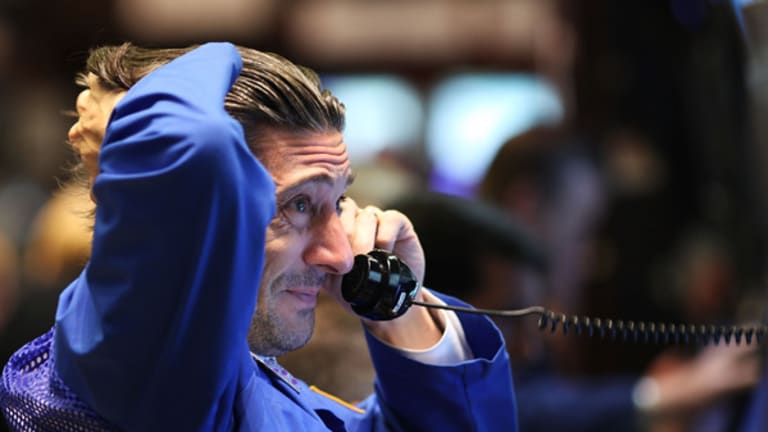 Publish date:
Hunt for Yield Leads to MLPs
One of the major benefits of owning Master Limited Partnerships is their large distributions. Kinder Morgan Energy Partners (KMP) pays out to investors on a quarterly basis.
One of the major benefits of owning Master Limited Partnerships is their large distributions. Kinder Morgan Energy Partners (KMP) pays out to investors on a quarterly basis.
NEW YORK (TheStreet) -- ETF investors' search for yield has led them to Master Limited Partnership (MLP) funds over the past year, due to relatively high yields. MLPs in these funds are typically involved in the production, transportation and storage of natural resources such as natural gas. For instance the MLP, Kinder Morgan Energy Partners (KMP) , owns or operates oil and natural gas pipelines as well as power plants and storage facilities.
One of the major benefits of owning MLPs is their large distributions. KMP pays out to investors on a quarterly basis. Over the past year, the fund's distribution has been approximately 7%.
There is one important element to consider, however, before adding an MLP to your portfolio. Because they are set up as partnerships, investors holding MLPs are taxed differently than investors holding traditional securities. MLPs are not taxed at the company level. Rather, tax liability generated from the partnership's gains and losses are passed on through to the shareholder. At tax time, an investor holding a company such as KMP will be presented with a K-1 form rather than a 1099.
This added complexity at tax time may be enough to dissuade investors from taking advantage of the income benefits of MLPs.
However, thanks to the introduction of exchange traded products, investors now have the opportunity to invest in baskets of popular MLPs while avoiding the headaches that can come with filing a K-1. In the past, I have promoted the
JPMorgan Alerian MLP Index ETN
(AMJ) - Get Report
as an effective, income yielding alternative to the
United States Natural Gas Fund
(UNG) - Get Report
. AMJ is set up as an ETN, meaning that investors holding this fund do not actually hold shares in the individual partnerships. Rather, they hold a senior debt note issued by
JPMorgan
(JPM) - Get Report
.
Over the past year, AMJ has paid investors a comfortable 6% dividend which is reported on a 1099 form.
AMJ tracks the Alerian MLP Index. This index is made up of 50 individual holdings hailing from the petroleum transportation, gathering and processing, natural gas pipeline, propane and exploration and production industries. Top positions include
Enterprise Products Partners
(EPD) - Get Report
and KMP. These two positions account for approximately 14% and 12% of the fund's total assets respectively.
AMJ's success and popularity did not go unnoticed. In 2010, UBS and Credit Suisse followed JPMorgan's lead and launched their own exchange-traded notes designed to track these popular companies. Despite their short lifetime, both the
UBS E-TRACS Alerian MLP Infrastructure ETN
(MLPI) - Get Report
and
Credit Suisse Cushing 30 MLP Index ETN
(MLPN)
have already managed to amass relatively impressive volume.
Like AMJ, MLPI tracks an index sponsored by Alerian. The Alerian Infrastructure Index is comprised of only 25 firms. Aside from focusing on a smaller pool of firms, MLPI's index is also more sector-concentrated than AMJ. The fund focuses primarily on petroleum transportation, natural gas pipelines, and gathering and processing firms. MLPI's top holdings are also KMP and EDP, though they account for considerably smaller slices than in AMJ.
MLPN is unique from both AMJ and MLPI in that it tracks the Cushing 30 MLP Index. Although this index tracks many of the same firms as AMJ's and MLPI's, unlike the Alerian index-based ETNs, the firms underlying this fund's index are equally weighted.
The yields for MLPI and MLPN are similar to that of AMJ.
All three products carry a 0.85% expense ratio.
It is important to remember that, because they are structured as ETNs, AMJ, MLPN and MLPI carry additional credit risk not present in traditional ETFs or equity-backed mutual funds.
ETF sponsors are not the only ones attempting to ride the MLP bandwagon. Mutual fund companies have caught on to the popularity of MLPs as well. In early May, SteelPath managed to take MLP investing to a whole new level when they launched a suite of MLP-focused mutual funds which not only provide investors with equity exposure, but also avoids the hassles that come with a K-1 form.
The
SteelPath MLP Income Fund
(MLPDX),
SteelPath MLP Select 40 Fund
(MLPFX), and the
SteelPath MLP Alpha Fund
(MLPAX) are set up as corporations, and any distribution is treated as a dividend and reported using the more traditional 1099 form.
Despite these funds' attractive tax qualities, investors should be aware that these can be a more expensive option. All three carry a 5.75% front load on top of their expense ratios, although SteelPath says that Class A shares may be purchased no-load on the TD Ameritrade and Schwab platforms, among others, as well as directly online on the Fund's
website. The net expense ratios for MLPDX, MLPFX and MLPAX are 1.35%, 1.10% and 1.50% respectively.
Don Dion is president and founder of
, a fee-based investment advisory firm to affluent individuals, families and nonprofit organizations, where he is responsible for setting investment policy, creating custom portfolios and overseeing the performance of client accounts. Founded in 1996 and based in Williamstown, Mass., Dion Money Management manages assets for clients in 49 states and 11 countries. Dion is a licensed attorney in Massachusetts and Maine and has more than 25 years' experience working in the financial markets, having founded and run two publicly traded companies before establishing Dion Money Management.
Dion also is publisher of the Fidelity Independent Adviser family of newsletters, which provides to a broad range of investors his commentary on the financial markets, with a specific emphasis on mutual funds and exchange-traded funds. With more than 100,000 subscribers in the U.S. and 29 other countries, Fidelity Independent Adviser publishes six monthly newsletters and three weekly newsletters. Its flagship publication, Fidelity Independent Adviser, has been published monthly for 11 years and reaches 40,000 subscribers.