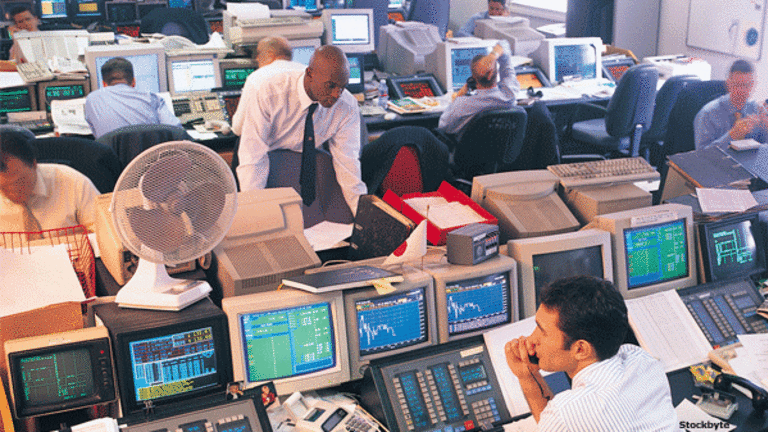 How to Invest in Gold, Silver ETFs
Here's Don Dion's guide to investing in precious metals exchange-traded products.
NEW YORK (
) -- Both bulls and bears have been flocking to precious metals ETFs such as the
iShares Silver Trust
(SLV) - Get Free Report
and
Market Vectors Gold Miners
(GDX) - Get Free Report
to exit currency holdings and fight inflation fears.
The list of silver and gold exchange-traded products continues to grow, and it has become increasingly important for investors to understand these different types of products as regulation shapes the industry.
No matter which way you think the market is headed, there are compelling reasons to gain exposure to gold. Bulls can use gold as protection against inflation, and in case the dollar weakens as the stock market surges. Bears can turn to gold to protect their capital against market downswings.
Silver, the more volatile of the two metals, tends to soak up the spill-over from its yellow counterpart. Silver may not always follow an upswing in gold, but high inflation fears will drive investors to both. In addition to currency protection, silver also has uses as an industrial metal.
As the Commodities Futures Trading Commission investigates the role that futures-based commodity funds have on the markets they track, investors need to be aware of which type of ETF they buy. Futures-based gold and silver funds could be profoundly affected by new position limits, while physical and equity-based funds are unfazed.
Physical ETFs
These funds track the value of gold by holding physical gold and silver in storage. As assets in the funds increase or decrease, fund managers will adjust their stocks of bullion accordingly. Physical gold ETFs also have a higher tax rate than many of their peers: they are taxed as collectibles, with a 28% percent long-term capital gains rate.
Here are two gold ETFs:
SPDR Gold Shares
(GLD) - Get Free Report
and
iShares COMEX Gold
(IAU) - Get Free Report
.
There is no difference between the funds except that GLD has 30 times the assets and volume of IAU. While GLD is larger, both funds have high liquidity. Investors can buy and sell shares of both GLD and IAU near their underlying values.
Silver
Here are two silver ETFs:
Silver Trust
(SIVR) - Get Free Report
and
iShares Silver Trust ETF
(SLV) - Get Free Report
.
SLV is a well-established physical silver ETF, with more than 8.5 million shares changing hands on an average trading day. SIVR was just launched this summer and will take time to garner investor interest that is comparable to SLV. While SIVR is gaining speed quickly, investors should stick to SLV until the new fund is more established.
Futures ETFs
These funds, which hold gold futures contracts and are organized as partnerships, belong to a group of exchange-traded products that have come under intense scrutiny in recent weeks. The CFTC is currently considering limitations on the number of futures contracts that certain funds can own, limiting the size of some exchange-traded products.
None of the three products listed below is conspicuously large. The two
ProShares
gold funds, however, could face double regulations in the future. Since they are futures-based, they could suffer from a CFTC crackdown, while their leverage could draw the ire of FINRA.
They are taxed as futures, with 60% at the long-term capital gains rate and 40% at the short-term capital gains rate. Investors will be responsible for taxes on these funds each year and will receive a Schedule K-1 form.
The gold products include
PowerShares DB Gold
(DGL) - Get Free Report
,
ProShares Ultra Gold
(UGL) - Get Free Report
and
ProShares UltraShort Gold
(GLL) - Get Free Report
.
The silver products include
PowerShares DB Silver Fund
(DBS) - Get Free Report
,
ProShares Ultra Silver ETF
(AGQ) - Get Free Report
and
ProShares UltraShort Silver ETF
(ZSL) - Get Free Report
.
PowerShares DB Gold and Silver use Deutsche Bank's Optimum Yield Index, which aims to maximize gains from backwardation (futures prices lower than spot prices) and minimize losses from contango (futures prices higher than spot prices). ProShares funds are leveraged and deliver double the daily change in prices.
ETNs
Exchange-traded notes are debt instruments that track an index. These have more favorable tax treatment; they are taxed as stocks and subject to the 15% long-term capital gains rate.
ETNs, however, expose the investor to the credit risk of the issuer. Investors should be mindful of this special type of risk before they purchase these funds.
The gold ETNs include
PowerShares DB Gold Double Short ETN
(DZZ) - Get Free Report
,
PowerShares DB Gold Double Long ETN
(DGP) - Get Free Report
,
PowerShares DB Gold Short ETN
(DGZ) - Get Free Report
and
E-TRACS CMCI Gold Total Return
(UBG) - Get Free Report
.
The silver ETN is
E-TRACS CMCI Silver ETN
(USV) - Get Free Report
.
As with the PowerShares DB ETFs, Gold and Silver ETNs use the Optimum Yield Index. The leveraged ETNs deliver twice the monthly change in gold or silver. E-TRACS CMCI, issued by UBS, tracks a basket of futures spread across five maturity dates and "is designed to be representative of the entire liquid forward curve of the gold (or silver) contracts."
Stock ETFs
The gold ETF is Market Vectors Gold Miners. This fund tracks the NYSE Arca Gold Miners Index, which tracks companies primarily engaged in gold mining. GDX currently holds 32 stocks and top holdings include
Barrick Gold
(ABX)
,
Goldcorp
(GG)
,
Newmont Mining
(NEM) - Get Free Report
, and
AngloGold Ashanti Limited ADR
(AU) - Get Free Report
.
Assessing Risk Tolerance
Changes to leveraged and/or futures-based commodity funds could be damaging to the structure of corresponding gold and silver ETFs. As regulation is hashed out, the average investor is better off gaining exposure to these metals through physical or equity based instruments. Only sophisticated investors should consider leveraged products.
Investors with tax-sheltered accounts would be wise to avoid the ETNs because they would not capture the tax advantages, and also because the ongoing financial crisis increases the credit risk inherent with these products. The physical ETFs offer lower fees than the futures ETFs and, therefore, offer more value.
-- Written by Don Dion in Williamstown, Mass.
At the time of publication, Dion owns iShares COMEX Gold and Market Vectors Gold Miners.
Don Dion is president and founder of
, a fee-based investment advisory firm to affluent individuals, families and nonprofit organizations, where he is responsible for setting investment policy, creating custom portfolios and overseeing the performance of client accounts. Founded in 1996 and based in Williamstown, Mass., Dion Money Management manages assets for clients in 49 states and 11 countries. Dion is a licensed attorney in Massachusetts and Maine and has more than 25 years' experience working in the financial markets, having founded and run two publicly traded companies before establishing Dion Money Management.
Dion also is publisher of the Fidelity Independent Adviser family of newsletters, which provides to a broad range of investors his commentary on the financial markets, with a specific emphasis on mutual funds and exchange-traded funds. With more than 100,000 subscribers in the U.S. and 29 other countries, Fidelity Independent Adviser publishes six monthly newsletters and three weekly newsletters. Its flagship publication, Fidelity Independent Adviser, has been published monthly for 11 years and reaches 40,000 subscribers.