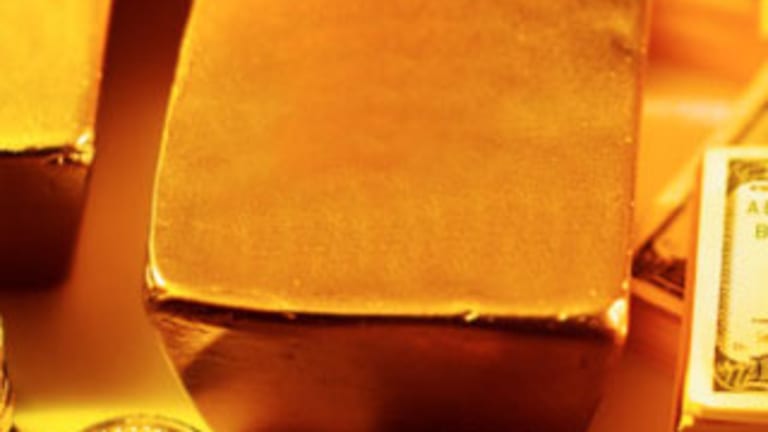 How to Invest in Gold ETFs
Here are some tips on investing in gold ETFs for the short or long term.
NEW YORK (TheStreet) -- Gold ETF funds are an efficient, easy way to gain access to soaring gold prices.
As this precious metal continues to test new highs, investors are flocking to ETFs like Market Vectors Gold Miners (GDX) - Get VanEck Vectors Gold Miners ETF Report and SPDR Gold Shares (GLD) - Get SPDR Gold Trust Report .
Investors add gold ETF funds to their portfolios for a variety of reasons: diversification, concerns about inflation, concerns about deflation and fear of financial crisis. Before adding a gold ETF to your portfolio, however, it is first important to establish your investment time frame.
ETFs can be effective vehicles to target and capture quickly moving market trends. The upward movement of gold prices has been fast and furious, and many of the investors looking to gold ETFs are hoping to cash in on a continued rise in gold over the short term.
These short-term investors should consider one of the Market Vectors Gold Miner ETFs. GDX, the large-cap gold ETF, gives investors exposure to some of the largest gold mining companies worldwide, such as Barrick Gold (ABX) , Goldcorp (GG) and Newmont Mining (NEM) - Get Newmont Goldcorp Corporation (NEM) Report .
Market Vectors Juniors (GDXJ) - Get VanEck Vectors Junior Gold Miners ETF Report , on the other hand, offers investors exposure to junior mining firms. The success of gold mining firms has outpaced the advance of gold prices themselves, so both of these funds are good to capture gold's upward moment in the short term.
These funds are aimed at risk-tolerant investors. Investors who want to take on the most short term risk, with potentially the biggest payoff, should check out the junior gold mining fund. Investors who prefer a larger-cap holding, with potentially less volatility, should consider GDX.
The success of gold miners is certainly tied to gold prices, but other factors like fixed costs increase volatility. While this volatility makes these investments key short-term bets, investors looking for the long term should consider more pure play on gold prices such as gold bullion ETFs like SPDR Gold Shares and iShares Comex Gold (IAU) - Get iShares Gold Trust Report .
Although physically-backed bullion funds like GLD and IAU are taxed higher as collectibles, they provide convenient, fractional ownership in a stockpile of gold held for the fund. Over time, these funds will tack the prices of gold more closely, and for long term holders, this investment is worth the difference in taxes.
Understanding the key differences in structure and tax treatment is necessary for investors looking to add sector ETFs to their portfolios. Certain ETFs are geared toward shorter term investors, while others are more effective over the long term.
While investors debate the probability of inflation, deflation, recovery and economic collapse, the only thing that seems certain is the ongoing uncertainty in the financial markets. Gold has been just the panacea to soothe concerns across the investment spectrum. Whether you're a short-term sector investor or someone building a long-term portfolio, there are many compelling reasons to investigate gold ETF funds.
-- Written by Don Dion in Williamstown, Mass.
At the time of publication, Dion owned Market Vectors Gold Miners, iShares Comex Gold, Market Vectors Juniors.
Don Dion is president and founder of Dion Money Management, a fee-based investment advisory firm to affluent individuals, families and nonprofit organizations, where he is responsible for setting investment policy, creating custom portfolios and overseeing the performance of client accounts. Founded in 1996 and based in Williamstown, Mass., Dion Money Management manages assets for clients in 49 states and 11 countries. Dion is a licensed attorney in Massachusetts and Maine and has more than 25 years' experience working in the financial markets, having founded and run two publicly traded companies before establishing Dion Money Management.
Dion also is publisher of the Fidelity Independent Adviser family of newsletters, which provides to a broad range of investors his commentary on the financial markets, with a specific emphasis on mutual funds and exchange-traded funds. With more than 100,000 subscribers in the U.S. and 29 other countries, Fidelity Independent Adviser publishes six monthly newsletters and three weekly newsletters. Its flagship publication, Fidelity Independent Adviser, has been published monthly for 11 years and reaches 40,000 subscribers.