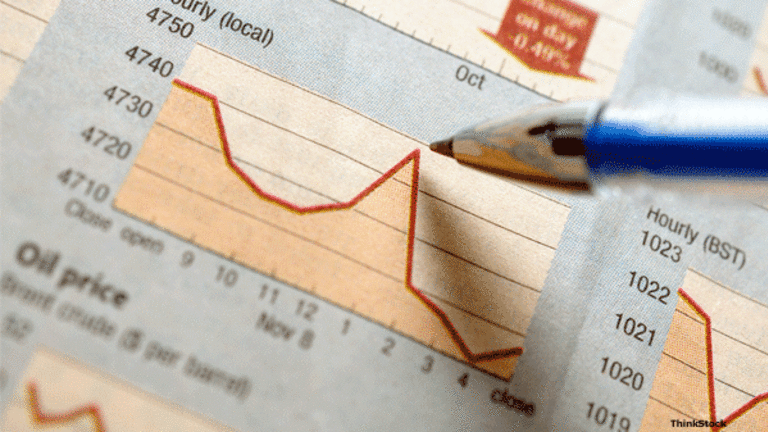 How Not to Short China Stocks
Many investors seem to incorrectly view the ProShares UltraShort FTSE/Xinhua China 25 ETF as a way to short mainland China stocks.
Many investors seem to incorrectly view the ProShares UltraShort FTSE/Xinhua China 25 ETF as a way to short mainland China stocks.
The ProShares UltraShort FTSE/Xinhua China 25 (FXP) - Get Report is a "double short" ETF based on a basket of 25 Hong Kong-listed stocks. Many investors seem to incorrectly view this ETF as a way to short mainland China stocks.
I'll demonstrate why FXP is not an effective way to short mainland Chinese equities.
The Shanghai market is looking expensive. It is expensive on a relative basis (relative to Hong Kong), on an absolute basis (compared to where it was just a few months ago) and on a fundamental basis (a market price-to-earnings ratio of over 25 times).
After rallying as much as 110% since its November 2008 low of 1665, the Shanghai Composite has recently shown some signs of weakness and increased volatility. The Shanghai Composite peaked at 3478 on Aug. 4, and has since fallen 16% to sub-3000 levels.
Given the volatile tendencies of the mainland market, it is not surprising then that some people are predicting a sharp reversal and looking for a way to play the downside by shorting China stocks.
The only problem is that you can't.
Many investors seem to view the ProShares UltraShort FTSE/Xinhua China as a means of shorting this year's tremendous rally in China stocks. There are two main problems with this strategy. First, FXP shorts only Hong Kong-listed shares, which trade at much lower multiples than their mainland-listed counterparts and with a surprisingly low correlation.
Second, FXP shorts only the "FTSE/Xinhua China 25 index," which as it says is only 25 stocks. It is important to note that there is absolutely no way of shorting mainland-listed shares. Investors cannot short individual shares, and there are still no traded futures that would allow investors to short the indices. As a result, there are no funds through which investors can short the China market.
Michael Toma, director of risk management at TWC Futures Group, recently told me, "I have come across individual traders mistaken that the FXP is shorting the China CSI300 index. They don't realize they are shorting Hong Kong shares. The concern I have as a risk manager is sometimes the trade works, giving them an even greater false sense of security."
Shorting Hong Kong-listed equities is a far cry from shorting mainland equities. The Hang Seng index is up 35% year to date vs. the SSE Composite, which is up 55%. The Hang Seng trades on a P/E of approximately 15 times forward earnings vs. Shanghai, which is trading at approximately 25 times forward earnings.
Running a simple regression of changes of daily closing prices shows that changes in the SSE explain only about 20% of the variance in the Hang Seng. This divergence also can be seen more clearly by noting that since January 2008, there have been more than 100 trading days on which the FXP traded in the same direction as the SSE. In other words, the SSE falls, and yet this intended double-short position actually loses money.
Thinking academically, the only entities capable of "arbitraging" this market are companies already listed on overseas markets that are rushing to list A shares to China to take advantage of this valuation differential. Given the rush of companies seeking to list A shares, the value proposition must be compelling.
On a separate note, while the mainland Chinese equity market looks very expensive by most metrics, there continue to be many bargains in U.S.-listed China stocks. It is very possible that future corrections in the overvalued mainland market could scare off some investors who hold undervalued, U.S.-listed China stocks, creating significant bargains for those investors are savvy enough to differentiate between the two markets.
Rick Pearson is a Beijing-based private investor focusing on U.S.-listed China small-cap stocks. Until 2005, Pearson was a director at Deutsche Bank, spending nine years in equity capital markets in New York, Hong Kong and London. Previously, he spent time working in venture capital in Beijing. Mr. Pearson graduated magna cum laude with a degree in finance from the University of Southern California and studied Mandarin for six years. He has frequently lived, worked and traveled in China since 1992.