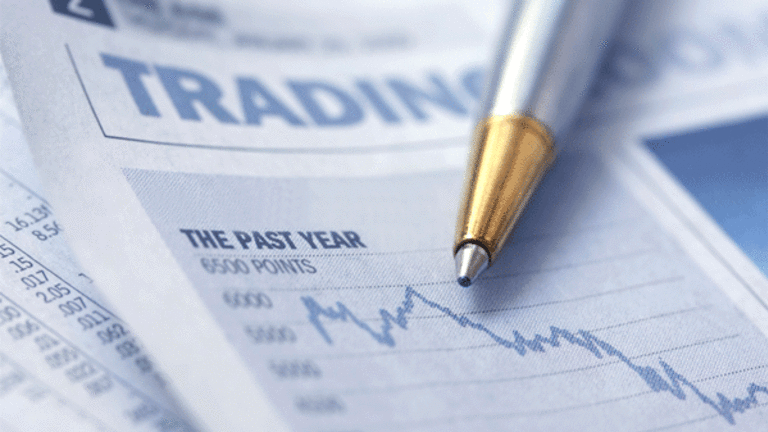 Publish date:
How Market Makers Profit on ETFs
High-frequency trading allows for market makers in ETFs to lock in their profits through arbitrage.
High-frequency trading allows for market makers in ETFs to lock in their profits through arbitrage.
NEW YORK (
) -- High-frequency trading is a looming presence in the exchange-traded fund industry, in which firms like
Goldman Sachs
(GS) - Get Report
can lock in profits almost instantaneously through arbitrage. Both bona fide market makers and proprietary traders are seeking out the fastest way to hedge trades, create units and maximize ETF trading capabilities.
High-speed trading in ETFs comes down to speed and volume. How does this work in the market-maker business? Lead market makers on the
New York Stock Exchange's
electronic trading platform Arca are given a bona fide hedging exemption to allow for a more "fair" and "orderly" market. Lead market makers must stand ready to both buy and sell their assigned products on a continuous basis. Lead market makers also serve as a sort of "investor" for the ETF industry.
When an ETF is premiered, its assigned lead market maker will create the first units, delivering the contents of a product's basket in exchange for shares of the ETF. After that, the lead market maker will generally sell shares of the ETF to buyers and hedge the sales by buying the equivalent number of underlying shares.
Previously, I have used the example of a fictional ETF called "U.S. Cell Phone Fund," or UCF, to
illustrate the trading process
. For purposes of illustration, let's assume that UCF is made up of just
AT&T
(T) - Get Report
,
Verizon
(VZ) - Get Report
and
Sprint
(S) - Get Report
. Let's say that a 50,000-share unit of UCF contains 50% AT&T, 30% Verizon and 20% Sprint. In this example, we'll assume that a high-frequency trading firm such as Goldman Sachs is assigned to be the lead market maker during the listing process.
To create one unit of UCF for the first day of trading, Goldman will exchange 25,000 shares of AT&T, 15,000 shares of Verizon and 10,000 shares of Sprint for 50,000 of the ETF. In the first day of trading, let's say that Goldman sells 5,000 shares of UCF to retail buyers. As the shares are sold, Goldman will hedge the sales by buying back shares of the underlying components. If the firm is fully hedged at the end of the day, it will own 45,000 shares of UCF, 250 shares of AT&T, 150 shares of Verizon and 100 shares of Sprint.
High-frequency trading allows for ETF market makers to instantly lock in their profits through arbitrage, rather than risking exposure on either side as they are attempting to hedge.
How much money does Goldman make doing this in a real life situation? While the real cash cow is proprietary trading, an examination of the list of NYSE Arca products reveals that out of the 1,038 securities on the electronic Arca exchange, Goldman is lead market maker for 342. Goldman's recent record profits can be tied directly to its trading capabilities, so we know it has the speed. This list of products also lets us know that Goldman has the volume.
The firm is currently the lead market maker for 85 leveraged products -- a booming and controversial ETF sector -- including funds from
Direxion
,
ProShares
and
Rydex
. While large institutional players who use these products generally hedge their bets, retail investors can be emotional when buying and selling leveraged securities. If someone is desperately trying to buy or unload shares, he often doesn't pay attention to the difference between price and underlying value. This gap is gold for market makers using high-frequency trading to instantly lock up the difference.
Investors should be aware that this situation applies to all ETFs, not just those of the leveraged variety. High-speed arbitrage traders can make tidy products in both highly liquid and illiquid products. The
Financial Select Sector SPDR
(XLF) - Get Report
has an average daily trading volume of nearly 150 million shares. Since this ETF is so liquid, the spread -- the difference between the bid and ask -- is generally a penny. If a high-frequency trading firm is able to dominate the spread and lock in a penny a trade, the profits add up quick.
In illiquid ETFs, the lead market maker may be the only buyer and seller around. This means that retail investors may have to pay a premium to buy shares and sell their investments at a discount. If a market maker can lock in a hefty spread in relatively illiquid products, they pay for themselves.
Is high-frequency trading bad for ETF investors? In most cases, it's not. High-frequency traders provide liquidity in many popular funds, and the competition for order flow can minimize the spread between the price and the net asset value. The debate hinges on whether traders can manipulate commodities through the use of indexing strategies like ETFs, but in the case of most traditional ETFs, this is a non-issue. Liquidity can flow from new technology, and high-frequency trading can make ETFs leaner.
-- Written by Don Dion in Williamstown, Mass.
.
At the time of publication, Dion had no positions in the securities mentioned.
Don Dion is president and founder of
, a fee-based investment advisory firm to affluent individuals, families and nonprofit organizations, where he is responsible for setting investment policy, creating custom portfolios and overseeing the performance of client accounts. Founded in 1996 and based in Williamstown, Mass., Dion Money Management manages assets for clients in 49 states and 11 countries. Dion is a licensed attorney in Massachusetts and Maine and has more than 25 years' experience working in the financial markets, having founded and run two publicly traded companies before establishing Dion Money Management.
Dion also is publisher of the Fidelity Independent Adviser family of newsletters, which provides to a broad range of investors his commentary on the financial markets, with a specific emphasis on mutual funds and exchange-traded funds. With more than 100,000 subscribers in the U.S. and 29 other countries, Fidelity Independent Adviser publishes six monthly newsletters and three weekly newsletters. Its flagship publication, Fidelity Independent Adviser, has been published monthly for 11 years and reaches 40,000 subscribers.