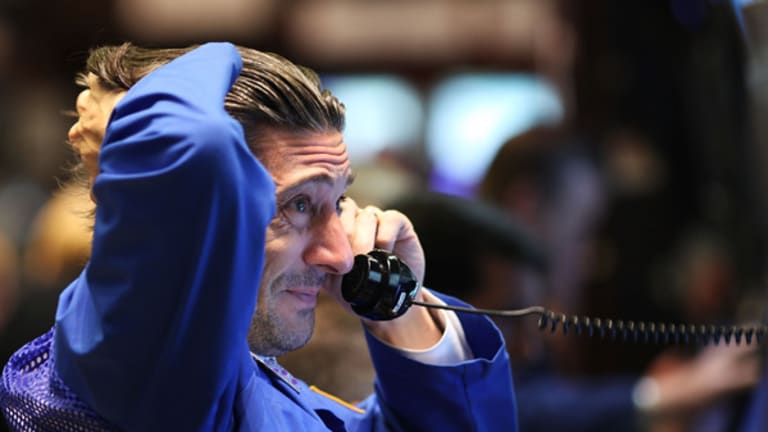 How ETFs Are Generating Buzz
A number of new ETFs are resorting to a variety of tactics to create buzz for their products.
NEW YORK (TheStreet) -- There are a number of ways a fund sponsor can carve out a niche in the expanding ETF universe.
Schwab
(SCHW) - Get Charles Schwab Corporation Report
Vanguard, the mutual fund, have exploded onto the scene stealing away market share from competitors by taking aim at expense ratios.
Meanwhile, relative ETF newcomer Pimco has used its branding dominance to drive investors into its growing lineup of fixed income ETFs. The company has even managed to generate interest in its line of actively managed ETFs, a challenge other providers have struggled to overcome.
The
Pimco Enhanced Short Maturity Strategy ETF
(MINT) - Get PIMCO Enhanced Short Maturity Active ETF Report
currently trades over 100,000 shares a day. The company's anticipated Pimco Total Return ETF looks set to be another big winner, riding the popularity and success of the
Pimco Total Return Fund
(PTRAX) - Get PIMCO Total Return Adm Report
and fund manager Bill Gross.
While expense ratios and branding have proven to be wildly successful techniques for generating investor interest in recent years, there are a number of ETF fund sponsors that are taking more traditional routes to generate buzz around their growing product lines.
For instance, companies such as First Trust and Global X have consistently worked to develop and launch products aimed at tracking previously unexplored corners of the global investing realm. As evidenced recently, this technique continues to be an effective way to solidify a spot within the ETF universe.
Traditionally being the first provider to tap into a specific market sector or theme has played a major role in determining an ETF's success. Evidence of the strength of first mover status can be seen in a number of places across the ETF universe. Physically-backed gold ETFs are a prime example.
Only two months separate the launches of
SPDR Gold Shares
(GLD) - Get SPDR Gold Trust Report
and
iShares Gold Trust
(IAU) - Get iShares Gold Trust Report
.
However, it is clear that this fact has played a major role in determining the popularity and draw of the two funds. Although IAU has recently gathered steam against the elder GLD thanks to an expense ratio cut, the fund still pales in comparison to the product in terms of size. Whereas IAU boasts $7 billion in assets, the elder GLD clocks in at nearly $60 billion.
With over 1,000 products available, finding major market slices that remain unexplored by ETF investors has become an increasingly difficult task. Therefore, in an attempt to overcome this challenge, companies like First Trust and Global X have taken out their microscopes, designing products that hone in on smaller and smaller market slices.
This strategy has led to the launch of a number of interesting products. In the first half of 2011, Global X has organized the launch of a suite of four agriculture subsector products including the
Global X Potash/Fertilizer ETF
(SOIL) - Get Global X Fertilizers/Potash ETF Report
. First Trust, meanwhile, has unveiled a trio of first movers: the
First Trust NASDAQ CEA Smartphone Index Fund
(FONE)
, the
First Trust NASDAQ Global Auto Index Fund
(CARZ) - Get First Trust NASDAQ Global Auto Index Fund Report
and, most recently, the
First Trust ISE Cloud Computing ETF
(SKYY) - Get First Trust Cloud Computing ETF Report
.
While some of these new products are still working to gather steam, both companies have also seen success. SKYY, for instance, has quickly become one of the most talked about fund unveils in recent memory.
Launched during the middle of last week,
SKYY is designed to target the growing world of cloud computing
. Despite launching during a shortened holiday week, the fund still managed to generate plenty of interest among market commentators and investors. In the days following its July 5 launch, SKYY has managed to gather ample interest. The fund's average trading volume already stands at over 600,000 shares.
With search giant
Google
(GOOG) - Get Alphabet Inc. Class C Report
reporting earnings this week, I expect SKYY and the rest of the tech sector to remain on investors' minds.
SKYY's strong start not only bodes well for First Trust, but also for the broader ETF universe's expansion. Investors are clearly still interested in finding new ways to target their favorite sectors and industries and with ETF providers like First Trust and Global X standing by to satisfy this demand, I look forward to seeing the debuts of even more new and exciting funds.
Written by Don Dion in Williamstown, Mass.
RELATED ARTICLES:
>>Bill Gross' New ETF Will Be Tough to Mimic
At the time of publication, Dion Money Management owned iShares Gold Trust.