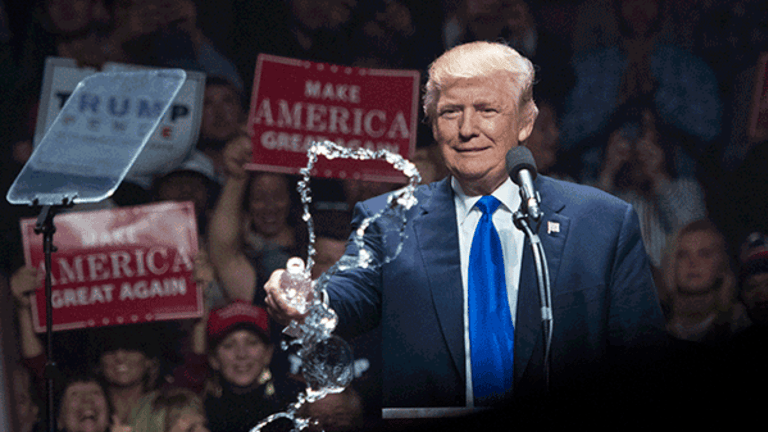 How Donald Trump Could Affect Dividends and Your Retirement
As president, Donald Trump and his policies could affect certain sectors of the economy, like oil. However, they may also affect your retirement as well.
Judging by his cabinet choices, his tweets and many of his campaign promises, President-elect Donald Trump seems hellbent on changing the economy to make sure it works not only for those on the coasts but also for those in middle of the country.
As the details of Trump's plan begin to leak out, his course of action may not only affect unemployment, wages and the broader economy, but it could negatively impact people's retirements -- if they're not careful.
Yields on the 10-year U.S. Treasury have surged since the election, sitting near 2.4%, up from 1.88% just prior to the election. Much of that rise in yields has been due to the anticipation of rising inflation caused by a Trump administration, as it looks to spend money on infrastructure projects, while also cutting taxes on many Americans.
In doing so, it's impacted bond prices (prices and yields move in opposite directions), leading some strategists to think that they may negatively impact high dividend paying stocks, if yields continue to rise.
"I think as Treasury yields approach the 3% level that we are closer to a tipping point than ever," said Christian Magoon, CEO of Amplify Investments. "One caveat is that stocks with significant dividend growth potential may be able to still retain the type of appeal we have seen for dividend stocks the last 8 or so years."
Many older investors look for dividends to be a source of income and returns to help fund a lifestyle that is suited for them in retirement. With the average dividend yield on the S&P 500 below 2%, thanks in part to rising stock prices, there is the potential for investors to pull out of dividend stocks until the yields are more attractive again.
Amplify, which has $120 million in assets under management, helps investors navigate the market by providing investors with various ETF options, including the Amplify YieldShares Prime 5 Dividend ETF (PFV) .
"[W]e think that having a diversified dividend strategy that recognizes stocks with dividend growth are important keys to dividend investing going forward," Magoon added, while noting that a Trump administration could increase volatility because of the unknown nature in which the administration will actually govern.
We've already seen a marked departure from the Obama administration, with Trump and Vice President-elect Mike Pence getting personally involved in negotiations with companies to stop moving factories or products out of the U.S., most notably United Technologies (UTX) subsidiary Carrier.
That said, it's important that investors continue to remain diversified in their portfolios, so as not to take too big of a hit from an unexpected tweet. "Staying diversified - and not overly concentrated in a sector or market capitalization - should provide a less volatile dividend investing experience," Magoon said.
Below is an interview with Magoon on how to navigate investing and retirement planning in a Trump administration and what it will mean for certain sectors of the economy, gold and dividends. This interview has been lightly edited for brevity and clarity.
TheStreet: What areas of the economy or sectors do you see as insulated and able to support good, solid rising yields in a rising rate environment?
Christian Magoon: Technology and Financials come to mind in terms of sectors that have above average potential to grow dividends in a rising rate environment. Technology due to the innovation and business growth potential in a healthy economy and Financials due to the increased spreads the banking industry can capture on assets.
TheStreet: What dividend stocks are you recommending why?
Magoon: As an ETF sponsor we don't have clients and also don't recommend stocks. Staying diversified - and not overly concentrated in a sector or market capitalization - should provide a less volatile dividend investing experience. Since we appear to be headed for multiple rate increases and an economy that is picking up steam, we believe that tilting dividend exposure to dividend growers versus high dividend payers offers a better chance of hedging against the eroding power of rising rates and inflation.
The index our PFV dividend ETF tracks produces one of the most diversified dividend portfolios with over 790 divided payers as underlying fund holdings but also requires a security to have increased its dividend year over year to be a holding within the ETF.
TheStreet: What would make you change your mind on high-yielding dividend stocks, e.g. something investors aren't thinking about right now?
Magoon: In an environment where interest rates raise substantially - hundreds of basis points a year for example - might be one where reduced dividend stock exposure would be prudent versus owning more growth stocks.
TheStreet: Many thought that a Trump administration would lead to lots of volatility, which in the past, has made gold a good asset to own. What makes gold a good place to put some money, especially as the dollar continues to get stronger?
Magoon: Gold acts as a portfolio hedge in times of crisis and global turmoil. The world seems to be more volatile and interconnected than ever. For that reason, gold can be used as a small allocation in a portfolio. While dollar strength usually means gold weakness during peaceful times, one significant world event can change that relationship.
I also believe the US dollar's current run in terms of strength cannot continue without serious repercussions to trade and currencies around the world. I look for a reversal of this strength in the coming months.
TheStreet: What gold related investments are you recommending why?
Magoon: Though, we're an ETF sponsor and don't recommend stocks, for those investors seeking exposure to gold, physically backed gold ETFs like the SPDR Gold Trust ETF (GLD) and iShares Gold Trust ETF (IAU) are ways investors can conveniently access the returns of physical gold.
Market Vectors Gold Miners ETF (GDX) would be a more aggressive ETF that seeks to access the returns of the more volatile gold mining industry.
TheStreet: What would make you change your mind on gold, e.g. something investors aren't thinking about right now?
Magoon: Gold appears to be oversold at this point given the strong dollar that has emerged since the U.S. presidential election. I think both the dollar strength is overdone and the potential for a geo-political crisis continues to justify a portfolio allocation to gold due to its historic performance record during crisis events.