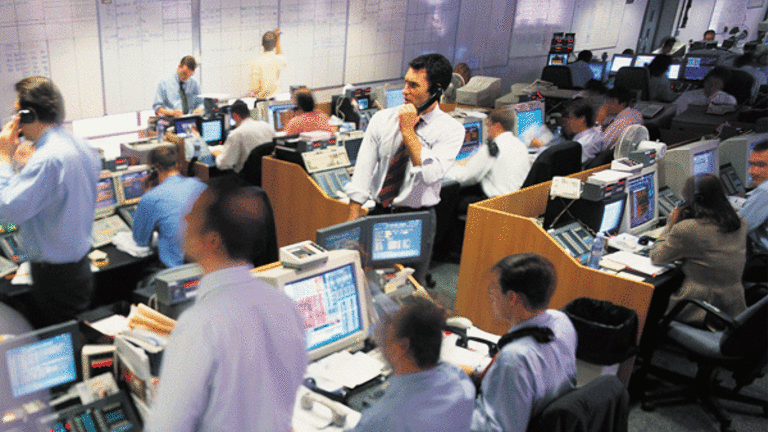 Historical Comparisons and the Selection of ETFs
History has its place, but investors should examine a host of data when considering a variety of risk-reward alternatives.
NEW YORK (ETF Expert) -- There is a piece at CNNMoney.com about the current disdain for stocks being a replay of the early 1980s. It is true that stocks underperformed bonds in the 1970-1979 period, and that investors fled stocks by the billions shortly thereafter (1979-1982).
It is also true that stocks rallied from 1979-1982 with an annualized return of 16%. And it is true that BusinessWeek's "Death of Equities" prediction in August 1979 ended up being one of the worst predictions in the history of human finance.
Yet, CNNMoney.com's simplistic assessment that history is repeating itself has several glaring omissions. While stocks did indeed trail bonds from 2000-2009 (just like 1970-1979), and while stocks did indeed rocket at a 16% annual pace from 2009-5/2012 (just like 1979-1982), the feature completely discounts the -25% April 1981-August 1982 bear market.
Why is this important? For one thing, we haven't experienced a bear market since the 2009 lows. If we are going to draw historical parallels, shouldn't we talk about the ways in which the earlier results were actually achieved?
The 1979-1982 period included double-digit gains in 1979 as well as a phenomenal year-over-year bull market run (April to April) of 35% in 1980-1981. In other words, most of the 1979-1982 gains were attained prior to an 81-82 bear. And yet, we haven't seen a bear in 2012... not so far.
Granted, I am the first person to remind others that history rhymes, but it doesn't necessarily repeat. Moreover, some could say that we witnessed a bear market in 2011 with the major averages bottoming out at a -19.6% drawdown.
Nevertheless, the distinction here is that the 1981-1982 bear market was the final nail in the coffin for a 16-year secular period (1966-1982) of zero gains for prices of the primary benchmarks. By extension, it's difficult to ignore the reality that we have only seen 12 years since the 2000 top.
There are other distinctions between the U.S. stock market today and 30 years ago. In many instances, P/E ratios for stocks had been below 10, whereas trailing 12-month P/Es are closer to 15 today. Undervalued then... fairly valued now. Finally, the Federal Reserve didn't fritter away all of the tools in its toolbox 30 years earlier, whereas today's Fed is clearly running low on ammunition.
I am not drawing a conclusion that a bear market is imminent. Nor do I believe that stocks should be tossed aside for U.S. government bonds. Instead, I am reminding folks that historical analysis shouldn't begin and end with strong similarities, nor should history alone guide your decision making. Investors should examine technical data, economic info, yield spreads, contrarian indicators as well as geopolitical circumstances when considering a variety of risk-reward alternatives.
For my clients at Pacific Park Financial I continue to favor
ETFs with attractive yields relative to comparable Treasury Bond ETFs. This includes funds like
PowerShares High Yield Corporate Bond
(PHB) - Get Free Report
,
PowerShares Emerging Market Sovereign Debt
(PCY) - Get Free Report
,
iShares High Dividend Equity
(HDV) - Get Free Report
and
iShares FTSE NAREIT Mortgage REITs
(REM) - Get Free Report
.
A simple view of the trendlines keeps me away from foreign stocks for the time being. It is difficult to justify the risk associated with Vanguard All-World Excl U.S. (VEU) with the current price below a 200-day moving average and the 50-day crossing below the 200-day.
You can listen to the ETF Expert Radio Show "LIVE", via podcast or on your iPod. You can follow me on Twitter @ETFexpert.
Disclosure Statement: ETF Expert is a website that makes the world of ETFs easier to understand. Gary Gordon, Pacific Park Financial and/or its clients may hold positions in ETFs, mutual funds and investment assets mentioned. The commentary does not constitute individualized investment advice. The opinions offered are not personalized recommendations to buy, sell or hold securities. At times, issuers of exchange-traded products compensate Pacific Park Financial or its subsidiaries for advertising at the ETF Expert website. ETF Expert content is created independently of any advertising relationships. You may review additional ETF Expert at the site.
Gary Gordon reads:
On Twitter, Gary Gordon follows: