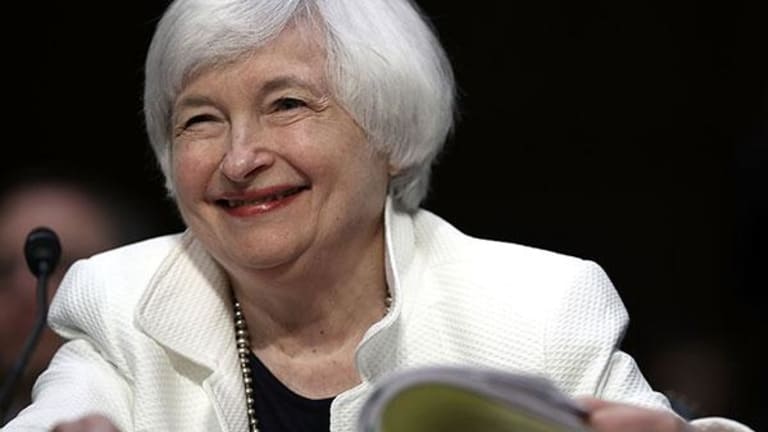 Here Are Two Ways to Own Bond ETFs When the Fed Raises Rates
The Federal Reserve seems intent on raising interest rates this year, which may negatively impact yields on bonds. How should investors position their portfolios?
Though Janet Yellen and the rest of the Federal Reserve passed on raising rates in September, comments from other Fed officials have indicated there is likely to be one interest rate hike before the year ends, barring any economic collapse.
While some experts may not agree with the decision to hike rates in light of a potentially slowing economy, they're positioning their portfolios for higher yields just in case.
"Our view is that the economy is not ready for a rate increase," said Chuck Self, chief investment officer of iSectors, a veteran of the bond market for more than 30 years. "Third-quarter GDP will be higher than previous quarters but only because of inventory and trade adjustment, and we think third-quarter earnings will be down and fourth-quarter guidance will be lowered. The economy is weak."
The S&P 500 is expected to earn $29.76 for the quarter, down from a prior outlook of $30.65, a decline of 2.9%, according to research firm FactSet. Much of that is due to lower earnings revisions in the energy sector, which has been hit by sliding oil prices. On June 30, the earnings estimate called for a growth rate of 0.3%, indicating a decline of more than 3% in just the past 90 days.
With a drag in earnings for the third quarter as well as expected downward guidance for the fourth quarter, any rate hike in December may be met with a sharp sell-off in stocks, Self said. "Assuming a rate increase in December and a call for two or more rate increases in 2017, like last year, we'll have a significant correction in stocks and bonds will be seen as a safe asset," he said.

When the Federal Open Market Committee (FOMC) decides to raise or lower its main interest rate tool -- the federal funds rate -- it often affects the short-end of the yield curve, or shorter-term maturities. If the FOMC does go ahead and hike in December, Self believes there is likely to be a flight to longer-dated U.S. Treasuries, ones with maturities that are 20 years out and further.
According to the FedWatch Tool from CME Group, traders believe there is a 54.8% probability of the FOMC raising its rate 25 basis points, though that probability is down from recent days.
With that in mind, investors who want to position their portfolios for a pending interest rate hike from an ETF perspective have two options: buy the long-term U.S. Treasury ETF or build a bond-ladder in their portfolio.
"For long bonds, the most liquid ETF is the iShares U.S. 20+ Treasury ETF (TLT) - Get iShares 20+ Year Treasury Bond ETF Report ," Self said, highlighting that the fund only owns Treasuries unlike other bond funds and is enormous in size. Currently, the iShares U.S. 20+ Treasury ETF has $6.5 billion in assets under management and has a yield of 2.3%.
Building a bond ladder -- a term used to describe bonds that have differing maturity dates -- used to take more effort from an investor, buying individual bonds that have various maturities and then rolling over the proceeds into higher-yielding bonds. Thanks to the advent of ETFs, asset management firms like Guggenheim and iShares have created defined maturity ETFs, which allow investors to buy a group of bonds that all expire in a single year, making a bond ladder much easier to create.
Depending on the asset class, the maturities go out to 2025 and in some cases 2026 and allow investors to hedge their portfolios to be less sensitive towards the shorter end of the yield curve in a rising rate environment. Guggenheim offers several of its BulletShares Corporate Bond ETFs with various tickers depending on the maturity year and recommends an equal-weight portfolio having 7% of a portfolio weighted toward each of the first four years of the ladder and 6% of the remaining five years.
No matter what the Federal Reserve does before the year end, bond investors looking to protect their portfolio from an interest rate hike have differing solutions to have diversification and liquidity, while knowing they will get something close to par value when the bonds mature.