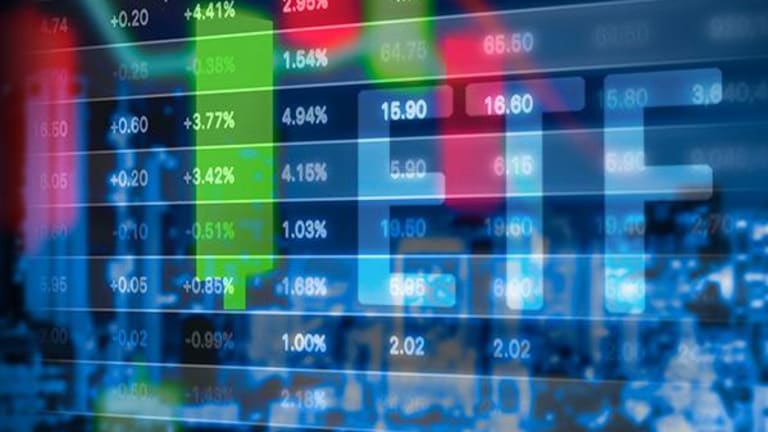 Here Are the Best Bourses for International ETFs in 2017
2016 was a subdued year for international ETFs. What will 2017 bring overseas for foreign-minded investors?
2016 was a subdued year for international ETFs. What will 2017 bring overseas for foreign-minded investors?
With roiling news overseas in 2016 - most notably the Brexit vote in the U.K., economic volatility in China and Middle Eastern oil prices at a 12-year low - 2016 was a mixed bag for international exchange traded funds.
Data from Zacks Research reveal that regional fund performance was stronger in Asia than in Europe for the year and that foreign bourses with "easy money policies" outperformed in 2016.
Zacks cites SPDR S&P International Materials Sector ETF (IVR) - Get Report , up 18.7% for the year, and Oppenheimer ADR Revenue ETF (RTR) , up 11.8%, as two of the top funds for 2016. The former is stocked full of global industrial companies, especially in Japan, Germany and China. The latter focuses on the S&P ADR Index, including "top line" companies like Toyota Motor Corp., Spon ADR, Petrochina Co Ltd -ADR, and China Petroleum & Chem-ADR.
"The global markets have been on a roller coaster ride this year thanks to some key developments," Zacks said in a December research post. "Initially, several China-driven offhand events and a 12-year low oil price triggered a market rout while Brexit swept it away with fears and uncertainties in June."
"Meanwhile, growth worries in global superpowers like the Euro-zone and Japan continued to peek and hide," the firm adds. "However, confirmation of easy money policies in both regions offered some moderate market bounces in the last leg of the year. Comparatively, emerging markets have done well this year thanks mainly to a commodity market recovery and subdued greenback for the most of the year."
With 2017 here, which international ETFs will prosper? Here are some nominees in the eyes of Wall Street professionals surveyed by TheTheStreet.com - all are worth a look while you readjust, or build for the first time, your overseas investment portfolio.
IDV iShares International Select Dividend - Joshua Scheinker, founder of Scheinker Investment Partners, in Baltimore, Md., says recent historical returns have been low for international funds, so it's best to steer toward a conservative overseas port of call. "With a ten-year return on the MSCI EAFE index of just under 1%, investors have to wonder when will the carnage end," he says. "Still, international continues to look like an inexpensive sector to us, but we are still playing it safe." Scheinker recommends leveraging the IDV iShares International Select Dividend (IDV) - Get Report . "It has a 4.7% yield and the capacity for full index exposure," he says.
iShares ETF EZU - "There's an unusual amount of political uncertainty heading into 2017 which makes forecasting winners and losers internationally tricky," says Kevin Feldman, founder of Feldman Capital LLC in San Francisco. "With expected tightening by the Federal Reserve and easy monetary policy by the Europe-based ECB, there's a good case for continued dollar strength versus the euro. One way to play that is iShares Currency Hedged MSCI Eurozone ETF  (HEZU) - Get Report , the hedged version of the iShares ETF that invests in Eurozone countries. It's up 6.7% so far this year, versus 0.5% for the unhedged ETF version."
Vanguard Total International Stock ETF (VXUS) - Get Report - Go low, with a broad based fund with manageable fees, Feldman adds. "Investors would do well to start with a broad low-cost international ETF like VXUS, if you want to avoid emerging markets, before adding specific country ETFs to their portfolios," he says.
iShares International Dividend Growth ETF IGRO - Brett Owens, chief investment strategist at ContrarianOutlook.com, advises blending different sectors into a good overseas fund and that's exactly what iShares International Dividend Growth ETF (IGRO) - Get Report brings to the table. "IGRO is in the same vein as its U.S.-based brother, iShares Core Dividend Growth ETF (DGRO) - Get Report , which focuses on financial health and, of course, increasing dividends," he says in a recent research note. DGRO selects non-real estate investment trust securities that are outside of the U.S., Owens adds, and "passes a number of quality screens," including five years of consecutive annual dividend growth, a payout ratio of less than 75% and a positive consensus earnings forecast. "That results in a portfolio that puts about a quarter of its weight in financials, 17% in consumer staples, 14% in healthcare and double-digit exposure in consumer discretionary and industrials, too," he adds.
With a high degree of volatility in play across the globe in 2017, international funds could be a higher risk investment. But if you choose wisely, adding an overseas ETF element is a smart play for portfolio diversity reasons, and the funds listed above should keep your investable assets in balance next year.