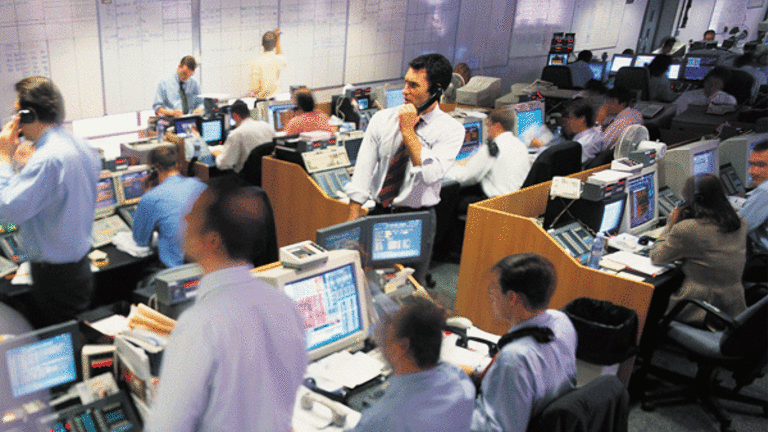 Hedging Against Market Distribution
These inverse ETFs could alleviate portfolio pressures caused by rising oil prices and political unrest.
Editor's note: This piece originally ran earlier today on our newest Premium service, ETF Profits. Click here for a 14-day trial to this exciting product!
Markets remain entrenched in a see-sawing battle between rising oil prices and improving corporate earnings. The problem is that one of these metrics (future oil prices) is forward looking while the other (past earnings) is the picture through the rear-view mirror. Rising oil prices most assuredly can derail our fragile recovery. Therefore, the duration and magnitude of the rise in oil will be a determining factor.
Meantime, we're starting to see some market-related troubles brewing on the horizon. Distribution days are starting to accumulate, putting pressure on professional investors. According to
Investor's Business Daily
, a distribution day occurs when an index closes lower than it did the previous day on heavier volume. This is an indicator of institutional selling.
The Nasdaq has racked up five distribution days in the past three weeks. Based on that, and the fact that we're seeing weak action from stocks that previously were market leaders,
IBD
concluded that the market is now in a correction. Wells Fargo's downgrade of chip stocks yesterday did not help the composite's performance either.
In a true market correction, investors should not be buying. In fact, if you are holding winners, it is important to focus on not giving back too much of your gains. Decide on a specific sell point for each position, and honor it.
Markets still have not indicated a clear sell signal. If the lows of two weeks ago are breached, that would be a sign that the correction has further to go. However, recent market action indicates that a bigger downtrend may be coming. Like the Boy Scout handbook states, it is always best to be prepared.
With oil now over $100 per barrel and gas prices fast approaching $4 per gallon, consumers and investors alike are taking notice. Recall that in October 2007 -- when oil reached $96 a barrel while on its way to hitting $150 per barrel the following summer -- the stock market topped out. In addition, the "Great Recession" also began in that same quarter.
One saving grace is that today's rise in oil prices is a supply issue, not a demand issue. This is why many observers, including
Fed
Chairman Ben Bernanke, are saying that these high oil prices will most likely be temporary (and therefore not debilitating).The problem is that no one knows how long or how much the supply will be disrupted. It doesn't look like the situation in Libya will wrap up anytime soon.
A "Friday of Rage" protest is scheduled for this Friday in Saudi Arabia -- a country not known for demonstrations. Events in Saudi Arabia could impact the price of oil to a much greater degree than anything that transpires in Libya. Hopefully this is a controlled and an isolated exhibition that doesn't lead to bigger issues in that country.
Since the recent market peak on Feb. 18, the Nasdaq has been the most volatile of the major indices. Use the
ProShares Short QQQ
(PSQ)
as a hedge against further declines in that market. PSQ provides returns inverse to the Nasdaq 100 Index.
PSQ is bumping up against it 50-day moving average. It closed yesterday at $32.82. Should it clear near-term overhead resistance of $33.50, PSQ could make $37 its next target. Place a stop at $31.75 for protection.
Those looking for a more aggressive hedge might want to consider the
ProShares Ultra Short QQQ
(QID)
. QID uses leverage to correspond to twice the inverse price and yield of the Nasdaq 100. The logic behind an investment in QID is the same as it is for PSQ, but the fact that QID is leveraged means it will make bigger moves. Depending on the direction of the market, this could be a good or bad thing.
QID closed yesterday at $51.91 and has resistance at $54.15. Should it clear that level, its next price target would be $64 per share. Place a stop at $48.98 for downside protection.
At the time of publication, Slusiewicz held no positions in the stocks mentioned.
Jerry Slusiewicz has over two decades of professional investment experience. He has worked with individuals and institutions to manage monies for both short and long-term investment horizons. This extensive experience through various stock and bond market cycles enables him to offer a unique blend of professional investment counsel and personal service.