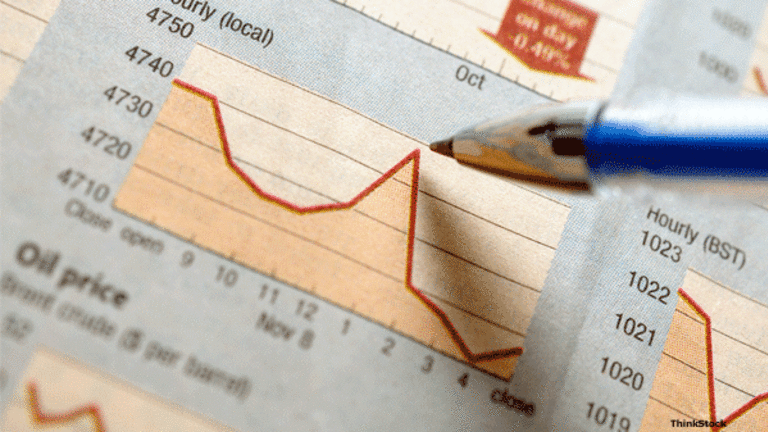 Hedge Your Portfolio With 'Ultra' Short ETFs
ETFs that move in the opposite direction of stocks can help smooth the market's bumps.
The recent stock market declines have a lot of investors thinking about how to layer in some defense into their portfolios. Just selling stock is problematic, however. Depending on the type of account, the sale could trigger a taxable event and generate a trading commission. Selling a stock you like is also difficult because if you are right about it, it might recover too quickly for you to get back in.
Of course it is possible that the recent market decline has revealed a weakness in something you own, in which case a sale might be warranted. But even middling stock pickers are unlikely to find that a lot of their holdings are actually bad companies.
This is where the short and ultra-short ETFs from
ProShares
can fill a void. I have written about these products
here before and while they are not perfect, they can reduce your vulnerability to a market correction when used the right way. That's because, even if the long positions in your portfolio are dropping in price, the short ETF positions will keep the overall portfolio from dropping as much.
(Read
here to find out why ETFs themselves are hard to short.)
Think of it this way: If the market drops 20%, but your account only drops 10% thanks to an ultra-short fund, does it really matter what the individual long stocks are doing? I submit that the result of the portfolio is more important than the result of any one individual component.
The obvious type of fund to use would be one that moves in the opposite direction of a broad-based index like the
S&P 500
or one that tracks the inverse performance of a given index at twice the velocity; my preference is the
ProShares Ultra Short S&P 500
(SDS) - Get ProShares UltraShort S&P500 Report
ETF, which meets both criteria.
Ultra-short funds provide more hedge for the buck. I think of them as a more efficient hedge than ordinary short ETFs and I prefer them to put options because you don't need to worry about expiration or changes in volatility.
Allocating 2% of a portfolio to a double-short fund would hedge 4% of it against a decline on a given day. Each day the market keeps going down, the dollar value of the double-short fund will grow in relation to the size of the rest of the portfolio, providing an even bigger hedge.
Using ETFs that track the inverse performance of a broad-based index isn't always the best strategy, however.
During the first quarter and again over the past couple of weeks, the financial and materials sectors both have been hit harder than the overall market.
This is in part because most of the fear emanates from the financial sector, while materials stocks have dramatically outperformed as the bull market has advanced until recently, but have been underperforming in the recent selloff.
I believe that if the market keeps falling, financials and materials are likely to continue to underperform, which means the ultra-short funds for those two sectors could provide more hedge for the buck than SDS.
The
UltraShort Materials
(SMN) - Get ProShares UltraShort Basic Materials Report
ETF has a correlation of -0.85 and a beta of negative -2.45.
The
UltraShort Financial
(SKF) - Get ProShares UltraShort Financials Report
ETF has a correlation of -0.93 and a beta of -2.20. SDS has a correlation of 0.97 and a beta of -2.02.
On Aug. 3, when the S&P 500 was down 2.66%, SMN was up 5.51% and SKF was up 6.59%, as a not so random example.
The chart below shows that over the last month SMN has been a little more efficient of a hedge than SDS, and SKF would also have protected a lot of portfolios. Given the headlines about the subprime mortgage mess and liquidity crisis in the credit markets, this wouldn't have been too difficult to predict.
During future corrections, there will probably be one or two sectors that, like financials and materials now, would seem to be obvious candidates to lead to the downside in a correction.
UltraShort Financials ProShares
(SKF)
Source: Yahoo! Inc.
Instead of hedging, say, 5% of a portfolio with a 2.5% allocation to SDS, the same 5% can be hedged with a 2.0% allocation to SMN. In a $1 million portfolio, the 0.5% difference works out to $5,000. It may not seem like much, but the idea here is to hedge against a decline with as little turnover within the portfolio as possible.
In a $1 million portfolio that is fully invested, you could swap one stock with a 4% weight in exchange for 4% in SMN, thus going from 100% long to 86% long with just two trades. (Selling the stock gets the long exposure down to 96% and putting the 4% to work in SMN gets it down to 86%.) In my opinion this is far from disruptive to the overall portfolio in the event that you purchase the hedge at the bottom of the market.
I use SDS in this manner. It makes for a smoother ride for the portfolio, but there are a couple of issues that could catch investors off-guard or be overlooked. First is that these ETFs are expensive -- most of them have an expense ratio of 0.95 basis points.
The other big issue is that the objective of these funds is to capture the intended effect on a daily basis. (This requires the ETF to tweak its futures holdings each day, hence the extra expense.) Their track records are pretty good, but not perfect. You should not expect these funds to capture the inverse or twice the inverse of an index over a period of months. This will be a turnoff for some folks, but that issue notwithstanding, they do reduce overall portfolio volatility on a day-to-day basis.
At the time of publication, Nusbaum's clients were long SDS, although positions may change at any time.
Roger Nusbaum is a portfolio manager with Your Source Financial of Phoenix, and the author of Random Roger's Big Picture Blog. Under no circumstances does the information in this column represent a recommendation to buy or sell stocks. Nusbaum appreciates your feedback;
to send him an email.