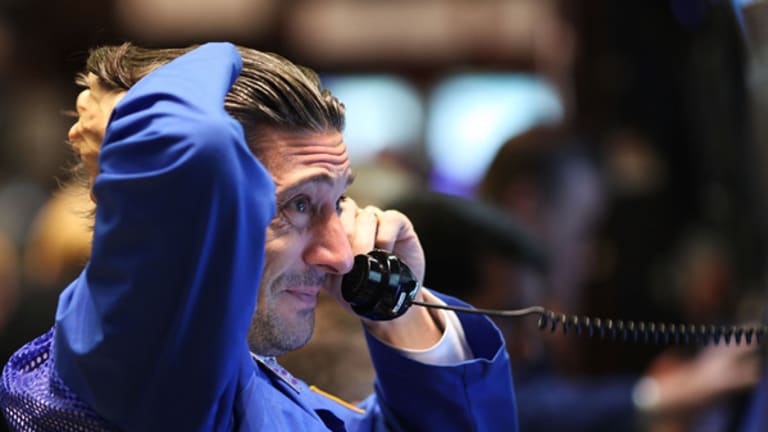 Heavy Metal ETF: Amp Up Your Holdings
PowerShares DB Base Metals Fund has had some big swings recently and offers lucrative trading opportunities if they're timed correctly.
NEW YORK (
) -- As copper hits a three-week high today on demand from China and positive U.S. January homebuilding data, it draws attention to
PowerShares DB Base Metals Fund
(DBB) - Get Free Report
, which has been turning some heads recently with its erratic gains and losses.
The fund had positive performance that was strong enough to put it on my
last week, rising 6.3%, but it also had enough negative performance to make my
weekly ETF losers list
the week before that, falling 4.9%.
The fund is certainly volatile and started the week yesterday with an increase of 5.6%, one of the strongest gains among all ETFs on the day. One thing about DBB seems certain: Whichever direction it takes, it will go there fast.
DBB tracks an index composed of futures contracts for copper, aluminum and zinc in approximately equal weightings. Investors with risk tolerance that are interested in gambling on sharp upturns in industrial metals should choose DBB over some similar metal fund alternatives because it is the only ETF tracking an industrial metal basket with sufficient liquidity.
The basket of industrial metals will rise or fall in value depending on the world economic outlook for overall growth and construction. Changes in these factors alter the demand side of the equation for the price of these metals.
On the supply side, factors that can influence the price of these metals have to do with the speed of metal production or mining. Also, inventory levels that individuals, companies or countries accumulate can also influence the price of the metals if stockpiled supplies are put out on the market. Large inventories can also reduce demand for metals since the owners of the inventory may not need to purchase new quantities in the marketplace when they have the ability to draw on their own ample reserves.
In an example of how demand concerns can eat away at the value of DBB, the fund fell by 13% in the period from Jan. 19 to the end of the month after the Chinese government announced that it would restrict rampant lending.
Less lending would mean fewer building projects in the country and less demand for the industrial metals tracked by DBB. In the same time period, the most popular China ETF, the
iShares FTSE/Xinhua China 25
(FXI) - Get Free Report
, fell by about 10% while the
dropped by 7%, showing how sensitive DBB can be to certain economic trends.
The decrease in DBB was greater than that of FXI since the speculation about interest rate increases in China also led to speculation that inventories would become less desirable in comparison to bank deposits. This would lead to less demand for metals and a decrease in the value of DBB. Speculation about this trend compounded the decrease in DBB that was caused by concerns that there would be less construction as a result of fewer loans.
Factors beyond China also influence DBB, but the relationship between economic policy in that country and metal prices in the latter part of January serves as a fine example of how volatile DBB can be in response to news. It also shows the potential for lucrative trades if they are timed correctly, as the fund has rebounded by 12% since Feb. 5.
Right now may not be the best time to jump into this fund, however, following its recent rally. Still, it would be prudent for investors to keep the dynamics of this ETF in mind should an opportune situation arise in the future.
-- Written by Don Dion in Williamstown, Mass.
At the time of publication, Dion had no holdings in ETFs mentioned.
Don Dion is president and founder of
, a fee-based investment advisory firm to affluent individuals, families and nonprofit organizations, where he is responsible for setting investment policy, creating custom portfolios and overseeing the performance of client accounts. Founded in 1996 and based in Williamstown, Mass., Dion Money Management manages assets for clients in 49 states and 11 countries. Dion is a licensed attorney in Massachusetts and Maine and has more than 25 years' experience working in the financial markets, having founded and run two publicly traded companies before establishing Dion Money Management.
Dion also is publisher of the Fidelity Independent Adviser family of newsletters, which provides to a broad range of investors his commentary on the financial markets, with a specific emphasis on mutual funds and exchange-traded funds. With more than 100,000 subscribers in the U.S. and 29 other countries, Fidelity Independent Adviser publishes six monthly newsletters and three weekly newsletters. Its flagship publication, Fidelity Independent Adviser, has been published monthly for 11 years and reaches 40,000 subscribers.