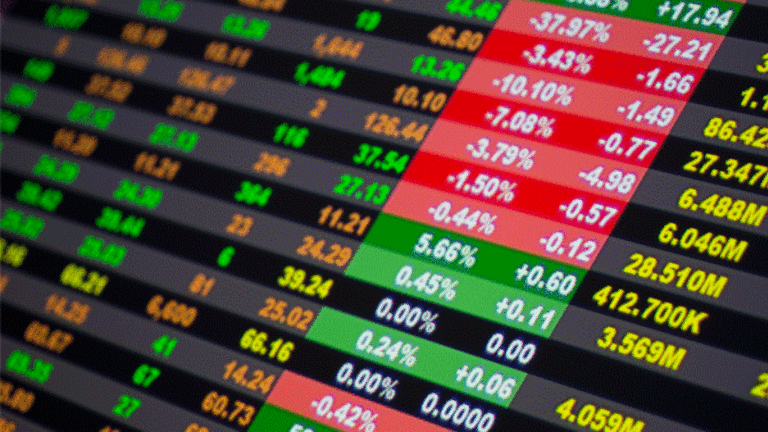 Healthy Biotech and Pharma ETFs
While health care reform has caused havoc in the sector, biotech and pharma ETFs are the best bets in the sector.
Before the first ballot was cast in the 2008, Obama's quest for health care reform caused havoc in the sector and among health care ETFs like iShares Nasdaq Biotechnology (IBB) - Get iShares NASDAQ Biotechnology ETF Report and HOLDRS Merrill Lynch Pharmaceutical ETF (PPH) - Get VanEck Vectors Pharmaceutical ETF Report.
Government plans to extend health care to the uninsured and cut costs could certainly hinder major health care companies such as
Amgen
(AMGN) - Get Amgen Inc. Report
and
Gilead
(GILD) - Get Gilead Sciences, Inc. (GILD) Report
, as lower costs cut into profits. Some analysts, however, believe that the influx of people into the heath care system and the bubble of aging baby boomers could make up for setbacks caused by reform.
ETFs provide access to a number of health care sectors, including biotech and pharmaceutical, giving investors a variety of approaches to diversify their portfolios. After surveying ETFs in both the biotech and pharmaceutical subsectors, IBB and PPH have emerged as two strong selections in a field of strong competitors.
The chance of any one biotech firm developing the next blockbuster drug are similar to the odds of moving to Hollywood and starring with Angelina Jolie in your first movie. That's not to say that biotech isn't a good place to have a small position -- biotech firms that make it do make it big and the reward for this sector is as high as the risk.
There is a broad range of biotech ETFs to choose from. The
SPDR Biotech
(XBI) - Get SPDR S&P BIOTECH ETF Report
and
PowerShares Dynamic Biotech & Genome
(PBE) - Get Invesco Dynamic Biotechnology & Genome ETF Report
funds offer investors balanced exposure to a broad range of biotech firms with an emphasis on small-cap companies.
iShares Nasdaq Biotechnology
(IBB) - Get iShares NASDAQ Biotechnology ETF Report
and
Biotech HOLDrs
(BBH) - Get VanEck Vectors Biotech ETF Report
give investors exposure to the biggest names in the business.
IBB has the largest volume out of this group and is perhaps the best choice for investors looking to diversify with biotech. Its low-cost structure concentrates on larger biotech firms while offering 130 holdings to give investors a larger exposure to the sector. While BBH is also made up of big name firms, the fund is extremely top heavy and potential investors may be better off just buying top components like Amgen and Gilead on their own.
Pharmaceutical ETFs provide defensive diversification for investors looking to invest in health care while avoiding providers and medical device firms. ETFs such as
iShares Dow Jones Pharmaceuticals Index
(IHE) - Get iShares U.S. Pharmaceuticals ETF Report
,
HOLDRS Merrill Lynch Pharmaceutical ETF
(PPH) - Get VanEck Vectors Pharmaceutical ETF Report
,
PowerShares Dynamic Pharmaceuticals
(PJP) - Get Invesco Dynamic Pharmaceuticals ETF Report
and
SPDR S&P Pharmaceuticals
(XHP)
help investors gain exposure to the defensive and non-cyclical pharmaceutical sector. The two major concerns facing the pharmaceutical industry today are health care reform and mega-mergers, factors that will affect any investment in this selection.
Generic drugs have become more prevalent in recent years, cutting back the profits for some of the large drug-makers that comprise the sector. Major health care law suits, affecting companies like
Merck
(MRK) - Get Merck & Co., Inc. (MRK) Report
and
Wyeth
(WYE)
can unexpectedly wrench these companies into the limelight and wreak havoc among shareholders. The Obama administration's health care reform has dramatically affected stock prices in this sector, but it is possible that in the panic these companies have become oversold.
PPH may be the best bet for investors looking to allocate a portion of their portfolio to pharmaceuticals. PPH is top-heavy, with the fund's portfolio divvied up between 18 pharmaceutical stocks -- but big pharma could be the right place for investors in an uncertain climate.
PPH is also a very large and liquid ETF, and over 1 million shares of the fund change hands each day. Investors should be cognizant of buying restrictions -- shares can only be purchased in lots of 58. While this restriction may hinder some investors, others will be attracted to this fund's low, nominal fee.
At the time of publication, Dion was long IBB.
Don Dion is the publisher of the Fidelity Independent Adviser family of newsletters, which provides to a broad range of investors his commentary on the financial markets, with a specific emphasis on mutual funds and exchange-traded funds. With more than 100,000 subscribers in the U.S. and 29 other countries, Fidelity Independent Adviser publishes six monthly newsletters and three weekly newsletters. Its flagship publication, Fidelity Independent Adviser, has been published monthly for 11 years and reaches 40,000 subscribers.
Dion is also president and founder of Dion Money Management, a fee-based investment advisory firm to affluent individuals, families and nonprofit organizations, where he is responsible for setting investment policy, creating custom portfolios and overseeing the performance of client accounts. Founded in 1996 and based in Williamstown, Mass., Dion Money Management manages assets for clients in 49 states and 11 countries. Dion is a licensed attorney in Massachusetts and Maine and has more than 25 years' experience working in the financial markets, having founded and run two publicly traded companies before establishing Dion Money Management.