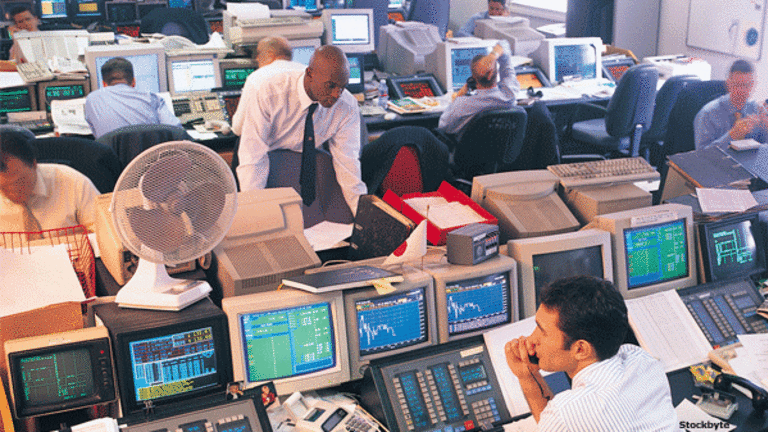 Goldman Sachs Attention Unwanted
With the public irked by Goldman's latest string of shenanigans, expect tougher regulations across the board.
NEW YORK (
) --
Goldman Sachs
(GS) - Get Goldman Sachs Group, Inc. Report
may rue the day it got into bed with the U.S. government, if trends in publicopinion continue to develop.
From a
Rolling Stone
expose to political pundits and concerns about high-frequency trading, Goldman Sachs' name keeps turning up.
Now,
The WallStreet Journal
is asking questions about its "trading huddle," where analysts and tradersdiscuss thoughts on the market and, in at least one case, offered meeting advice thatdiffered from a published report.
On the surface, it doesn't appear that Goldman did anything illegal, nor is there clearevidence of unethical behavior. The meetings were focused on short-term trading ideas, notlong-term ones found in analyst reports. Furthermore, one might ask why an investor ortrader would be a client of Goldman Sachs if it didn't deliver an edge.
Nevertheless, FINRA and the
SEC
want to investigate the matter. It's a good idea, if fornothing else than to clear the air, but it's yet another case of the regulators acting after thepublic dissemination of information.
Government regulators and (formerly) quasi-government entities such as
Fannie
undefined
and
Freddie
undefined
were complicit in the financial crisis because their name was a stamp ofapproval; subprime debt gained legitimacy because Fannie and Freddie were buying it.
TheSEC approved the rating agencies that gave triple-A ratings to garbage. And manyinvestors are cavalier about who they invest with because they believe the SEC is watchingtheir back. Madoff and R. Allen Stanford proved otherwise.
Instead of focusing on this specific incident, which doesn't yet show evidence of clear wrongdoing, I'd ask why the
Journal
ran this story on the front page. And I believe the answer isthat the public is not happy with financial institutions in general, and certainly not with firmsthat have benefited directly, such as
JPMorgan
(JPM) - Get JPMorgan Chase & Co. Report
,
Citigroup
(C) - Get Citigroup Inc. Report
,
Bank of America
(BAC) - Get Bank of America Corp Report
and
AIG
(AIG) - Get American International Group, Inc. Report
(through cash infusions) or indirectly, in the case of Goldman Sachs (through the selective bankruptcy of the competition, and cash infusions that passedthrough other firms).
On top of that, the firms' close ties to the federal government raisethe ire of taxpayers miffed about huge deficits .
The end-result is likely to be tougher-than-expected regulations. As much as corporationsare able to lobby Congress for favorable outcomes, they are almost powerless againstwidespread negative public opinion. Politicians who might normally favor less stringentchanges will not step in front of a runaway train.
President Obama and the Democrats are already looking at large losses in 2010 due to theirbotched efforts at health care reform. Deficits, climate change, bailouts and the stimulus areall losers for the party heading into next year, as things stand today. Financial regulationcould be an easy win because Republicans won't want to be seen as defending financialinstitutions.
ETF investors need to
consider potential new regulations
as part of their long-term planning.Commodity and leveraged ETFs have come under attack and regulation could eventuallychange the way investors access these asset classes. Financial regulation will be even morefar-reaching, affecting everything from insurance to mortgages. Public sentiment suggeststhe industry is about to land in the government's crosshairs.
Regulatory agencies shouldn't think they're safe, either. Inter-agency turf wars areunder way and the
Federal Reserve
seeks to expand its power, even at the expense of theSEC. But the Federal Reserve is also a target of the public. House and Senate bills callingfor an audit of the central bank gain more and more co-sponsors over time, with the Housealready at an absolute majority.
The Great Depression saw the creation of regulatory agencies and expanded the powers ofthe Federal Reserve, but citizens considered government and business to be distinctentities. Voters aren't as naive today, and the line between the two is as thin as ever. Thistime, reform may target government and business with the same intensity. The risk ofcollateral damage is high.
-- Written by Don Dion in Williamstown, Mass.
At the time of publication, Dion had no positions in companies mentioned.
Don Dion is president and founder of
, a fee-based investment advisory firm to affluent individuals, families and nonprofit organizations, where he is responsible for setting investment policy, creating custom portfolios and overseeing the performance of client accounts. Founded in 1996 and based in Williamstown, Mass., Dion Money Management manages assets for clients in 49 states and 11 countries. Dion is a licensed attorney in Massachusetts and Maine and has more than 25 years' experience working in the financial markets, having founded and run two publicly traded companies before establishing Dion Money Management.
Dion also is publisher of the Fidelity Independent Adviser family of newsletters, which provides to a broad range of investors his commentary on the financial markets, with a specific emphasis on mutual funds and exchange-traded funds. With more than 100,000 subscribers in the U.S. and 29 other countries, Fidelity Independent Adviser publishes six monthly newsletters and three weekly newsletters. Its flagship publication, Fidelity Independent Adviser, has been published monthly for 11 years and reaches 40,000 subscribers.