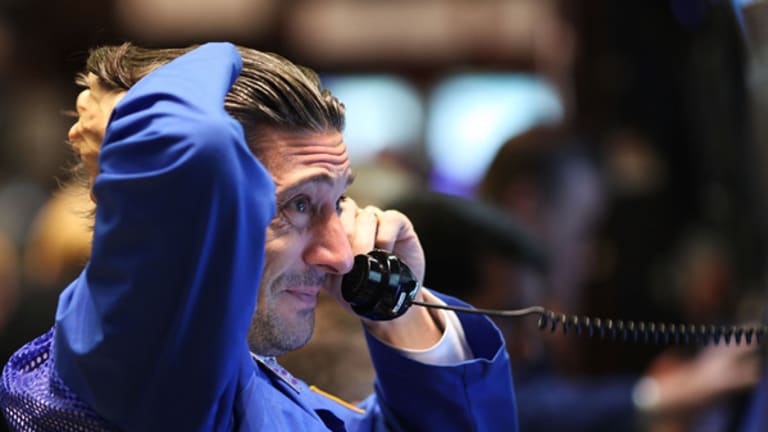 Gold Miner ETFs Face Regulatory Scrutiny
The new financial reform law will give the Commodities Futures Exchange Commission a major role in regulating trading in gold and other precious metal producers.
NEW YORK (TheStreet) -- Investors want exposure to precious metals. Whether their goal is to protect against market uncertainties and inflation or to prepare for economic prosperity in the near future, gold, silver, and the platinum group of metals have become some of the most popular and most sought after assets in the investing world.
Sensing this boom in popularity, a number of ETF providers have risen to the occasion, releasing a bevy of products designed to track the metals from a physical and futures perspective. While this has proven to be a popular route to take, still others have remained heavily focused on the companies responsible for unearthing these commodities.
While, using ETFs and mutual funds such as
Market Vectors Gold Miner ETF
(GDX) - Get VanEck Gold Miners ETF Report
and
Fidelity Select Gold Fund
(FSAGX) - Get Fidelity Select Gold Portfolio Report
, investors have long had the opportunity to tap into gold producers, over the past year the miner-related fund universe has taken off, expanding beyond just gold.
In recent months, companies like First Trust and Global X have come to the market with products designed to track baskets of companies involved in other types of precious metals. Today, investors can invest in platinum with the
First Trust ISE Global Platinum Index Fund
(PLTM) - Get GraniteShares Platinum Trust Report
and silver with the popular
Global X Silver Miners ETF
(SIL) - Get Global X Silver Miners ETF Report
.
The growth in miner-related ETFs has spilled over into base metals as well. The
Global X Copper Miner ETF
(COPX) - Get Global X Copper Miners ETF Report
tracks companies responsible for producing copper.
The push for new and unique precious metal and base metal miner funds certainly reflects the retail investor's growing interest in gold, silver, and other metals. However, this expansion may also be a sign that investors are looking for investment options that will remain unaffected with the passage of financial reform.
Within the dense Dodd-Frank financial reform bill is legislation that will provide the Commodities Futures Exchange Commission (CFTC) with new powers, allowing it to increase regulation of all commodities of "finite" supply. This includes gold and other precious metals. The large number of precious metal ETFs and ETNs which track baskets of futures contracts could be in for a rocky road.
In the past, this regulatory body has used its power to set limits on the number of futures contracts that a single entity can hold. While this step has been taken to ensure that no single entity can grow so large that it manipulates the price of a commodity, it threatens to interfere with the creation and pricing of fast-growing funds, thereby creating headaches for the average investor. The most memorable example of this occurred in 2009, when the
United States Natural Gas Fund
(UNG) - Get United States Natural Gas Fund LP Report
got caught in the CFTC's crosshairs.
In the summer of 2009, the popular UNG grew so large that it risked overstepping the limits set by the CFTC. In order to avoid facing repercussions, the fund was forced to take drastic steps which included placing a halt on share creation. UNG remained popular but, with no new shares being created, a massive premium developed. Essentially the ETF was turned into a closed- end fund.
When the fund eventually received the go-ahead to create new shares this premium was wiped out, deal a heavy blow to the shares.
With the passage of the sweeping financial reform bill, the CFTC may wish to impose stricter position limits on other commodities such as gold. This will make it easier for a futures-based gold fund such as
PowerShares DB Gold Fund
(DGL) - Get Invesco DB Gold Fund Report
to approach limits, setting the stage for a UNG-like event.
ETFs and ETNs remain wildly popular investment opportunities for investors seeking out ways to access gold, silver and other precious metals. However, as we acquaint ourselves with this new financial reform bill, some products could face more pressure from Washington regulators than others.
The best way precious metals investors can avoid UNG-like headaches is to avoid futures-based precious metals products. Instead, stick to ETFs and mutual funds that tap into miners and the physical commodities.
-- Written by Don Dion in Williamstown, Mass.
Readers Also Like:
>>10 Small-Caps Expected to Rise Up to 71%
At the time of publication, Dion Money Management was long Market Vectors Gold Miner ETF, Fidelity Select Gold Fund and iShares COMEX Gold Trust ETF.
Don Dion is president and founder of
, a fee-based investment advisory firm to affluent individuals, families and nonprofit organizations, where he is responsible for setting investment policy, creating custom portfolios and overseeing the performance of client accounts. Founded in 1996 and based in Williamstown, Mass., Dion Money Management manages assets for clients in 49 states and 11 countries. Dion is a licensed attorney in Massachusetts and Maine and has more than 25 years' experience working in the financial markets, having founded and run two publicly traded companies before establishing Dion Money Management.
Dion also is publisher of the Fidelity Independent Adviser family of newsletters, which provides to a broad range of investors his commentary on the financial markets, with a specific emphasis on mutual funds and exchange-traded funds. With more than 100,000 subscribers in the U.S. and 29 other countries, Fidelity Independent Adviser publishes six monthly newsletters and three weekly newsletters. Its flagship publication, Fidelity Independent Adviser, has been published monthly for 11 years and reaches 40,000 subscribers.