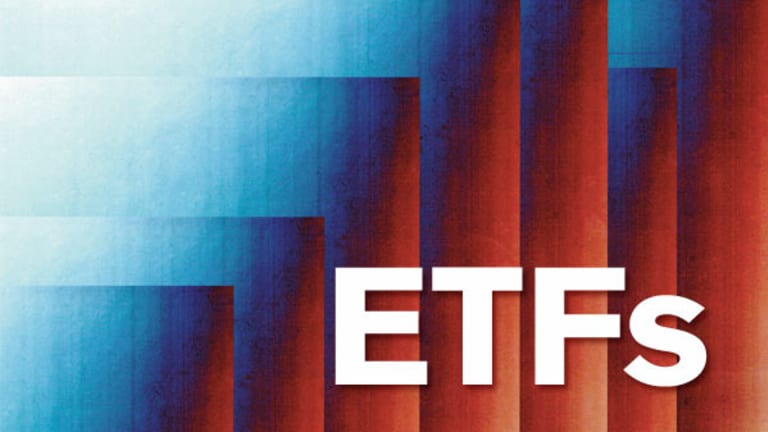 Publish date:
Getting Fatter Yields With Mortgage ETFs
The risks of holding these exchange-traded funds will remain low as long as the Fed's QE3 program continues.
The risks of holding these exchange-traded funds will remain low as long as the Fed's QE3 program continues.
New York (TheStreet) -- Struggling to find more income, investors have been pouring into high-yield bonds, which yield 6% or more. That's a nice payout at a time when 7-year Treasuries yield 1.03%.
But high-yield bonds come with plenty of risk. If the economy slips, the bonds could sink. To pick up a bit of extra yield without taking on much risk, consider mortgage exchange-traded funds.
A popular choice is
iShares Barclays MBS Bond
(MBB) - Get iShares MBS ETF Report
, which yields 2.36%. Other funds that yield a bit more than comparable Treasuries include
SPDR Barclays Capital Mortgage Backed Bond
(MBG)
and
Vanguard Mortgage-Backed Securities Index ETF
(VMBS) - Get Vanguard Mortgage-Backed Securities ETF Report
.
In normal times, mortgage securities come with important risks. If interest rates swing sharply, the securities can suffer losses. But the current mortgage market is hardly normal. Trying to stimulate the economy with its third round of quantitative easing, the
Federal Reserve
has been buying $40 billion of mortgages each month. That has made mortgage ETFs safer. As long as the Fed keeps buying, mortgage prices are not likely to drop suddenly.
Funds That Win in Foreign Markets
What happens when the Fed stops buying mortgages and begins raising interest rates? Mortgages can sink sharply when rates rise, warns Mark Egan, portfolio manager of
Scout Core Bond
(SCCYX) - Get Carillon Reams Core Bond Y Report
, a mutual fund.
As recently as February 2011, rates on 10-year Treasuries topped 3.60% before dropping to today's level of 1.61%. Egan worries that rates could swing sharply back to their former levels.
"If rates go back to 4%, a lot of investors would be shocked by the price declines of mortgages securities," he says.
Fed Chairman Ben Bernanke has said that he plans to hold down rates for the next several years. But Egan cautions that the central bank could change course suddenly. If the economy starts rebounding 18 months from now, the Fed could raise rates sharply.
10 Bank Stocks From the South for Smart Long Term Investors
Still, it seems unlikely that the Fed will increase rates for the next year or so. That should provide an ideal market environment for mortgage ETFs, which tend to outperform Treasuries during periods of flat or slightly rising rates.
The funds hold a variety of mortgage-backed securities that are sponsored by agencies such as
Fannie Mae
(FNMA)
and
Freddie Mac
(FMCC)
.
The securities represent pools of home mortgages. As homeowners pay principal and interest, the cash is passed along to investors in the securities. Some of the agencies nearly collapsed during the financial crisis. But they were taken over by Washington. As a result, the mortgage securities now have negligible default risk.
Although they cannot default, the mortgages provide extra yield because they come with the risk of prepayments. These occur when homeowners refinance or sell homes and pay off mortgages.
In the event of a prepayment, investors receive their principal back and must reinvest it at prevailing rates. Prepayments can be damaging during periods of sharply falling rates.
Is There Light at the End of Groupon's Tunnel?
To appreciate the hazard, consider a mortgage security that yields 6%. Now rates drop. Homeowners refinance and take on mortgages that yield 4%. As a result, funds are left holding low-yielding assets.
In comparison, holders of Treasuries have greater certainty because their bonds always pay a fixed rate. For the moment, prepayment risk seems limited because interest rates seem to be hitting rock-bottom levels.
To get some extra yield, try
iShares Barclays CMBS Bond
(CMBS) - Get iShares CMBS ETF Report
, which yields 4.38%. The fund invests in mortgages of commercial properties, such as office buildings.
But commercial mortgages can be risky because they are not insured by government agencies, cautions Timothy Strauts, a Morningstar ETF analyst. Although agency mortgages carry Standard & Poor's top rating of AAA, the commercial mortgage fund only has a rating of A-. "If we go into a recession, commercial mortgages could be hurt," cautions Strauts.
At the time of publication, Luxenberg had no positions in funds mentioned
.
This article is commentary by an independent contributor, separate from TheStreet's regular news coverage.
Stan Luxenberg is a freelance writer specializing in mutual funds and investing. He was executive editor of Individual Investor magazine.