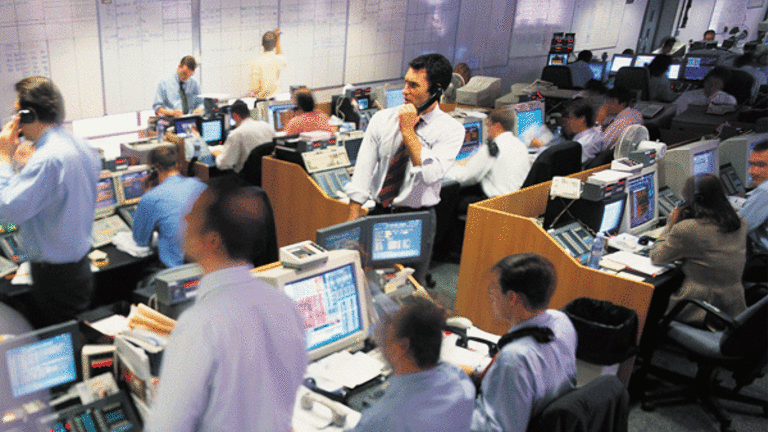 Getting Fat Yields by Casting a Wide Net
These diversified funds hold more than high-yield bonds.
NEW YORK (TheStreet) -- High-yield bond ETFs have enjoyed surging popularity. During the past year, investors poured $5.6 billion into the two biggest high-yield ETFs, iShares iBoxx $ High Yield Corporate Bond (HYG) - Get iShares iBoxx $ High Yield Corporate Bond ETF Report and SPDR Barclays High Yield Bond (JNK) - Get SPDR Bloomberg High Yield Bond ETF Report, according to IndexUniverse.com. Rich yields and strong returns have attracted the crowds. The two ETFs yield around 6.6%, and both returned more than 12% in the past year, according to Morningstar.
Can high-yield funds continue rolling? Maybe. But the risks are growing as the share prices rise. High-yield bonds are rated below-investment grade, so they pose default risks. A crisis in Washington could send the low-quality bonds into a tailspin. To limit risk, consider a broadly diversified income ETF. Besides owning high-yield bonds, the diversified choices also hold high-quality assets. If junk bonds sink, the high-quality issues should help to stabilize the portfolios.
An intriguing choice is
PowerShares CEF Income Composite
(PCEF) - Get Invesco CEF Income Composite ETF Report
, which yields 7.4% and returned 15.9% in the past year. A new diversified ETF is
iShares Morningstar Multi-Asset Income Index
(IYLD) - Get iShares Morningstar Multi-Asset Income ETF Report
, which yields 7.0%.
>>> Also see: Tech, Small Business Can Learn Plenty from Starbucks
The PowerShares fund currently has 19% of assets in high-yield bonds, 42% in higher-quality issues, and 37% in stock strategies that use options to generate income. The different holdings are selected to complement each other. If the economy expands and interest rates rise, high-quality bonds can sink as investors dump existing bonds with low yields. But prices of junk bonds could be resilient at a time of rising rates because investors would worry less about defaults as the economy grows. The stock strategies can also thrive when rates rise.
To implement its diversified approach, the PowerShares fund follows an unusual strategy, investing in a broad portfolio of closed-end funds. Because of their structure, closed-end funds can yield more than traditional mutual funds. Like mutual funds, closed-ends invest in portfolios of stocks and bonds. But shares of closed-end funds trade on stock exchanges. When investors are bullish, the shares can trade at premiums to the value of the assets. The funds can slip to discounts when the market is less ebullient.
>>> Also see: A Gambler Psychology on Wall Street
The best time to buy is when closed-ends sell at discounts. The PowerShares portfolio currently has an average discount of about 3%. So investors can obtain a dollar of assets for 97 cents. When you buy at a discount, you get a higher yield and more income for each dollar invested.
Closed-end funds can also boost yields by using leverage. In a typical arrangement, a fund might raise $100 million from investors and use the cash to buy bonds. Then the portfolio manager borrows another $30 million against the assets. The manager takes the proceeds of the loans and buys more bonds.
PowerShares compensates for the risks of leverage by investing in a wide collection of 126 closed-end funds. The list of holdings includes high-quality foreign bonds, taxable municipals, and mortgage-backed securities. Top holdings include
AllianceBernstein Income
(ACG)
,
Aberdeen Asia-Pacific Income
(FAX) - Get Aberdeen Asia-Pacific Income Fund Inc. Report
and
BlackRock Build America Bond
(TLT) - Get iShares 20+ Year Treasury Bond ETF Report
.
The iShares Multi-Asset ETF also holds an unusually wide portfolio. The fund invests in a collection of other income ETFs. About 30% of assets are in equities, while the rest is invested in fixed income. The iShares fund owns Treasuries, mortgage securities, and foreign bonds. Holdings include iShares JP Morgan Emerging Market Bond, iShares FTSE NAREIT Mortgage ETF, and iShares Barclays 20-Year Treasury.
Tracking a Morningstar index, the multi-asset ETF adjusts holdings as market conditions change. According to a set of rules, the allocation to an asset could be reduced as the yield becomes less appealing in relation to the risk. About 20% of assets are in iShares iBoxx High Yield Corporate Bond. In the current environment, the multi-asset ETF will continue to have a big allocation to high-yield bonds, says Morningstar portfolio manager Brian Huckstep. "High-yield bonds have good yields now and good risk-return tradeoffs," he says.
>>> Also see: The Five Dumbest Things on Wall Street This Week: Jan. 25
The iShares multi-asset fund began operating last April, and it has already attracted $86 million in assets. If the fund can continue delivering rich yields, more investors will take notice.
At the time of publication the author held no positions in any of the stocks mentioned.
This article is commentary by an independent contributor, separate from TheStreet's regular news coverage.
Stan Luxenberg is a freelance writer specializing in mutual funds and investing. He was executive editor of Individual Investor magazine.