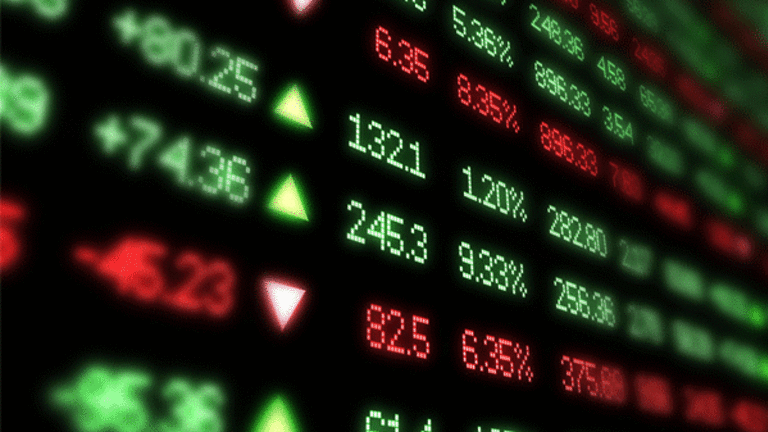 Futures ETFs Under Fire
New regulation threatens commodities and leveraged ETFs as some brokers simply quit issuing them.
WILLIAMSTOWN, Mass. (TheStreet) -- The two recent controversies over "long" and "short" ETFs and commodities ETFs are not unrelated. Investors must understand the connection between the two controversies to fully understand why these funds must be approached with caution.
First, a little history. ETFs entered the scene as transparent, low-cost and passive investment vehicles. Even before Bernie Madoff, investors wanted transparent alternatives to mutual funds that helped to mitigate the risk of investing in any single security.
Early ETFs were easy to understand. The
SPDR S&P 500 ETF
(SPY) - Get SPDR S&P 500 ETF Trust Report
, widely credited as the first U.S. listed ETF in 1992, tracks a basket of 500 stocks in the
S&P 500
index. Each morning fund issuer
State Street
(STT) - Get State Street Corporation Report
releases the holdings of the fund, making it possible to calculate exactly what the ETF is worth at any moment in the day, based on the prices of the stocks in its basket.
The underlying value of an ETF is available to investors as the fund's net asset value (NAV). On many trading platforms this number is available by simply typing the symbol for the ETF followed by ".IV". If an ETF's price is greater than the sum of its parts (NAV), the fund is said to be trading at a "premium"; if its price is less, it is called a "discount."
As an ETF grows, the issuer creates additional shares of the fund to keep the fund's price close to its NAV. This process is relatively simple when it comes to ETFs like SPY. Bona fide market participants, essentially the fund's auctioneers, get more shares of an ETF by delivering the fund's ingredients, or shares of stock, to the issuer. Basically, market participants give yellow and blue, get back green and call it even.
As the ETF industry has grown, the unique structure of these funds has allowed issuers to help investors gain exposure to previously inaccessible parts of the market. While hedge funds and institutions have used leveraged and commodity strategies for years, ETFs made these strategies available to the general public through use of the "bona fide hedging exemption."
The "bona fide hedging exemption" allows ETFs to grow. It essentially allows ETF issuers to buy as much yellow and blue paint as they want, because they are
selling green paint at the same rate
.
The "yellow" and "blue" paint for traditional funds are shares of companies such as
General Electric
(GE) - Get General Electric Company Report
or
AT&T
. Since so many shares of these companies trade every day, one ETF issuer creating or redeeming goes unnoticed in the trading flow. In the case of commodities ETFs, however, a large market participant could influence prices if they are constantly buying, selling or changing direction.
A huge threat to the commodities ETF-creation system is imminent, however, as the Commodities Futures Trading Commission (CFTC) considers new position limits for even "bona fide" hedgers. In the case of popular commodities funds like
U.S. Oil
(USO) - Get United States Oil Fund LP Report
and
U.S. Natural Gas
(UNG) - Get United States Natural Gas Fund LP Report
"yellow" and "blue" paint are futures and swaps.
New regulation could limit how much yellow and blue can be bought, disrupting the production and pricing of green paint. A limit on the quantity of futures and/or swaps that an issuer can buy will disrupt the entire system. A hiccough in this process could lead to a large number of premiums and discounts.
The problem with leveraged funds is different, but it also involves futures contracts. Fund issuers such as
ProShares
,
Direxion
and
Rydex
use futures to enhance the returns of an underlying investment. It is like taking blue and yellow paint, adding a secret ingredient and producing neon green.
To see why popular ETFs like
Direxion Daily Financial Bull 3X
(FAS) - Get Direxion Daily Financial Bull 3x Shares Report
and
Daily Financial Bear 3X
(FAZ) - Get Direxion Daily Financial Bear 3X Shares Report
can be dangerous to your portfolio, watch the video below.
Two ETFs to Avoid
Regulatory agency FINRA is becoming concerned that investors don't understand that leveraged funds aren't appropriate for everyone. There has been a run on neon green paint lately and the way in which some consumers are using it has turned out to be toxic. Brokers like
UBS
(UBS) - Get UBS Group AG Report
and
Ameriprise
(AMP) - Get Ameriprise Financial, Inc. Report
have
stopped selling leveraged funds
to investors, rather than deal with consumers who use neon green the wrong way and get poisoned.
Commentators, brokers and ETF issuers alike have made the mistake in thinking that the public would not understand the complexity of their strategies. Two dangers currently plague the industry. First is that increasingly complex commodity and leveraged strategies will remain lumped together under the innocuous title of "ETF." Second is that brokers, regulators and consumers will throw the baby out with the bathwater -- banning funds that they don't understand.
ETFs should be re-categorized based on how they are composed. Lumping leveraged and commodity strategies under the banner of "ETF" oversimplifies the strategies and the risks. Investors should have to be qualified, as with options, to invest in risky futures-based strategies. This would allow qualified investors to use leveraged and commodity funds for their intended purpose and keep issuers from marketing complex products to an unsuspecting audience.
-- Written by Don Dion in Williamstown, Mass.
At the time of publication, Dion was long SPY.
Don Dion is the publisher of the Fidelity Independent Adviser family of newsletters, which provides to a broad range of investors his commentary on the financial markets, with a specific emphasis on mutual funds and exchange-traded funds. With more than 100,000 subscribers in the U.S. and 29 other countries, Fidelity Independent Adviser publishes six monthly newsletters and three weekly newsletters. Its flagship publication, Fidelity Independent Adviser, has been published monthly for 11 years and reaches 40,000 subscribers.
Dion is also president and founder of Dion Money Management, a fee-based investment advisory firm to affluent individuals, families and nonprofit organizations, where he is responsible for setting investment policy, creating custom portfolios and overseeing the performance of client accounts. Founded in 1996 and based in Williamstown, Mass., Dion Money Management manages assets for clients in 49 states and 11 countries. Dion is a licensed attorney in Massachusetts and Maine and has more than 25 years' experience working in the financial markets, having founded and run two publicly traded companies before establishing Dion Money Management.