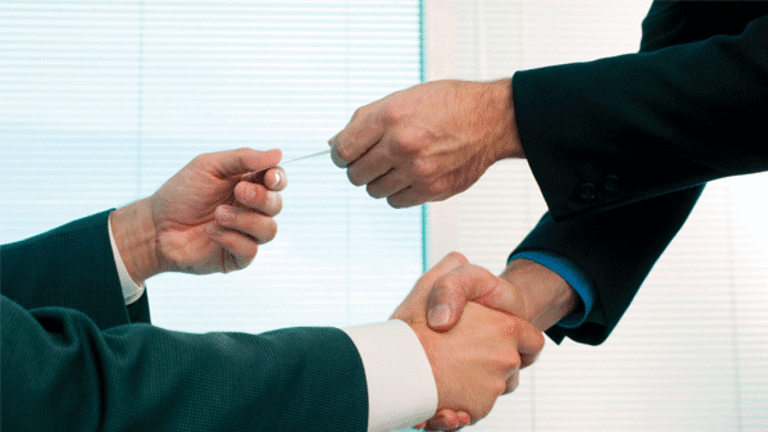 Funds for Cleaning Up After BP
Cleaning up the Gulf of Mexico is good for business for a diverse collection of companies dedicated to this and other types of environmental efforts.
NEW YORK (TheStreet) -- For more than a month, BP (BP) - Get BP Plc Report has considered top hats, top kills and junk shots as ways to halt the flow of oil pouring from the sight of the Deepwater Horizon rig off the coast of Louisiana.
This disaster, which is expected to surpass the Exxon Valdez oil spill from the late 1980s as being the worst oil spill in U.S. history, threatens not only the surrounding area's fishing and tourism industries but also the lives of numerous different animal species that call the affected land and ocean home.
Cleaning up after this mess is sure to be a monumental task, but it's unlikely to be the last spill as new sources of energy are needed and companies search for oil in difficult areas. That's not good news, but it's good for business for a diverse collection of companies dedicated to this and other types of environmental efforts. Investors can track diverse baskets of these clean-up firms using both the
Market Vectors Environmental Services Index ETF
(EVX) - Get VanEck Environmental Services ETF Report
and the
Fidelity Select Environmental Portfolio
(FSLEX) - Get Fidelity Select Environmental & Alt Report
.
EVX passively tracks the NYSE Arca Environmental Services Index. Twenty-one companies comprise EVX's index, with top holdings
Stericycle
(SRCL) - Get Stericycle, Inc. Report
,
Republic Services
(RSG) - Get Republic Services, Inc. Report
and
Waste Management
(WM) - Get Waste Management, Inc. Report
together representing nearly one-third of the fund's portfolio.
FSLEX tracks a basket of 22 different companies.
Pall Corp
(PLL) - Get Piedmont Lithium Inc Report
,
Ecolab
(ECL) - Get Ecolab Inc. Report
, and SRCL represent the fund's three largest positions, accounting for 14%, 13% and 10% of the fund respectively.
EVX and FSLEX attempt to track a similar slice of the market. However, only a small number of holdings aside from SRCL are common across both funds.
Nalco
( NLC), a water treatment firm held by Warren Buffett and directly involved in the current Deepwater Horizon clean-up efforts, is held by both, representing nearly 9% of FSLEX and 4% of EVX. Other holdings found in both instruments include
Darling International
(DAR) - Get Darling Ingredients Inc. Report
,
Clean Harbors
(CLH) - Get Clean Harbors, Inc. Report
and WM.
The main difference in the portfolios is that FSLEX's manager has more room to stray from the environmental services sector, for instance there are small holdings in solar power companies.
FSLEX, like most mutual funds, carries a considerably higher expense ratio than EVX: 1.08% versus 0.55%.
Aside from providing investors with exposure to companies which will benefit from the current BP clean-up efforts and future environmental issues, environmental services funds like FSLEX and EVX are also defensive plays which maintain stability in times of market stress. Over the past month, EVX and FSLEX have taken hits, losing 9% and 10% respectively. However, in both cases, they have managed to outperform the broad
S&P 500
.
Additionally, both funds pay out a small annual dividend, providing investors with a welcomed source of income during sweeping market uncertainty.
Ultimately, the best option for investors looking for a strong play on the environmental services industry should stick with FSLEX for now. This mutual fund has managed to draw in close to $51 million in assets under management. EVX, on the other hand, has failed to break $25 million AUM.
In today's volatile times, performance and fees are not the only two factors to take into account when weighing the risks and benefits of owning ETFs. Investors must also consider the fund's liquidity. As shown by the infamous flash crash, investors holding illiquid ETFs risk taking a gut-wrenching dip in the event that market conditions go haywire.
Liquidity can typically be determined by looking at a fund's average daily volume. EVX changes hands on average less than 5,000 times per day. Investors looking to move in and out of EVX quickly may find the task difficult because it has such low volume.
FSLEX, on the other hand, is not as vulnerable to liquidity issues as EVX.
Investors who want transparency and a stricter focus on environmental services will have to weigh those demands against liquidity concerns. Performance wise, EVX has beaten FSLEX since EVX's inception in 2006, but most of that outperformance came in the past year.
Tying off the oil leak wreaking havoc on the Gulf of Mexico is only the first step to returning the area back to its pre-crisis state. Eventually this issue will be resolved and the press firestorm will die down, but clean-up will likely last for a good time afterwards. Investors looking for a strong play on the companies who will benefit from this and future environmental issues should check out these funds.
Don Dion is president and founder of
, a fee-based investment advisory firm to affluent individuals, families and nonprofit organizations, where he is responsible for setting investment policy, creating custom portfolios and overseeing the performance of client accounts. Founded in 1996 and based in Williamstown, Mass., Dion Money Management manages assets for clients in 49 states and 11 countries. Dion is a licensed attorney in Massachusetts and Maine and has more than 25 years' experience working in the financial markets, having founded and run two publicly traded companies before establishing Dion Money Management.
Dion also is publisher of the Fidelity Independent Adviser family of newsletters, which provides to a broad range of investors his commentary on the financial markets, with a specific emphasis on mutual funds and exchange-traded funds. With more than 100,000 subscribers in the U.S. and 29 other countries, Fidelity Independent Adviser publishes six monthly newsletters and three weekly newsletters. Its flagship publication, Fidelity Independent Adviser, has been published monthly for 11 years and reaches 40,000 subscribers.