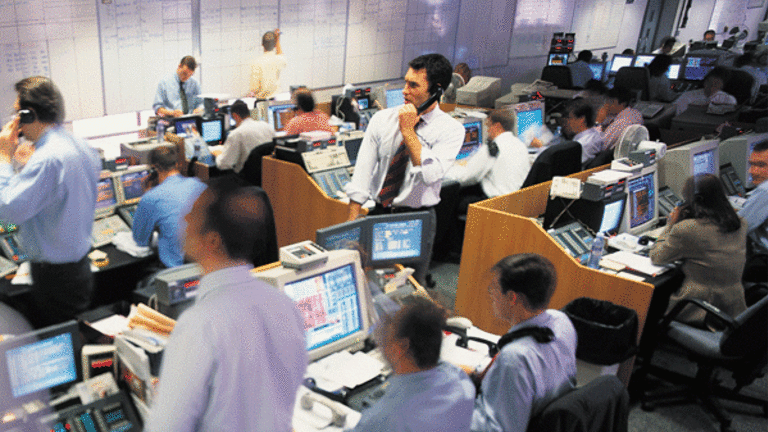 Four Types of Nontraditional ETFs
Although they are best left to experienced investors, here's a basic rundown on these ETFs with often complex strategies .
Although they are best left to experienced investors, here's a basic rundown on these ETFs with often complex strategies .
WILLIAMSTOWN, MASS. (TheStreet) -- Nontraditional ETF strategies have created a rift in the family of ETF funds. First introduced as passive, low-cost and transparent vehicles, ETFs now utilize a host of indexing approaches. While funds like Direxion Daily Financial Bull 3X (FAS) - Get Report, U.S. Natural Gas (UNG) - Get Report and iPath India (INP) have drawn a considerable amount of investor attention, they are cloaked in complexity and best left to experienced investors.
The unique structure of ETFs has allowed the funds to take on exotic new incarnations. From ultra ETFs to funds of funds, the ETF industry is diving into every niche to capture market share. This new generation of ETFs strategies
layer risk onto the old ETF model
.
Four types of nontraditional ETFs that should be understood fully before utilized are leveraged ETFs; futures-based commodity ETFs; ETNs; and ETFs of ETFs.
Leveraged ETFs
Leveraged ETFs use futures or swaps to enhance indexing strategies, effectively allowing investors to double down or ante up. While these funds may be useful for sophisticated traders hedging a larger strategy, they are inappropriate for long term investors. These funds use a daily resetting technique that combined with volatility
.
Also known as:
Long ETFs, short ETFs, ultra ETFs
Examples:
Direxion Daily Emerging Markets Bull 3X
(EDC) - Get Report
,
Direxion Daily Emerging Markets Bear
(EDZ) - Get Report
,
ProShares Ultra Financials
(UYG) - Get Report
,
ProShares UltraShort Financials
(SKF) - Get Report
.
Futures-Based Commodity ETFs
These ETFs seek to track commodities by investing in baskets of futures or swaps. While these ETFs may get investors one step closer to a "pure play" on commodities swap prices, they are prevented by problems like contango from fully achieving their objectives. Some of these funds have become major players in their respective commodities markets, and the Commodities Futures Trading Commission (CFTC)
may soon impose limits on the funds' investment capabilities
.
Examples:
UNG,
U.S. Oil
(USO) - Get Report
.
ETNs
Rather than tracking a basket of equity, these exchange-traded products track baskets of debt. Inherent in these debt securities is the issue of creditor risk. While the likelihood that a centuries old bank could default may have seemed farfetched in the past, investors should be skeptical in the current economic environment.
Examples:
iPath India
(INP)
,
iPath Commodities Index
(DJG)
,
Elements Rodgers International Commodity ETN
(RJI) - Get Report
.
ETFs of ETFs
ETFs of ETFs can compound fees and push unpopular products. Early ETFs of ETFs from
PowerShares
have failed to gain traction while new strategies like the
IndexIQ Hedge Fund ETF
(QAI) - Get Report
seem to distance themselves from their objectives through the layering of funds.
Single issuer fund-of-fund ETFs should be viewed with suspicion. While the ETF industry is rapidly expanding, nearly 50 funds closed in 2008 due to lack of investor interest. As ETFs with little investor interest wither on the vine,
issuers may try to package them in other trading vehicles
.
Examples:
QAI,
PowerShares Autonomic Growth NFA Global Asset Portfolio
(PTO)
,
PowerShares Autonomic Balanced Growth NFA Global Asset Portfolio
(PAO)
The recent circus of ETF scrutiny has showcased a medley of regulators vying to expose unsuitable strategies and unsavory sales practices. The resulting actions have showcased the industry's eagerness to dodge culpability. Whether it is heaping on disclosure, halting creation or stopping sales, issuers and brokers are preparing for the regulatory ax to drop.
While these problems may seem ominous at first blush, investors should not toss the baby with the bathwater. Traditional passive indexing ETFs like the
SPDR S&P 500
(SPY) - Get Report
and
PowerShares QQQ
(QQQQ)
still provide low-cost, accessible exposure
while mitigating single security risk
.
In the post-Madoff era, the age of investor ignorance is behind us. The ETF universe provides ample opportunity for long term allocation and explosive potential for growth. Regulation will hopefully help to further categorize and qualify ETF types for the protection of investors. In the meantime, investors should err on the side of caution when selecting ETFs.
-- written by Don Dion in Williamstown, Mass.
At the time of publication, Dion was long QQQQ.
Don Dion is president and founder of
, a fee-based investment advisory firm to affluent individuals, families and nonprofit organizations, where he is responsible for setting investment policy, creating custom portfolios and overseeing the performance of client accounts. Founded in 1996 and based in Williamstown, Mass., Dion Money Management manages assets for clients in 49 states and 11 countries. Dion is a licensed attorney in Massachusetts and Maine and has more than 25 years' experience working in the financial markets, having founded and run two publicly traded companies before establishing Dion Money Management.
Dion also is publisher of the Fidelity Independent Adviser family of newsletters, which provides to a broad range of investors his commentary on the financial markets, with a specific emphasis on mutual funds and exchange-traded funds. With more than 100,000 subscribers in the U.S. and 29 other countries, Fidelity Independent Adviser publishes six monthly newsletters and three weekly newsletters. Its flagship publication, Fidelity Independent Adviser, has been published monthly for 11 years and reaches 40,000 subscribers.