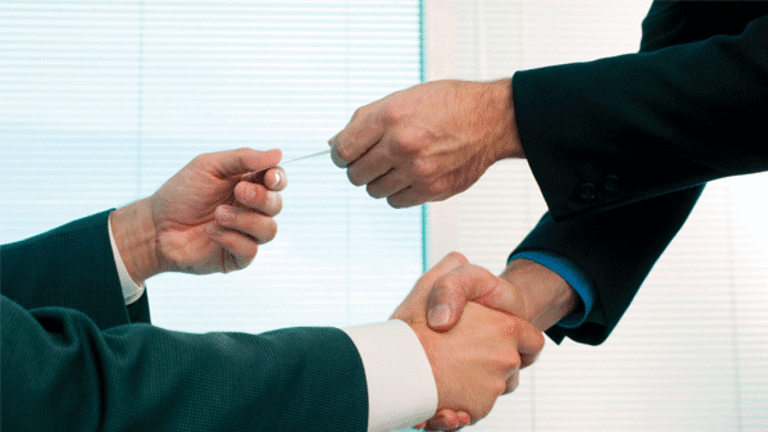 Five Predictions for the ETF Industry
Expect controversy in gold funds, a comeback of leveraged funds, and more.
Editor's note: This originally was published as a RealMoney blog post on Dec. 23, 2010.
NEW YORK (
) -With total U.S. assets recently crossing the $1 trillion mark, the ETF industry has continued to swell in 2010, becoming an undeniable force in the financial universe. The story of this rapid growth has had plenty of triumphs as well as controversy. Looking ahead to 2011, here are five predictions of what's next for ETFs.
1. Physically backed gold ETFs stir up controversy.
While the rumor mill has buzzed about the trio of U.S.-listed physically backed gold ETFs --
SPDR Gold Shares
(GLD) - Get SPDR Gold Shares Report
,
iShares Comex Gold
(IAU) - Get iShares Gold Trust Report
and
ETFS Physical Swiss Gold Shares
(SGOL) - Get Aberdeen Standard Physical Gold Shares ETF Report
-- for some time now, controversy may go mainstream in 2011. "Gold bugs" and certain industry insiders have relished opportunities to whisper about the gold that's behind these huge ETFs, but the sheer size of these funds will undoubtedly begin to prompt questions on a larger scale.
What's the worst that could happen? Certain commentators could cause a flurry of activity by questioning the reality of physical stockpiles, but these funds seem sound through and through. When it comes to accounting for their physical gold, GLD, IAU and SGOL managers all handle the question in different ways. As financial industry regulation heats up, there may be a push to standardize these gold stockpiles and increase transparency even further.
2. Leveraged ETFs make a comeback.
While existing leveraged ETFs such as the
Direxion Daily Financial Bull ETF 3X
(FAS) - Get Direxion Daily Financial Bull 3x Shares Report
and the
Direxion Daily Financial Bear ETF 3X
(FAZ) - Get Direxion Daily Financial Bear 3X Shares Report
continue to be some of the most traded equities on the market today, a
SEC
probe into the business of leveraged funds has put this ETF category on ice. Since last spring, any leveraged funds that hadn't already been approved for listing were told to wait. ETF investors have had to do with no new leveraged ETFs throughout most of 2010.
The ban on new funds hasn't stopped ETF issuers from filing, however, and the resolution of the SEC investigation could cause an enormous new flood of leveraged products into the marketplace. As the industry becomes bigger and even more profitable, pressure for resolution will continue to increase. Leveraged ETFs could return to the stage in a big way during the year ahead.
3. Commission-free trading expands:
TD Ameritrade
(AMTD) - Get TD Ameritrade Holding Corporation Report
recently upped the ante by
to its commission-free ETF trading platform. While a number of other brokerage firms already offer their own commission-free trading programs, AMTD's recent expansion is a sign of what's to come. As electronic trading platforms embrace the ETF model and offer more options, the ETF industry may be shaped and affected in more ways than one.
4. Commodities confusion continues.
The Commodities Futures Trading Commission (CFTC) recently extended a deadline that would have given ETF issuers more clarity about the impact of
on the industry. Highly anticipated rules concerning commodities futures position limits will certainly affect both existing and planned funds when they are finally released. In 2011, the waiting game is set to continue.
Even if the ETF industry gets some clarity on position limits during 2011, however, investors should continue to expect confusion surrounding the implementation of new policies and the extent of new regulations. With other major issues like the tax-cut extension and health care behind them, policy makers can be expected to return to the issues of "speculators" and trading rules before long.
5. Negativity gets amplified.
The growth of the ETF industry has been a positive development for investors, but there are always two sides to the coin when it comes to increased publicity. In 2010, more ETF critics emerged and attacks on the industry began to make headlines.
Consider this: The ETF universe is still dwarfed by the mutual fund industry, but the tides are starting to change. ETFs aimed at longer-term investors continue to chip away at mutual fund assets, and transparency continues to be a huge factor in the post-crisis U.S. economy. The mutual fund industry is still very large, powerful and -- in some cases -- unhappy about the growth of ETF products.
In 2011, the ETF industry will continue to expand along with the number of critics who are looking to cast doubt. In the year ahead, investor education will be more important than ever, as looking past flashy advertising and scathing attacks becomes essential to sound investment decisions.
Note to readers:
Have a happy and safe long holiday weekend. If you're looking for the perfect gift for your favorite ETF investor -- or just looking to start off the new year armed with more information -- check out my new book (co-authored with fellow commentator
Carolyn Dion
):
The Ultimate Guide to Trading ETFs
.
for more info or to purchase.
RELATED ARTICLES:
>>Precious Metals Poised for a Breakout
>>Don't Worry About the Precious Metals...Yet
At the time of publication, Dion Money Management was long IAU.
This commentary comes from an independent investor or market observer as part of TheStreet guest contributor program. The views expressed are those of the author and do not necessarily represent the views of TheStreet or its management.