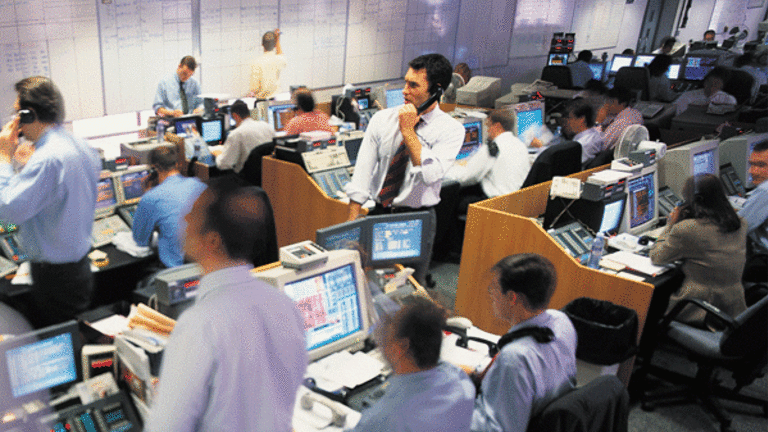 Five ETFs for Short-Sellers
These exchange-traded funds have shown bearish traits over the past week.
Reports of rising consumer prices, lower consumer confidence and stagnant industrial production temporarily stalled last week's rebound in the
Dow Jones Industrial Average
.
This market barometer failed to move beyond the record intraday high of 13,692.00 set on June 1. If the market cannot break through this resistance, then the Dow's next move might be to test the recent low of 13,251.53 set on June 8.
Below are the five weakest exchange-traded funds that meet our standards to be considered technically bearish. This means that the five-day moving average is below the 10-day moving average, and that the moving average convergence-divergence indicator has given a fresh "sell" signal within the last 10 days.
With fixed-rate mortgages climbing, Tuesday's report of falling housing starts in May is bad news for anyone envisioning the end of the real-estate recession anytime soon.
Still on the list from earlier this month is the
SPDR S&P Homebuilders ETF
(XHB) - Get Report
. The fund has dropped from the closing price of $34.25 on June 6 to Tuesday's close of $32.70, but it has more room to fall. At last reading, 71.1% of the fund is composed of homebuilders grudgingly lowering prices to sell their properties.
The 100% pure play in homebuilding,
iShares Dow Jones US Home Construction Index Fund
(ITB) - Get Report
, joined its SPDR cousin on the list of technically weak ETFs. Returns on these two homebuilder funds are 97% correlated over the last year, so shorting both is not a good plan.
If you are already short SPDR S&P Homebuilders, it is OK to stick with it; otherwise, consider shorting iShares Dow Jones US Home Construction Index Fund. Be aware of the additional risk that the fund is likely to declare a small second-quarter dividend in the next few days, as this can have a minor impact on your return.
If consumers bail, the first victim may be the
Consumer Staples Select Sector SPDR Fund
(XLP) - Get Report
. The fund's largest holdings --
Procter & Gamble
(PG) - Get Report
,
Altria Group
(MO) - Get Report
and
Wal-Mart
(WMT) - Get Report
-- have had a rough week.
While people will never stop buying staples, May's 0.9% rise in the producer price index, caused by spikes in oil and food prices, erodes the profitability of these companies.
In the event that sector trouble spreads to the broad market, the
SPDR DJ Wilshire Mid-Cap Value ETF
(EMV)
is a candidate to sell short. The fund is made up of 10.9% REITs, 10.6% electric, 8.9% insurance, 6.8% banks, 5.4% chemicals and 4.1% diversified financial services.
Lastly, the
WisdomTree Japan High-Yielding Equity Fund
(DNL) - Get Report
that has been trending lower since late February gave another technical sell signal. All of its holdings are Japanese companies such as
NTT DoCoMo
, Nissan Motor,
Honda Motor
(HMC) - Get Report
and Nomura Holdings.
In the last three months, the U.S. dollar has strengthened against the Japanese yen, which translates into lower dollar denominated values for the members of WisdomTree's Japan Dividend Index.
However, don't forget that the market is never completely rational. So despite the negative economic news, there is the chance it could keep rising.
In that event, consider hedging your bet with a long position of equal dollar value to the total of your short positions. In reviewing the ETFs giving technical buy signals, one stood out as an excellent hedging option because of its abundant liquidity.
The C-plus-rated
iShares S&P 100 Index Fund
(OEF) - Get Report
rode the resurgence of the 100 largest capitalization stocks to a new 52-week high on Tuesday. The fund's five-day moving average is above its 10-day average. Plus, the moving average convergence-divergence indicator has given a fresh "buy" signal within the last 10 days.
The usual warnings still apply. Try to limit your risk with this short-term trading strategy by keeping your stop-loss orders tight, and hedge your bet. If the market moves above its recent record highs before testing the recent lows, then the safest course of action is to abandon this strategy, cut your losses and not fight the market.
Short-selling is not for the inexperienced or the faint of heart. Understand the risks involved in short sales before betting against the market. Good luck.
Kevin Baker became the senior financial analyst for TSC Ratings upon the August 2006 acquisition of Weiss Ratings by TheStreet.com, covering mutual funds. He joined the Weiss Group in 1997 as a banking and brokerage analyst. In 1999, he created the Weiss Group's first ratings to gauge the level of risk in U.S. equities. Baker received a B.S. degree in management from Rensselaer Polytechnic Institute and an M.B.A. with a finance specialization from Nova Southeastern University.