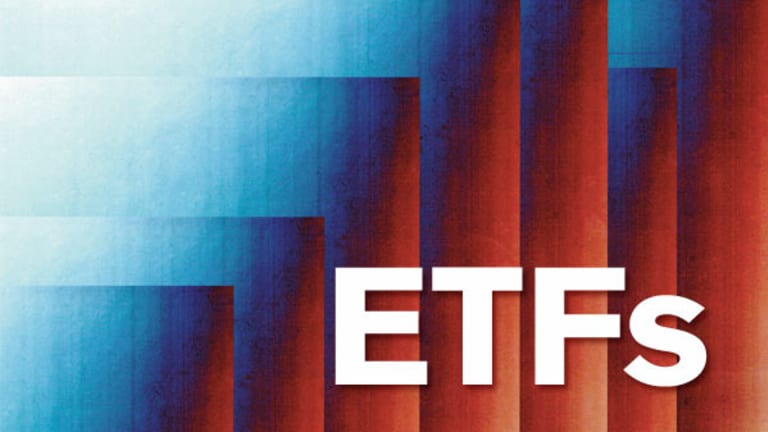 Finding Richer Yields With Preferred Shares
Preferred ETFs can yield 6% and help to diversify portfolios.
NEW YORK ( TheStreet ) -- Investors have been pouring into exchange-traded funds that hold preferred shares.
During the past year,
iShares S&P U.S. Preferred Stock
(PFF) - Get Free Report
reported inflows of $3 billion, while
PowerShares Preferred
(PGX) - Get Free Report
attracted $766 million, according to IndexUniverse.com. Investors have been drawn by yields of more than 6%.
While the yields are tempting, there is another reason for fixed-income investors to consider preferreds: diversification. When bonds drop, preferreds sometimes rise. "The return patterns of preferreds are different than what you see with stocks or bonds," says David Mazza, head of ETF investment strategy of State Street Global Advisors, which operates the SPDR ETFs.
The resilience of preferreds has become clear lately. During the past three months, many bonds have sunk, causing
Vanguard Total Bond Index ETF
(BND) - Get Free Report
to lose 1.0%, according to Morningstar. But the iShares Preferred Fund gained 4.2%.
Interest rate rises caused the bond loss. During the past three months, yields on 10-year Treasuries climbed from 1.58% to 2.00%. When rates rise, bond prices tend to fall as investors dump existing issues with low yields. While a rate rise can hurt preferreds, they can be resilient because of their peculiar characteristics.
Like bonds, preferreds pay fixed yields. But bonds are considered senior to preferreds. So in the event of a default, bond holders are paid first with whatever remains of the corporate assets. Preferreds are next in line. Because they come with more risk, preferreds yield more than comparable bonds. The rich yields can help to prop up preferreds in hard times. During times when the economy is growing, investors may become less concerned about defaults and bid up prices of preferreds. That has occurred lately.
Most preferreds are issued by financial companies. Big issuers include banks, such as
Citigroup
(C) - Get Free Report
,
Wells Fargo
(WFC) - Get Free Report
and
JPMorgan Chase
(JPM) - Get Free Report
. Banks like preferreds because they offer a way to raise cash without issuing debt that can burden balance sheets. Other big issuers include utilities, REITs and industrial companies.
The concentration in financials presents special risks. During the financial crisis, preferreds were clobbered. Bank preferred shares suffered particularly severe losses as investors worried about bankruptcies. During 2008,
PowerShares Financial Preferred
(PGF) - Get Free Report
lost 27.3%. But the securities soon revived. In 2009, the PowerShares Financial ETF gained 38.4%. Since then, preferreds have rallied. During the past five years, the PowerShares fund--which yields 6.3%-- returned 4.3% annually.
The biggest ETF in the category is the iShares preferred fund, which yields 6.0% and has $11.4 billion in assets. During the past five years, the iShares fund returned 5.2% annually.
A new choice is
Market Vectors Preferred Securities ex Financials
(PFXF) - Get Free Report
, which aims to attract investors who are concerned about the risks of financials. The fund has 30% of assets in REITs and 24% in electric utilities.
Big holdings include issues from industrial companies, such as
General Motors
(GM) - Get Free Report
,
United Technologies
(UTX) - Get Free Report
, and
Stanley Black & Decker
(SWK) - Get Free Report
. The fund's benchmark yields about as much as competing choices. But Market Vectors says that in the past the benchmark has been less volatile than competitors that are heavy with financial names.
For investors seeking to diversify portfolios, an intriguing new choice is
First Trust Multi-Asset Diversified Income Index
(MDIV) - Get Free Report
, which yields 5.5%. The fund has 20% of assets in preferreds. The rest of the assets are spread among different kinds of income investments that do not necessarily track bonds.
The portfolio holds 20% of assets in REITs, 20% in master limited partnerships, and 25% in dividend-paying stocks. The fund rebalances every quarter, automatically selling high-priced winners and buying depressed sectors. If rates rise, the multi-asset fund could be hurt, but it would likely outdo bonds.
"The fund aims to generate income without taking a lot of interest rate risk," says Ryan Issakainen, ETF strategist for First Trust Advisors.
This article was written by an independent contributor, separate from TheStreet's regular news coverage.
Stan Luxenberg is a freelance writer specializing in mutual funds and investing. He was executive editor of Individual Investor magazine.