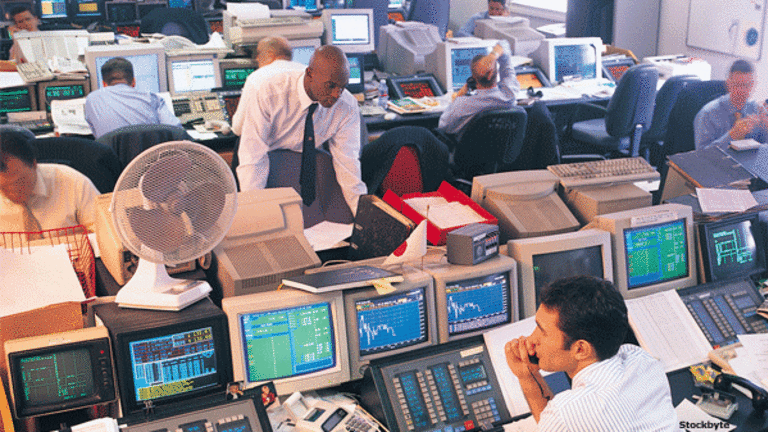 Financial Titans Tinker With Gold ETF Stakes
George Soros and John Paulson adjusted their huge stakes in gold ETFs in the third quarter.
NEW YORK (TheStreet) -This week the public gained insight into the investing decisions of some of the world's most influential financial gurus.
The quarterly 13F holdings reports for notable individuals including
and
were released and, as usual, analysts and market commentators have uncovered a number of interesting findings.
Of particular interest this quarter has been these two investors' feelings towards gold.
According to their filings, over the past three months, these two men altered their gold positions.
George Soros, who earlier this year dubbed gold the, "ultimate asset bubble," does not appear ready to abandon the yellow metal yet.
Although he reduced his overall exposure to the commodity during the third quarter, Soros' position in GLD remains massive, placing him among the top holders of the ETF. Additionally, at the same time that he was decreasing his exposure to GLD, he was buying up shares of
iShares Gold Trust
(IAU)
.
Paulson, meanwhile, added to his GLD allocation during the three-month period, maintaining his seat as the top holder of GLD.
Although it has seen its ups and downs recently, judging by their investment decisions, these famous investors clearly continue to view gold as a promising long-term investment.
Throughout 2010 it has been hard to ignore the popularity of gold as investors pour into the yellow metal and other precious commodities in order to take shelter from the economic turmoil plaguing various regions of the globe. The rampant demand for gold exposure has helped the commodity rise to become an asset class unto itself.
Aside from stressing their optimism toward gold as a long-term investment, Soros' decision to split his exposure across both GLD and IAU puts a spotlight on another interesting trend which is developing across the ETF arena as a whole. While both IAU and GLD are designed to track the performance of a physical stockpile of gold, GLD has long dominated over the market thanks to its first- mover advantage. In recent times, however, IAU has taken bold steps in hopes of stealing away assets. Borrowing a page from Vanguard, the fund axed its expense ratio to attract cost-conscious investors.
So far, as indicated by the October flow data compiled by the National Stock Exchange, iShares' move appears to be having an impact. While GLD still maintains a commanding lead in the industry, $480 million in assets headed to the exits, while $127 million flowed into the newly re-priced IAU.
The fact that a financial goliath like Soros appears to have made adjustments to take advantage of these reduced costs is another strong sign that expense cutting is having an effect and that iShares' IAU may be able to gain even more ground on its competitor.
Both Soros and Paulson have risen to become two of the most prominent voices associated with the yellow metal, offering up not only opinions regarding its future action, but also putting their money to work, buying up major positions in gold-related equities and exchange-traded funds.
Using ETFs such as IAU and GLD, investors can mimic the actions of these two individuals and prepare their portfolios for the long term.NEW YORK (
) -
Written by Don Dion in Williamstown, Mass.
Readers Also Like:
>>Top 5 Reasons Gold Prices Move
At the time of publication, Dion Money Management owns iShares Gold Trust.
Don Dion is president and founder of
, a fee-based investment advisory firm to affluent individuals, families and nonprofit organizations, where he is responsible for setting investment policy, creating custom portfolios and overseeing the performance of client accounts. Founded in 1996 and based in Williamstown, Mass., Dion Money Management manages assets for clients in 49 states and 11 countries. Dion is a licensed attorney in Massachusetts and Maine and has more than 25 years' experience working in the financial markets, having founded and run two publicly traded companies before establishing Dion Money Management.
Dion also is publisher of the Fidelity Independent Adviser family of newsletters, which provides to a broad range of investors his commentary on the financial markets, with a specific emphasis on mutual funds and exchange-traded funds. With more than 100,000 subscribers in the U.S. and 29 other countries, Fidelity Independent Adviser publishes six monthly newsletters and three weekly newsletters. Its flagship publication, Fidelity Independent Adviser, has been published monthly for 11 years and reaches 40,000 subscribers.