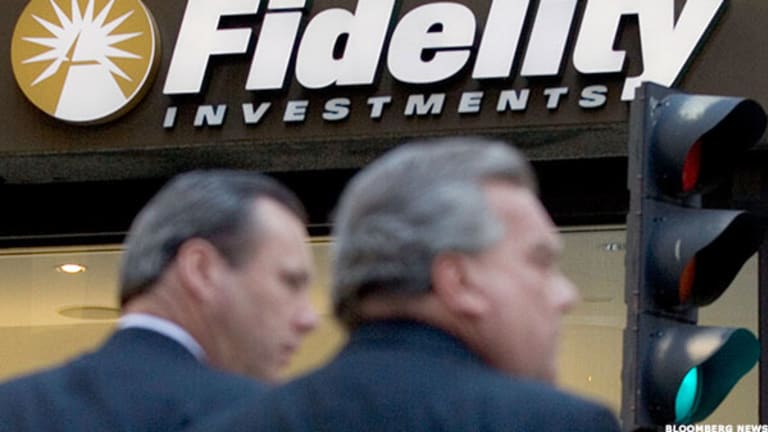 Fidelity ETFs and Your Portfolio
Fidelity was slow to catch on to the growing trend in ETFs but is now making up for lost time in a big way.
NEW YORK (FMD Capital Management) -- Exchange-traded funds have now been in existence for two decades and have amassed more than $1.2 trillion in total assets. That success has largely been attributed to their low fees, transparency, daily liquidity, and innovative index strategies.
ETFS have been gaining an edge on traditional stodgy mutual funds, which is why companies such as Vanguard, State Street (STT) - Get State Street Corporation Report, and BlackRock (BLK) - Get BlackRock, Inc. Report have been quick to carve out a niche with these innovative products.
However, one fund behemoth that has been slow to catch on to the growing trend in ETFs has been Fidelity Investments. As one of the largest mutual fund providers in the world, Fidelity has always touted its strength as an active fund manager that just didn't fit into the typical mold of a passively managed ETF.
Those days are over.
Fidelity recently launched a suite of 10 sector ETFs that are touted as the lowest expense ratios of any sector funds in the industry at just 0.12%. The full list can be viewed here.
In addition, they are available to be traded commission-free for any participants that currently use the Fidelity brokerage platform. According to recent data, Fidelity has over 18.6 million brokerage accounts that can now access these funds. That is a very large pool of resources from which the company hopes to garner invested assets.
The funds are based on passive MSCI indexes and sub-advised by BlackRock, with which Fidelity has partnered in the past to offer several iShares ETFs as commission-free options on the Fidelity system as well. At first look, the indexes appear to be as plain vanilla as they come. They employ a market-cap weighting methodology which gives the largest allocations to the stocks with the biggest market valuations. In addition, they cover each major sector that make up the S&P 500 from health care to financials and everything in between.
The majority of the Fidelity ETFs are well diversified, with eight of the 10 funds containing more than 100 underlying holdings. The exceptions are the Fidelity MSCI Telecommunications Services Index ETF (FCOM) and Fidelity MSCI Utilities Index ETF (FUTY), which have more concentrated positions in fewer stocks.
One impressive measure of initial response to these ETFs is the amount of trading volume they have accumulated in just two short weeks. Several of the ETFs I have screened are trading between 25,000 and 100,000 shares per day. That likely shows the strength of the low-cost offering combined with the built in demand on their broad platform.
Fidelity made a real statement by undercutting the expense ratio of every other sector ETF in the industry. Typically these fee wars have been dominated by the likes of Vanguard and Charles Schwab (SCHW) - Get Charles Schwab Corporation Report trying to outdo each other by offering the lowest cost products. For comparison purposes, the Vanguard Energy ETF (VDE) - Get Vanguard Energy ETF Report charges an expense ratio of 0.14%. Clearly there is room for more competition and many industry experts believe that there is an opportunity for expense ratios to fall even further.
How do you integrate these ETFs into your portfolio?
The benefit of investing in sector ETFs is that it gives your portfolio concentrated exposure in an area of the market that you feel will outperform over time. As a portfolio manager, I like to use these types of funds to strategically position my asset allocation to add alpha over a core holding such as the Vanguard Total Stock Market ETF (VTI) - Get Vanguard Total Stock Market ETF Report.
Growth investors that are looking for exposure to areas that are continuing to lead the market higher may want to consider an allocation to either the Fidelity MSCI Consumer Discretionary Index ETF (FDIS) - Get Fidelity MSCI Consumer Discretionary Index ETF Report or Fidelity MSCI Information Technology Index ETF (FTEC) - Get Fidelity MSCI Information Technology Index ETF Report. Both of these high octane segments are benefiting from the strength of positive earnings momentum and strong cyclical demand. If the market continues to churn to new highs, these sectors will likely outperform in the fourth quarter.
More conservative investors might be attracted to the pace of the Fidelity MSCI Consumer Staples Index ETF (FSTA) - Get FIDELITY COVINGTON TRUST MSCI CONSUMER STAPLES INDEX ETF Report which focuses on companies that are engaged in manufacturing or delivering essential everyday products. This sector benefits from inelastic consumer demand and historically tends to be a more defensive area of the market if we hit a rough patch.
Bottom Line
It will be exciting to watch any future product launches from Fidelity along with how they continue to integrate these products on their platform. One potential area of future growth would be to offer these ETFs in 401(k) plans.
This is one spot that ETFs have yet to make significant inroads into and coincidentally a very big part of Fidelity's retirement business. They would certainly have the muscle to make ETFs more accepted in employer sponsored plans and continue to lower retirement savings costs.
No matter what sector you ultimately choose, remember to thoroughly research fees, underlying holdings, index structure, and trading commissions to determine the most suitable holding for your portfolio. A little bit of legwork ahead of time can significantly improve your total return over the long term.
At the time of publication the author had no position in any of the stocks mentioned.
This article was written by an independent contributor, separate from TheStreet's regular news coverage.
David Fabian is a managing partner at FMD Capital Management, a fee-only registered investment advisory firm specializing in exchange-traded funds. He has years of experience constructing actively managed growth and income portfolios using ETFs. David regularly contributes his views on wealth management in his company blog, podcasts and special reports. Visit
to learn more.