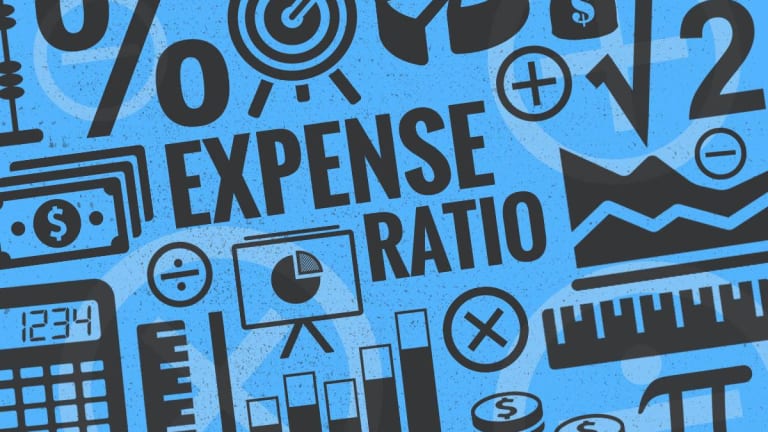 What is an Expense Ratio and What Does It Mean for You?
Knowing a fund's expense ratio can help you save money and find better mutual funds, and ETF's, with some good research
If you want to know how mutual funds and exchange-traded funds pass on their costs to investors, then get to know expense ratios.
These "under the radar" expenses are deducted from fund investors' returns, and should be acknowledged and understood by investors who want to know the total cost of doing business with a mutual fund or ETF firm. That "cost of doing business" is a fund's management expense ratio -- one of the most overlooked (by investors, anyway) costs on the investment landscape.
Expense Ratios Defined
The fund management expense ratio is the annual fee that funds or ETFs charge their shareholders to cover the fund's yearly expenses -- it doesn't include any trading fees or brokerage costs incurred.
Expense ratios are the method fund companies use to calculate the costs of operating their mutual funds and ETFs. They're what Wall Street refers to as "back office" expenses - fund companies's costs for things like trade execution, portfolio management expenses and marketing and distribution, among other operational costs.
Investors see a fund's expense ratio expressed in percentage terms, not in cash terms. For example, in 2017, actively-managed mutual fund expense ratios stood at 0.78 percent, down from 0.82 percent in 2016, according to the Investment Company Institute.
That 0.78 percent equates to $78 for every $10,000 invested by a fund. A similar study from Morningstar shows an 0.52 percent average expense ratio when open-ended mutual funds and RTF are placed in one category.
The annual expense ratio is formulated by a simple accounting calculus: divide a fund's operational expenses by its average net assets. By and large, if fund assets are growing faster than costs, fund shareholders will benefit from a lower expense ratio percentage.
These costs aren't as obvious to a fund's investors as fees and commissions, which, again, are not included in the expense ratio calculus. That said, expense ratio costs have just as much impact as fund management fees to your investment portfolio bottom line.
Annual Gross Expense Ratio Vs. Annual Net Expense Ratio
Basically, there are two expense ratio models - annual gross expense ratio and annual net expense ratio.
Here's a snapshot of both, defining them and explaining their differences:
Annual Gross Expense Ratio
A mutual fund's or ETF's annual gross expense ratio is the percentage paid to the fund from assets accumulated from participating shareholders. The gross expense ratio factors in myriad costs associated with operating a fund, including the following:
Fund distribution
Accounting
Investment advisory services
Fund board of directors
Custodial costs
Legal costs
Shareholder reporting expenses
Dividends and interest-related charges on borrowed shares.
Transfer agency costs
Gross expense ratios on mutual funds and ETFs do not include fund sales charges or any brokerage costs. You can find a fund's gross expense ratios in its annual report or on the fund's website.
Annual Net Expense Ratio
This ratio, also known as the "audited ratio," is defined as the percentage of assets a mutual fund or ETF paid for fund management costs and fund operating expenses, and includes all of the above costs related to a fund's annual gross expense ratio, minus the dividends and interest on borrowed securities
The key differences between the two expense ratios can be summed up this way:
--- The gross annual expense ratio is the percentage of fund assets used to operate the fund before any fee waivers or reimbursements.
--- The net expense ratio is what fund shareholders pay to be invested in the fund after fee waivers or reimbursements.
Prospectus Gross Expense Ratios Vs. Prospectus Net Expense Ratios
Mutual fund and ETF investors concerned about the operational costs of their funds and what that means to them should also understand prospectus gross expense ratio and prospectus net expense ratio.
Prospectus gross expense ratio
The gross expense ratio is defined as the percentage of a mutual fund's or ETF's assets as management fees and operational expenses, but it does not include sales charges and brokerage expenses.
Prospectus net expense ratio
This ratio reflects the percentage of mutual fund or ETF assets steered toward a fund's operating expenses and fund management fees. It's basically a list of fund expenses, minus brokerage costs and sales charges, and is calculated into the fund's net asset value (NAV.) Like a gross expense ratio, the prospectus net expense ratio is defined in a fund's prospectus.
The key difference here is that net expense ratios are deducted from the share price after waivers and reimbursements (i.e., discounts and fee waivers smaller funds use to attract more shareholders.) In other words, the next expense ratio represents the actual payment a shareholder must make as a percentage of fund assets under management.
What is a Typical Expense Ratio Outcome?
Fund investors can and should shop around for the best deal they can get for mutual fund and ETF expense ratios. (ETF.com does a good, user-friendly job of breaking down and comparing fund expense ratios.)
Make no mistake, keeping a sharp eye on fund expenses can save you big money on your portfolio investments. Take a mutual fund that charges a 2% annual fee. If the fund earns 10% on its returns, that's great. But you've also lost 20% of the profit via high fund expense fees.
While you'll want to keep your fund expense ratio down as much as possible, expect to see most expense ratios landing in the 0.5%-to-0.75% for actively managed mutual funds, and around 0.25% for exchange-traded funds, which historically offer lower fees, costs and expense ratios than traditional mutual funds.
By and large, any fund expense ratio over 1% should be considered high on the expense scale and thus deserves more scrutiny from cost-minded investors.
It's also worth noting that fund expense ratios vary from one fund category to another, and from one fund investment strategy to another. Foreign funds, for example, cost more to operate as research and staffing needs can add to a fund's operational costs. Conversely, a benchmark ETF, like one that simply tracks the S&P 500 stock index, is essentially on auto-pilot once it's set up, and thus would have a lower expense ratio.
Here's a list of average fund ratios, by common fund categories, listed in the ICI study:
Common stock mutual funds = 0.63% fund expense ratio.
Hybrid mutual fund expense ratios = 0.74% fund expense ratio.
Bond mutual fund expense ratios = 0.51% fund expense ratio.
Money market fund expense ratios = 0.18% fund expense ratio.
Target date fund expense ratios = 0.51%
Equity index fund (ETF) expense ratios = 0.09%
Fund expense ratios on different sub-types of investment categories should also be reviewed. For example, large company mutual funds often have expense ratios of around 1.25% - on the high side of the fund expense equation. But you can get many of the same stocks in an S&P 500 index fund, and pay about 0.15% in expense fees.
Start your research on fund expense ratios in a fund's prospectus, or on data-heavy financial fund rating sites like Morningstar. You can also get fund and ETF fee advice from TheStreet.com. Just plug in a fund's name or fund trading symbol and you'll get a look at its expense breakdown.
With expense ratios generally in decline over the past few years, there's really no good reason to pay more than 1% for a fund expense ratio -- especially as so many ETF expenses have dropped below 0.20%.