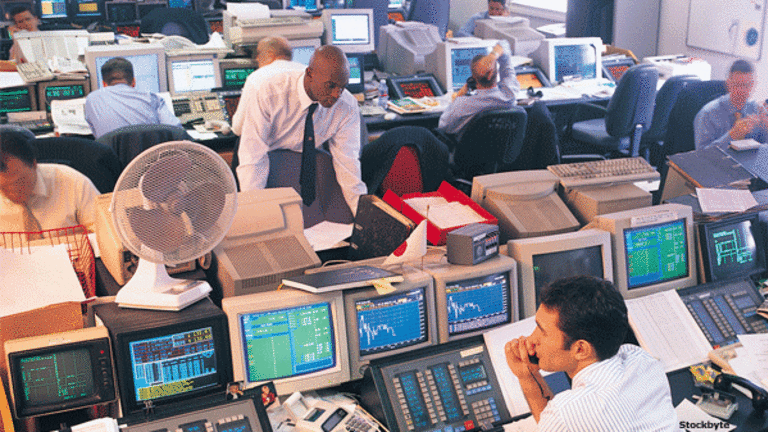 Publish date:
ETFs With Credit Risk
An increasing number of EFTs use derivative contracts to achieve their investment goals.
An increasing number of EFTs use derivative contracts to achieve their investment goals.
Investors should beware of the increasing number of ETFs that use derivative contracts to achieve investment objectives. While the use of swaps has helped many ETF issuers provide investors with exposure to previously inaccessible regions of the market, these ETFs layer another dimension of risk onto already-concentrated investment objectives.
Before investing in ETFs like
U.S. Natural Gas
(UNG) - Get Report
or
Direxion Daily Financial Bear 3X
(FAZ) - Get Report
, investors must understand the counterparty risk involved in achieving these fund objectives.
Traditional ETFs track an underlying index and are representative of a basket of stocks.
The iShares Dow Jones U.S. Financial Sector Index Fund
(IYF) - Get Report
(IYF) - Get Report
, for example, tracks the Dow Jones U.S. Financials Index, essentially a basket of the stocks like
JPMorgan Chase
(JPM) - Get Report
and
Bank of America
(BAC) - Get Report
. Investors can simply visit the fund's website to see how many shares of each financial firm are represented in the overall ETF.
Ultra and leveraged ETFs use traditional indices plus swaps to achieve an investment objective. The
ProShares UltraShort Financials ETF
(SKF) - Get Report
also uses the Dow Jones U.S. Financials Index. Instead of tracking a basket of stocks, SKF tracks a combination of financial instruments such as futures and swaps.
The prospectus for SKF describes swaps as complex instruments with counterparty risk:
"Swap agreements are two-party contracts entered into primarily with institutional investors for a specified period ranging from a day to more than one year. In a standard "swap" transaction, two parties agree to exchange the returns.... The Funds are subject to credit or counterparty risk on the amount each Fund expects to receive from swap agreement counterparties. A swap counterparty default on its payment obligation to a Fund may cause the value of the Fund to decrease."
Complex financial derivatives, like swaps, have been the target of scrutiny in the past. Credit default swaps have been at the heart of many of the problems in the banking sector. While swaps are useful to execute certain transactions, their counterparty risk and regulatory standards can make them hazardous to unwitting investors.
Managers of the UNG recently announced that they would decline to issue newly-approved shares of the fund and seek out alternative investment strategies such as swaps. This decision comes in the wake of a series of hearings by the Commodities Futures Trading Commission (CFTC).
UNG currently uses both futures contracts and swaps to track the spot price of natural gas.
New CFTC regulations could potentially cap the amount of futures contracts that the fund can own, causing the fund to utilize other securities to track its underlying index.
In preparation for new regulation, UNG managers have been selling natural gas futures contracts and purchasing large over the counter swaps. These swaps are not subject to the same regulations as futures contracts traded on the New York Mercantile Exchange.
The potential dangers of swaps-based ETFs have already been displayed on international exchanges. Several ETFs issued by
ETF Securities
were forced to suspend trading because they were backed by swaps issued by
AIG
(AIG) - Get Report
. The credit risk from the massive firm called into question the counterparty arrangements that underlied the ETFs.
ETF investors should demand transparency when it comes to ETFs that use swaps to achieve objectives. Counterparty risk is a huge concern in an unstable economic environment and this information should be as readily available to customers as is the holdings that underlie equity-based ETFs.
At the time of publication, Dion had no positions in the stocks mentioned.
Don Dion is president and founder of
, a fee-based investment advisory firm to affluent individuals, families and nonprofit organizations, where he is responsible for setting investment policy, creating custom portfolios and overseeing the performance of client accounts. Founded in 1996 and based in Williamstown, Mass., Dion Money Management manages assets for clients in 49 states and 11 countries. Dion is a licensed attorney in Massachusetts and Maine and has more than 25 years' experience working in the financial markets, having founded and run two publicly traded companies before establishing Dion Money Management.
Dion also is publisher of the Fidelity Independent Adviser family of newsletters, which provides to a broad range of investors his commentary on the financial markets, with a specific emphasis on mutual funds and exchange-traded funds. With more than 100,000 subscribers in the U.S. and 29 other countries, Fidelity Independent Adviser publishes six monthly newsletters and three weekly newsletters. Its flagship publication, Fidelity Independent Adviser, has been published monthly for 11 years and reaches 40,000 subscribers.