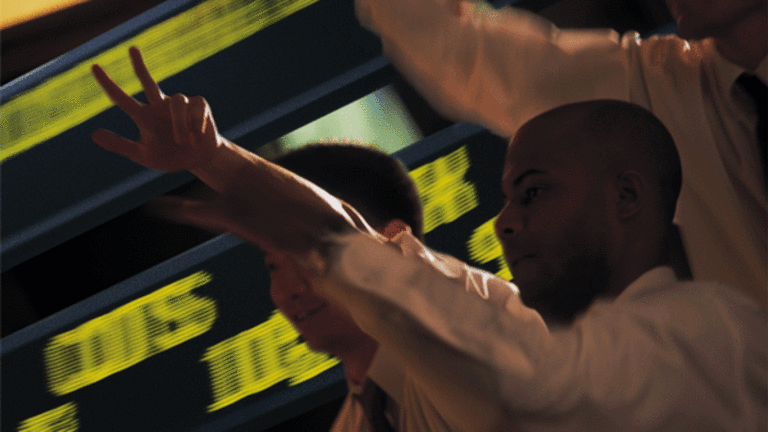 ETFs to Play Ford-Toyota News
Ford is destined to gain market share at the expense of Toyota's problems. For a diversified approach to investing in Ford, look at these ETFs.
NEW YORK (TheStreet) -- In the last quarter, Ford Motor Company (F) - Get Ford Motor Company Report swung to its first quarterly profit in the past five years and there are plenty of indicators that suggest a bright outlook for one of the first automakers in the United States.
From a fundamental perspective, things seem to be heading in the right direction for Ford. The company remains competitive, has indicated positive operating cash flows and has boasted a 22% increase in revenue from a year ago. Additionally, Ford was the only large U.S. automaker to make it through the global financial meltdown without reorganizing under a government-managed bankruptcy.
Ford is destined to gain market share at the expense of
Toyota's
(TM) - Get Toyota Motor Corp. Report
problems. Toyota has suspended sales of eight of its top sellers and Ford produces several vehicles that are direct competitors to the recalled and suspended Toyotas.
To further add appeal to Ford's vehicles, the company has been focusing on fuel efficiency, compressed natural gas, electric vehicles and cars that utilize bioethanol-gasoline blends. The company currently sells 13 different bioethanol-gasoline types, such as E85, that power vehicles in North America and Europe. It has also recently teamed up with
Southern California Edison
(SCE)
to examine the future of plug-in hybrids in terms of how home and vehicle energy systems will work with electrical grids. These measures have paid off for the Detroit-based firm as its Ford Focus, which is deemed as a "green car" has been a hit among automobile consumer.
From a technologically innovative perspective, Ford is the first automaker to offer HD radio on iTunes in select models, which is likely to bolster its appeal to the consumer in the age range of 18 to 35.
On a global platform, Ford continues to be a dominant player. A recent study indicates that one in every six new vehicles in the United Kingdom is a Ford. Additionally, the company's dominance and presence in the Asia Pacific region is increasing as Ford has captured nearly 20% of all new auto sales in Australia.
Lastly, some economists and auto analysts expect demand for automobiles to gradually increase as nations around the world emerge from the recession and start to pave the path to economic growth.
In a nutshell, it appears that the company founded by Henry Ford is likely to have a bright future and offer opportunity. For a more diversified approach to investing in Ford, consider the following ETFs:
Although there are numerous positive forces that are likely to enable Ford to reap the benefits, it is equally important to keep in mind the expiration of government stimulus programs, like "cash for clunkers" and other risks that could cause equities to decline in value. A good way to protect against these risks is through the use and implementation if an exit strategy that triggers price points at which an upward trend could potentially be coming to an end.
According to the latest data at
, the price points for Ford and the aforementioned ETFs are F at $10.20; XLY at $28.57; PEZ at $19.28; and PRF at $45.95. These price points fluctuate on a daily basis and reflect changes in market conditions. Updated data can be found at www.SmartStops.net.
Written by Kevin Grewal in Laguna Niguel, Calif.
Kevin Grewal serves as the editorial director and research analyst at The ETF Institute, which is the only independent organization providing financial professionals with certification, education, and training pertaining to exchange-traded funds (ETFs). Additionally, he serves as the editorial director at SmartStops.net where he focuses on mitigating risks and implementing exit strategies to preserve equity. Prior to this, Grewal was an analyst at a small hedge fund where he constructed portfolios dealing with stock lending, exchange-traded funds, arbitrage mechanisms and alternative investments. He is an expert at dealing with ETFs and holds a bachelor's degree from the University of California along with a MBA from the California State University, Fullerton.