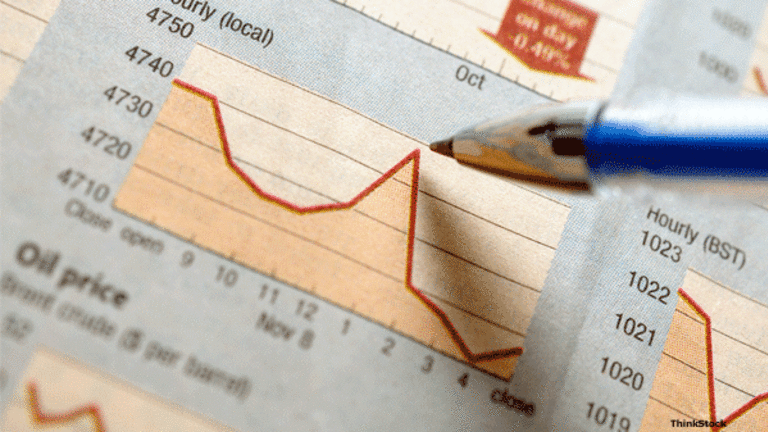 ETFs: The Most Dangerous
These exchange-traded funds have layers of risk to go with complex strategies.
Editor's note: This is the final installment of our series on the 10 Most Dangerous ETFs. Be sure to read Part 1 and Part 2.
NEW YORK (
) -- These ETFs have layers of risk heaped onto already complex strategies. Internal and external forces have made them riskier than they outwardly appear, so it is especially important for investors to understand the multiple reasons why these funds are the most dangerous for buy-and-hold investors.
These funds --
United States Natural Gas
(UNG) - Get Free Report
,
PowerShares DB Crude Oil Double Short ETN
(DTO) - Get Free Report
and the tandem of
Direxion Daily Financial Bull 3X Shares
(FAS) - Get Free Report
and
Direxion Daily Financial Bear 3X Shares
(FAZ) - Get Free Report
-- can wreck your portfolio.
Most Dangerous ETFs
var config = new Array(); config<BRACKET>"videoId"</BRACKET> = 41821271001; config<BRACKET>"playerTag"</BRACKET> = "TSCM Embedded Video Player"; config<BRACKET>"autoStart"</BRACKET> = false; config<BRACKET>"preloadBackColor"</BRACKET> = "#FFFFFF"; config<BRACKET>"useOverlayMenu"</BRACKET> = "false"; config<BRACKET>"width"</BRACKET> = 265; config<BRACKET>"height"</BRACKET> = 255; config<BRACKET>"playerId"</BRACKET> = 1243645856; createExperience(config, 8);
3.
Direxion Daily Financial Bull 3X Shares
(FAS) - Get Free Report
and
Direxion Daily Financial Bear 3X Shares
(FAZ) - Get Free Report
.
While sophisticated traders may find these funds effective daily hedges for more complex strategies, they can be devastating to buy-and-hold investors who don't understand their objectives.
Volatile markets can erode leveraged strategies over time, a challenge that FAS and FAZ have recently faced. Here's the math problem with leveraged ETFs: These funds are designed to give you three times the return of their underlying indexes on a daily basis.
Each day, these funds "reset," compounding returns over time. Direxion recently executed
in both of these funds because their prices fell so dramatically.
2
.
United States Natural Gas
. As the Obama administration makes efforts to coordinate regulatory authorities and crack down on commodity speculators, UNG has found itself in the headlines. UNG's complex underlying strategy has been made riskier by regulatory uncertainty. Here are the top three reasons why investors should avoid UNG.
The strategy: In theory, UNG and United States Oil are "purer" plays on oil and natural gas prices than other ETFs like iShares Dow Jones US Oil & Gas Exploration (IEO) - Get Free Report and Energy SPDR (XLE) - Get Free Report that track equities. While UNG is designed to reflect natural gas prices, it tracks the near-month futures contracts for natural gas, not the spot price.This methodology inherently causes the fund to deviate from its objective, a problem that USO has also encountered.
Creation confusion: The price of an ETF should reflect the underlying value, or NAV, of the fund. Unlike closed end funds or mutual funds, ETFs achieve their tracking objectives by the creation and redemption of shares.Regulatory limits caused UNG's creation process to grind to a halt back in July. As fund managers waited for the SEC to approve more shares, UNG began trading at a massive premium to its underlying value.
UNG's future: After a summer of premiums, the SEC has approved additional UNG shares, and the fund managers will begin issuing new shares on Sept. 28. As UNG is once again allowed to operate as designed, the creation of new shares should cause the fund to once again trade in line with its underlying value. This shift should eliminate the premium and pop the UNG bubble.
1
.
PowerShares DB Crude Oil Double Short ETN
.
The strategy: DTO tracks a basket of futures contracts and employs leverage to achieve its strategy. Futures are inherently volatile and leverage adds volatility, so DTO can be one wild ride. Since DTO is structured as an ETN, rather than an ETF, it is also exposed to the credit risk of its issuer. In an era where once-solid banks have crumbled, credit risk is more of a concern than ever before.
Bad genetics: When DTO was originally released, it was paired with the PowerShares DB Crude Oil Double Long ETN (DXO) . On Sept. 9, DXO was shut down by its managers because the fund's size had triggered regulatory limitations. While DTO has yet to achieve the popularity of its former pair, investors in this fund should be wary of a potential shut-down.
Regulatory smackdown: As regulators home in on ETFs like UNG and DTO that use derivative contracts to achieve their objectives, DTO could face double the regulatory restrictions in the months to come. Increased position limits, or restrictions on the number of futures contracts a fund can own, would affect both UNG and DTO and impact their creation process.
The Financial Industry Regulatory Authority has also recently issued warnings about the risks of leveraged funds.
Additional margin requirements
will be imposed on Dec. 1. Since DTO is both leveraged and futures-based, this fund faces double the regulatory uncertainty in the months ahead.
Normally, futures-based and leveraged products like UNG and DTO would be appropriate for sophisticated investors who understand the underlying risks. Because of the regulatory uncertainty, however, these products could be dangerous to any investor if requirements suddenly change.
As ETF assets grow, and exciting new products make their debut, it is an exciting time to invest in the ETF industry. New issuers are offering the next generation of ETF products, while increased competition is helping to drive down fund fees.
Investors can safely participate in this environment by following a few basic rules. First, make sure you understand the objective of any fund that you invest in. Secondly, make sure you understand how that ETF plans to achieve its objective. Third, make sure the fund has adequate liquidity and investor interest to make trading safe.
Enjoy the increasing selection of ETFs and avoid dangerous funds.
-- Written by Don Dion in Williamstown, Mass.
At the time of publication, Dion had no positions in the stocks mentioned.
Don Dion is president and founder of
, a fee-based investment advisory firm to affluent individuals, families and nonprofit organizations, where he is responsible for setting investment policy, creating custom portfolios and overseeing the performance of client accounts. Founded in 1996 and based in Williamstown, Mass., Dion Money Management manages assets for clients in 49 states and 11 countries. Dion is a licensed attorney in Massachusetts and Maine and has more than 25 years' experience working in the financial markets, having founded and run two publicly traded companies before establishing Dion Money Management.
Dion also is publisher of the Fidelity Independent Adviser family of newsletters, which provides to a broad range of investors his commentary on the financial markets, with a specific emphasis on mutual funds and exchange-traded funds. With more than 100,000 subscribers in the U.S. and 29 other countries, Fidelity Independent Adviser publishes six monthly newsletters and three weekly newsletters. Its flagship publication, Fidelity Independent Adviser, has been published monthly for 11 years and reaches 40,000 subscribers.