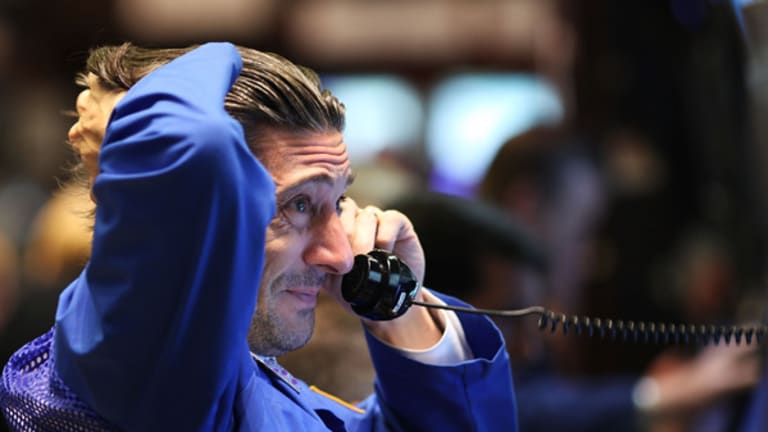 Publish date:
ETFs That 'Lose Less' Can Earn You More
In a two-year crisis (and counting), finding outperforming ETFs may be a matter of perspective. Take a look at this list.
In a two-year crisis (and counting), finding outperforming ETFs may be a matter of perspective. Take a look at this list.
The following commentary comes from an independent investor or market observer as part of TheStreet's guest contributor program, which is separate from the company's news coverage.
NEW YORK (
) -- Motivational speakers frequently explain that the Chinese word for "crisis" or "wei-ji," represents a combination of "danger" ("wei-xian") and "opportunity" ("ji-hui"). That said, how much opportunity can be found in crisis after catastrophe after calamity?
For instance, the PIGS (Portugal, Italy, Greece, Spain) have been responsible for staggering levels of market volatility for 24 months. Time and again, one or more of these debt-laden countries have caused conditions many market watchers would describe as chaotic.
Indeed, I have made sure to have negligible direct exposure to European equities for at least the last two years. Even when a number of credible experts began suggesting that enhanced Eurozone coordination in recent weeks has reduced risks, there has been scant evidence for the containment of rising debt yields.
Actually, it gets worse than that. It's one thing to watch the Italian yield curve invert and discuss the unsustainable path for Italy with a 7.4% 10-year note. It's another thing to recognize that the costs of intra-bank lending via increasing three-month LIBOR rates and the inability of banks to use government bonds as collateral are creating a liquidity crunch. (Review, "
3 Reasons Why Stock ETF Investors Must Tread Lightly
.")
In other words, just when we thought that U.S. recession risks were fading, investors have to consider the implications of a recession in Europe. Similarly, just when we thought that the recent earnings season had demonstrated the flexibility and sustainability of corporations in the world environment, investors may have to factor in which companies might be the most damaged by European unrest.
While skyrocketing Italian bond yields will send Eurozone policymakers back to the drawing board, the year-to-date results for the S&P 500 aren't all bad. The benchmark remains 12% above the closing lows of October; moreover, the
SPDR S&P 500 Trust
(SPY) - Get Report
is only down about 1% with dividends reinvested.
Perhaps the question isn't whether the next "euro-plan" will send the
Dow
up or down 350 points. Instead, investors may need to recognize that the ETFs which lose less during a two-year crisis (and counting) create more profitable opportunities than other asset choices.
Here, then, are the percentage returns for a variety of risk assets -- for Wednesday, 11/9 and for the prior two years:
Keep in mind, these results go back to November of 2009. And the prevailing wisdom is that -- in spite of bearish corrections in 2010 and 2011 -- risk assets have trended higher. Typically, this would mean that the riskier, the more the reward.
However, in the "uptrend" the best returns have come from assets that do not lose as much in the one-day collapses or the bearish corrections. Diversified high-yield bond ETFs like PHB have seen less downside pain than the S&P 500 on these occasions, but have outperformed on the upside.
The same can be said for higher-yielding ETFs (e.g., Pipeline Partnerships ETFs, Dividend ETFs, etc.) as well as non-cyclicals (e.g., Pharma ETFs, Staples ETFs, Utilities ETFs.). Each and every one has out-hustled the broader domestic and broader world benchmarks.
Some may erroneously conclude that it is merely a case of defensive equity positioning. In truth, it has a lot to do with cash flow and mathematics. Nearly all of the "lose less" performers generate greater cash flow than the S&P 500, and that cash flow accumulates over several years.
In addition, when the broader benchmarks have had a bear of time recovering from -17%, -18%, -19% declines in 2010 and in 2011, the "lose less" crowd typically needed to make up half the ground. The less territory an asset needs to retrace, the more new territory it can claim.
Disclosure Statement: ETF Expert is a website that makes the world of ETFs easier to understand. Gary Gordon, Pacific Park Financial and/or its clients may hold positions in ETFs, mutual funds and investment assets mentioned. The commentary does not constitute individualized investment advice. The opinions offered are not personalized recommendations to buy, sell or hold securities. At times, issuers of exchange-traded products compensate Pacific Park Financial or its subsidiaries for advertising at the ETF Expert website. ETF Expert content is created independently of any advertising relationships. You may review additional ETF Expert at the site.