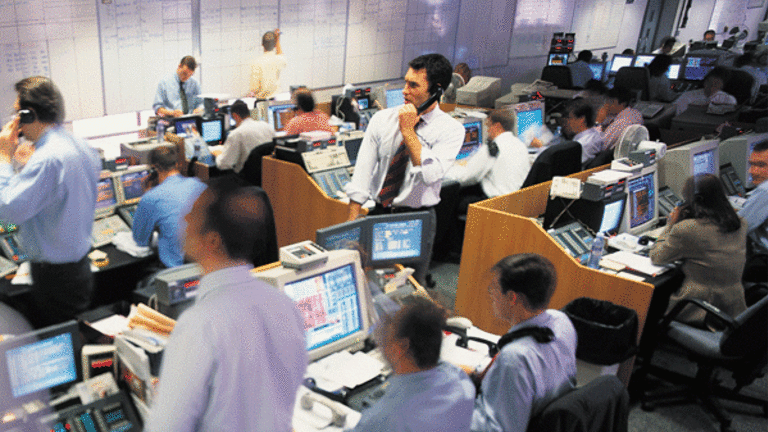 ETFs That Have Fallen and Can't Get Up
Comparing so-called drawdowns reveals which funds may decline the most in the next market crash.
Comparing so-called drawdowns reveals which funds may decline the most in the next market crash.
It was an apocalyptic year for stocks, with an avalanche of selling burying exchange traded funds with long positions in equities. By measuring the maximum drawdown for each fund in 2008, you can see which dug the smallest and largest holes for themselves.
A drawdown is the biggest decline from peak to trough over a particular time frame. This reveals the largest loss an unleveraged investor may have suffered buying and holding an investment over the past 12 months.
Drawdown calculations provide a method for comparing the relative risk of a fund compared with its peers. The bigger the absolute value of the greatest decline suffered by a security, the riskier it is deemed to be.
The bottom line is that if it fell that much once, it could do it again.
The
PowerShares QQQ
(QQQQ)
, which tracks the Nasdaq-100 Index, plunged as much as 49.4% in its worst period from early June to mid-November. The
Dow Jones Industrial Average's
Diamonds Trust
(DIA) - Get Report
had a drawdown of minus 41.1% and the
SPDR Trust
(SPY) - Get Report
of the S&P 500 Index was at minus 46.7%.
From their lows, the Nasdaq-100, Dow Industrials and S&P 500 would have to rally back 97.5%, 69.6% and 87.6% just to get back to breakeven.
These market proxies represent a mid-point between exchange traded funds that took serious damage and those cut down to their ankles.
Three of the five ETFs with the smallest drawdowns target the consumer staples sector of personal care products, drugs, beverages, food and tobacco, with companies like
Procter & Gamble
(PG) - Get Report
,
Wal-Mart
(WMT) - Get Report
,
Philip Morris
(PM) - Get Report
and
Coca-Cola
(KO) - Get Report
.
The
Consumer Staples Select Sector SPDR Fund
(XLP) - Get Report
had the smallest drawdown of any long equity ETF over the past year at minus 24.2%.
The other two ETFs with deep flesh wounds are even more highly focused on a subset of products that people with health insurance resist forgoing even in a recession. They hold biotechnology and pharmaceuticals companies such as
Genentech
(DNA)
,
Amgen
(AMGN) - Get Report
and
Gilead Sciences
(GILD) - Get Report
.
The second-smallest ETF drawdown, of minus 25.9%, was the
Biotech HOLDRs Trust
(BBH) - Get Report
.
Going from serious injury to living on life support, we see five ProShares Ultra sector ETFs that failed to avoid cataclysmic declines, from basic materials stocks, financials, real estate, semiconductors and so-called growth companies.
Leverage of 200% to the daily performance of basic materials stocks like
DuPont
(DD) - Get Report
,
Dow Chemical
(DOW) - Get Report
and
Alcoa
(AA) - Get Report
ushered in a drawdown mutilation of minus 91.9% for
ProShares Ultra Basic Materials
(UYM) - Get Report
. An amazing 1,133% moon-shot return would be necessary to climb back to the top.
Another fund that went down and stayed down, the
ProShares Ultra Financials
(UYG) - Get Report
had a drawdown of minus 91% on holdings of
Wells Fargo
(WFC) - Get Report
,
JPMorgan Chase
(JPM) - Get Report
and
Citigroup
(C) - Get Report
. Again, just over a 1,000% return would return it to pre-crash levels. Don't hold your breath.
Source: TheStreet.com Ratings, Read this for an explanation of our ratings,
.
Kevin Baker became the senior financial analyst for TSC Ratings upon the August 2006 acquisition of Weiss Ratings by TheStreet.com, covering mutual funds. He joined the Weiss Group in 1997 as a banking and brokerage analyst. In 1999, he created the Weiss Group's first ratings to gauge the level of risk in U.S. equities. Baker received a B.S. degree in management from Rensselaer Polytechnic Institute and an M.B.A. with a finance specialization from Nova Southeastern University.