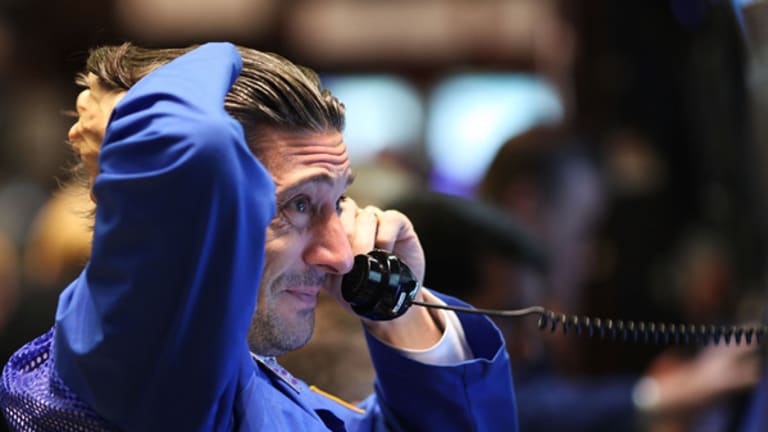 ETFs: Survival of the Fittest
Investors need to know the market dynamics behind the growth of popular funds and death of bad ones.
Investors need to know the market dynamics behind the growth of popular funds and death of bad ones.
NEW YORK (
) -- The rapid expansion of the ETF industry has been tempered by a Darwinian-like natural selection process that helps to protect investors against
.
In order to invest successfully and safely, investors must be aware of the unique structure of these funds and the market forces that help to perpetuate popular ETFs while killing off weaker funds.
Is the ETF marketplace oversaturated? Yes. Will issuers keep dumping new funds into the marketplace? Yes. Are some of the new ETFs dangerous? Yes. Is this situation a bad one for investors? No.
ETF issuers chase trends in the marketplace while trying to establish first-mover status in new, exotic fund areas. ETFs that were launched during the summer of 2009 reflect the trends that are making headlines in the financial world.
The debut of the
Emerging Global Shares Dow Jones Emerging Markets Financials Titans Index Fund
(EFN)
and
Market Vectors Vietnam ETF
(VNM) - Get Report
underscored the renewed appetite for risk in the wake of the global financial crisis. The release of the
Pimco 1-5 Year U.S. TIPS Index Fund
(STPZ) - Get Report
and
ETFS Silver Trust
(SIVR) - Get Report
reflected ongoing concerns about inflation.
Just because an ETF makes it into the marketplace, however, doesn't guarantee the fund's success. The pedal hits the medal when new ETFs begin trading continuously throughout the trading day, and investor interest begins to drive creation. As the assets of a fund grow, authorized market participants create additional shares to meet investor demand.
One quick way to gauge the investor interest in a fund is to check out the three-month average daily trading volume, available on sites like Yahoo! Another good test is to divide the number of outstanding shares by the number of shares per creation unit. This information is usually available on a fund's Website and in the fund prospectus. It is a good way to see how many additional units, outside of the first few of seed capital, have been created to satisfy investor need.
Not all ETFs attract the investor interest that is needed to survive. The first ETF closing happened in 2003, a decade after the first ETF hit the market. As is still often the case, the first four funds to close were part of a series. Between 2003 and 2007, just one additional ETF, the SPDR O-Strip, closed its doors.
A change occurred, however, when the ETF banner year of 2007 was followed by the economic downturn of 2008. Nearly 300 ETFs joined the market during 2007, and the economic realities of 2008 revealed that the ETF industry had grown too large too fast. In 2008, a total of 58 ETFs closed down, many due to lack of investor interest.
The ETF market is growing once again, and the same natural selection will come into play. Savvy ETF investors will avoid low-volume funds while benefiting from new copy-cat funds that attract large volume due to attractive features like lower fees. Investors who are able to strike this balance will benefit from the surging growth in the ETF industry.
While natural selection is the main way in which exchange traded products are eliminated, other outside forces can sometimes kill off a fund. On Sept. 9,
the $407 million in outstanding notes that comprised its
DB Crude Oil Double Long ETN
(DXO)
.
Even though DXO had a huge average daily trading volume of nearly 13 million shares, PowerShares decided to
due to regulatory pressure.
Rather than fretting about the explosion of the ETF industry and the proliferation of sub-par ETF products, investors should learn to read the clues supplied by a fund's open market trading. Average daily trading volume and total assets are easy statistics to find when analyzing an ETF. There are two sides to every trade, and when it comes to buying and selling ETFs, you want to make sure you have plenty of company.
-- Written by Don Dion in Williamstown, Mass.
At the time of publication, Dion did not have any positions in the ETFs mentioned.
Don Dion is president and founder of
, a fee-based investment advisory firm to affluent individuals, families and nonprofit organizations, where he is responsible for setting investment policy, creating custom portfolios and overseeing the performance of client accounts. Founded in 1996 and based in Williamstown, Mass., Dion Money Management manages assets for clients in 49 states and 11 countries. Dion is a licensed attorney in Massachusetts and Maine and has more than 25 years' experience working in the financial markets, having founded and run two publicly traded companies before establishing Dion Money Management.
Dion also is publisher of the Fidelity Independent Adviser family of newsletters, which provides to a broad range of investors his commentary on the financial markets, with a specific emphasis on mutual funds and exchange-traded funds. With more than 100,000 subscribers in the U.S. and 29 other countries, Fidelity Independent Adviser publishes six monthly newsletters and three weekly newsletters. Its flagship publication, Fidelity Independent Adviser, has been published monthly for 11 years and reaches 40,000 subscribers.