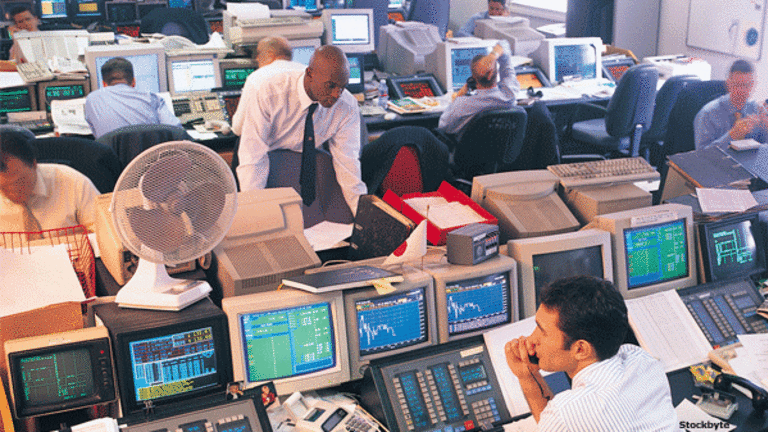 ETFs for Rich Draw Little Interest
Barclays' new ETFs that are aimed to the wealthy are not going over well because of their lack of transparency and limited availability.
NEW YORK (
) -- While
Barclays'
(BCS) - Get Free Report
new Wealth ETF Tactical Allocation BETA Portfolios are a unique stop forward for the much-anticipated active ETF industry, these asset allocation strategies eschew many of the basic characteristics of ETFs that have made the funds so popular.
The eight new portfolios are geared toward wealthy investors, with at least $10 million in assets, who are looking to open small, actively managed accounts. These strategies are intended to be applied to a small account like a trust.
Limited availability and lack of transparency will make these strategies hard for many ETF investors to swallow. At the same time, the launch of these ETF portfolios reflects an
towards broader asset allocation strategies and long-term management products traditionally seen in the mutual fund industry.
Thus far, the hotly anticipated, actively managed ETF products have had trouble gaining traction. Investors accustomed to using low-priced ETFs to target specific sectors and themes have been slow to adopt higher-priced active strategies that are often less transparent in their objectives and defined in their scope.
While the new Barclays products will be available only to select investors with large accounts, a number of actively managed funds are currently available to U.S. investors on the major exchanges.
Grail Advisors launched the
Grail American Beacon Large Cap Value
(GVT)
in early May 2009. The active ETF issuer followed GVT's debut with four other active ETFs in early October, including the
RP Technology ETF
(RPQ)
and
RP Financials ETF
(RFF)
.
Thus far, the average daily trading volume for these funds has been low,with GVT averaging 3,600 shares a day and RPQ and RFF attracting just 837 and 812 respectively.
The
AdvisorShares Dent Tactical ETF
(DENT)
, launched Sept. 16, has attracted slightly more investor interest than some of its peers. It still has a
of just 15,500 trading on an average day.
Because of the fund's low liquidity, trading has been erratic. For the one-month period ended Oct. 23, DENT was up 1.83%.
Fees are one of the key reasons why investors have been slow to take to actively managed ETF products. DENT has a management fee of 0.95% and a total expense ratio of 1.56%. GVT has a net expense ratio of 0.79% and a gross expense ratio of 0.85%.
While GVT and the passive
Vanguard Value ETF
(VTV) - Get Free Report
share many top holdings like
JPMorgan Chase
(JPM) - Get Free Report
and
Bank of America
(BAC) - Get Free Report
, VTV's expense ratio is just 0.15% for its passive value strategy.
As firms like
and Vanguard plan their own active ETF offerings, it seems like active ETFs are coming, ready or not.
Issuers are trying to shape the way that investors utilize ETFs by integrating the funds into everything from 401k plans to other long-term investing strategies.
It remains to be seen how quickly this shift will take place for investors themselves. The ETF industry continues to grow at a rapid pace, and many of the qualities associated with traditional ETFs are attracting an increasingly larger pool of investors.
As investors consider active funds, they should make sure that the strategies are transparent and cost effective. Because active funds are still unproven, it's best to stick to the sidelines until track records develop.
-- Written by Don Dion in Williamstown, Mass.
At the time of publication, Dion did not hold positions in any of the equities mentioned.
Don Dion is president and founder of
, a fee-based investment advisory firm to affluent individuals, families and nonprofit organizations, where he is responsible for setting investment policy, creating custom portfolios and overseeing the performance of client accounts. Founded in 1996 and based in Williamstown, Mass., Dion Money Management manages assets for clients in 49 states and 11 countries. Dion is a licensed attorney in Massachusetts and Maine and has more than 25 years' experience working in the financial markets, having founded and run two publicly traded companies before establishing Dion Money Management.
Dion also is publisher of the Fidelity Independent Adviser family of newsletters, which provides to a broad range of investors his commentary on the financial markets, with a specific emphasis on mutual funds and exchange-traded funds. With more than 100,000 subscribers in the U.S. and 29 other countries, Fidelity Independent Adviser publishes six monthly newsletters and three weekly newsletters. Its flagship publication, Fidelity Independent Adviser, has been published monthly for 11 years and reaches 40,000 subscribers.