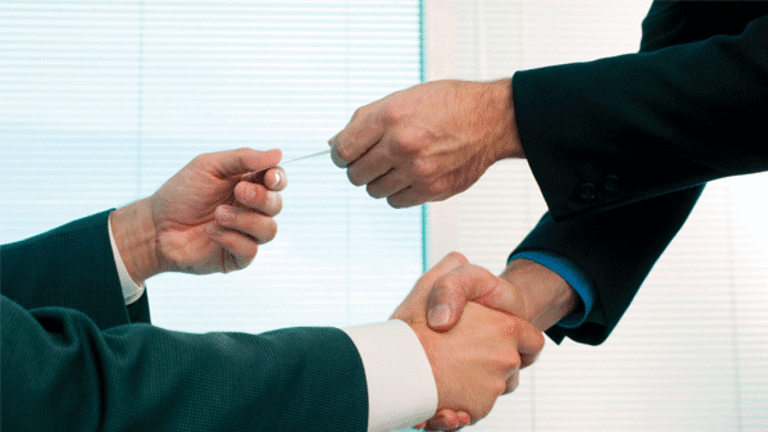 ETFs for a Likely Tech Boom
As the economy tries to mend the wounds caused by the recession, the technology sector is likely to boom. Here are some ETFs to play.
By Kevin Grewal, Editorial Director at www.SmartStops.net
NEW YORK (
) -- As the economy starts to show signs of prosperity and tries to mend the wounds caused by the recession, the technology sector is likely to boom.
For starters, the sector appears to have strong fundamentals and is relatively cheap as compared to other sectors. In fact, as a whole, the sector boasts a projected five year PEG ratio of 1.1, which indicates that value on the expected growth of the sector is prevalent. In general, a lower PEG translates to higher value because an investor would pay less for each unit of earnings growth.
Additionally, big technology companies are known to hoard cash, which makes it that much easier to expand into new businesses and hold onto competitive advantages. With excess cash, these companies are able to take on risk without being at the mercy of a tight credit market.
According to a recent study by the
Wall Street Journal
, tech giants
Apple
(AAPL) - Get Apple Inc. (AAPL) Report
,
Oracle Corp.
(ORCL) - Get Oracle Corporation Report
,
Google
(GOOG) - Get Alphabet Inc. Class C Report
and
Microsoft
(MSFT) - Get Microsoft Corporation (MSFT) Report
, along with six other companies, have accumulated a whopping $68.5 billion in new cash over the past two years and are putting it to use.
Google has entered the mobile phone and computer operating systems market, trying to grab a piece of the pie from both Apple and Microsoft. Microsoft has used some of its cash to enter the search engine business and compete with Google. It has also launched a new operating system, Windows 7, which is expected to run on the majority of personal computers by the end of 2011. As for Apple, it is using its cash to remain innovative by developing the hyped iPad as well as enter new markets through acquisitions. Enterprise software giant Oracle used its excessive cash to expand its business arm into the computer hardware business through its acquisition of Sun Microsystems.
To add icing to the cake, history suggests that companies tend to increase their technology budgets as economies enter periods of recovery, which will likely be beneficial for all of these companies.
To get diversified exposure to these technology behemoths, some possible plays include:
Technology Select Sector SPDR (XLK) - Get Technology Select Sector SPDR Fund Report, which holds Microsoft, Apple, Google and Oracle in its top holdings. XLK closed at $23.00 on Thursday and is up 52% over the last year. PowerShares QQQ( QQQQ), which mimics the technology driven Nasdaq 100 and gives exposure to IP-based networking giant Cisco Systems (CSCO) - Get Cisco Systems, Inc. Report and wireless communications giant Qualcomm (QCOM) - Get QUALCOMM Incorporated Report in addition to the previously mentioned companies. QQQQ is up 62% over the last year and closed at $47.83 on Thursday. Software HOLDRs (SWH) : 38.4% of its asset base belongs to Microsoft and Oracle. SWH also gives ample exposure to one of the world's largest enterprise application software for corporations, SAP AG (SAP) - Get SAP SE Sponsored ADR Report. The ETF closed at $42.61 on Thursday and has gained nearly 53% over the last year.
Although the positives outweigh the negatives, it is important to keep in mind the inherent risks and increased volatility that comes with investing in the technology sector. A good way to mitigate these risks is through the implementation of an exit strategy that triggers price points at which an upward trend could potentially be coming to an end.
According to the latest data at
, an upward trend in the mentioned ETFs could come to an end at the following price points: XLK at $22.27; QQQQ at $46.14; SWH at $41.51. These price points change on a daily basis as market conditions fluctuate; updated data can be found at www.SmartStops.net.
Written by Kevin Grewal in Laguna Niguel, Calif.
Kevin Grewal serves as the editorial director and research analyst at The ETF Institute, which is the only independent organization providing financial professionals with certification, education, and training pertaining to exchange-traded funds (ETFs). Additionally, he serves as the editorial director at SmartStops.net where he focuses on mitigating risks and implementing exit strategies to preserve equity. Prior to this, Grewal was an analyst at a small hedge fund where he constructed portfolios dealing with stock lending, exchange-traded funds, arbitrage mechanisms and alternative investments. He is an expert at dealing with ETFs and holds a bachelor's degree from the University of California along with a MBA from the California State University, Fullerton.