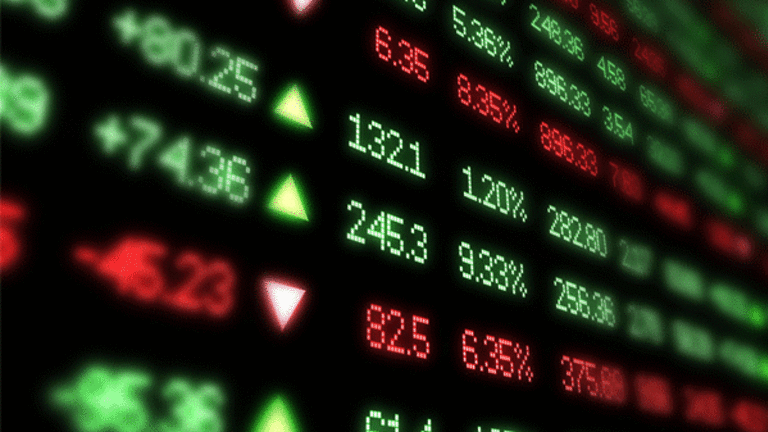 ETFs for a Gold Standard
Here are a variety of miner and bullion-linked products that could work if central banks moved to a gold standard.
Here are a variety of miner and bullion-linked products that could work if central banks moved to a gold standard.
NEW YORK (TheStreet) -- I have consistently advised investors to gain exposure to gold through the use of various ETF products. With economic turmoil still raging across many regions of the globe, prices have risen to staggering all-time highs, making for an attractive destination for frightful investors.
With discussions heating up this week in light of the G20's meeting, the prospects for the yellow metal and the funds designed to track it appear promising.
Video: Safe Way to Play $1,400 Gold >>
In a Sunday opinion piece for the
Financial Times
, World Bank President Robert Zoellick proposed that leading world economies may want to consider using gold as a standard for their currency valuations in order to inject stability.
Zoellick's surprising suggestion is already drawing criticism, fanning the fiery debate over whether the world would benefit from a return to the gold standard. According to
The Wall Street Journal
, UBS has already called the idea of returning to the gold standard absurd.
The World Bank president's statement has fueled conversation but it is unclear if and how it will influence the discussions when the G20 representatives meet in Seoul, South Korea later this week. Still, it is interesting to consider which funds would benefit in the event that a gold standard is adapted.
Moving away from fiat currencies in favor of a gold standard would likely benefit gold-related investing products across the board. Today, investors can gain access to gold through exposure to bullion and miners.
Bullion-backed funds such as
iShares Gold Trust
(IAU) - Get Report
and
SPDR Gold Shares
(GLD) - Get Report
track their own respective stockpiles of physical gold held in vaults around the world. These funds are designed to rise and fall with the changes in the prices of the actual metal.
In the event that central banks around the world agree to adapt a gold standard, they will have to increase their stockpiles of the metal. This uptick in demand would, in turn, drive prices higher, benefiting IAU, GLD and other products boasting exposure to physical gold bars and coins.
If a gold standard is implemented and central bank demand for gold takes off, companies such as
Barrick Gold
(ABX)
,
Gold Fields
(GFI) - Get Report
and
Goldcorp
(GG)
which are responsible for unearthing the commodity will see a lift as well, benefiting from rising prices.
A number of ETFs dedicate their portfolios to companies in this market space. The two most popular products which investors will want to keep an eye on will be the
Market Vectors Gold Miners ETF
(GDX) - Get Report
and
Market Vectors Junior Gold Miners ETF
(GDXJ) - Get Report
.
Investors can also use mutual fund products such as the
Toqueville Gold Fund
(TGLDX) - Get Report
and the
Fidelity Select Gold Fund
(FSAGX) - Get Report
to access the gold industry. While, like GDX and GDXJ, these funds are heavily dedicated to miners, in both cases a certain percentage of their assets are dedicated to physical bullion.
Although both miner and bullion-linked products will benefit in the event that central banks return to a gold standard, physically-based products will likely be the most stable options. Due to their exposure to equities, the stock market will be a major influence on the performance of funds such as TGLDX and GDX. Despite their exposure to gold, in the event that the markets see a dive, these funds would still be in for a rocky ride.
Whether or not a return to the gold standard is brought up this week when the G20 meets, it will be interesting to pay attention to how the inevitable currency-related conversation plays out.
Written by Don Dion in Williamstown, Mass.
Readers Also Like:
>>Four Ways to Buy Gold at $1,400
At the time of publication, Dion Money Management was long iShares Gold Trust and Market Vectors Gold Miners ETF.
Don Dion is president and founder of
, a fee-based investment advisory firm to affluent individuals, families and nonprofit organizations, where he is responsible for setting investment policy, creating custom portfolios and overseeing the performance of client accounts. Founded in 1996 and based in Williamstown, Mass., Dion Money Management manages assets for clients in 49 states and 11 countries. Dion is a licensed attorney in Massachusetts and Maine and has more than 25 years' experience working in the financial markets, having founded and run two publicly traded companies before establishing Dion Money Management.
Dion also is publisher of the Fidelity Independent Adviser family of newsletters, which provides to a broad range of investors his commentary on the financial markets, with a specific emphasis on mutual funds and exchange-traded funds. With more than 100,000 subscribers in the U.S. and 29 other countries, Fidelity Independent Adviser publishes six monthly newsletters and three weekly newsletters. Its flagship publication, Fidelity Independent Adviser, has been published monthly for 11 years and reaches 40,000 subscribers.