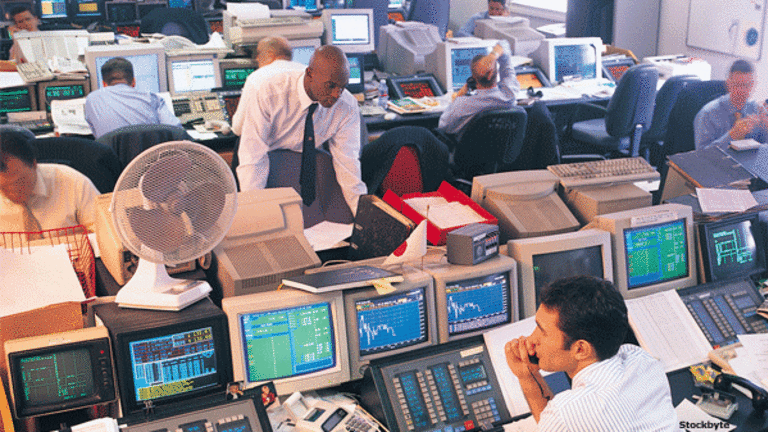 ETFs: Coal vs. Natural Gas
Pending legislation will have a significant impact upon the coal and natural gas industries. Here's what ETF investors need to know.
Pending legislation will have a significant impact upon the coal and natural gas industries. Here's what ETF investors need to know.
NEW YORK (
) -- The debate is heating up in Congress over the final shape of legislation aimed at reducing global warming. The outcome will have important repercussions for the coal and natural gas industries, and energy-focused ETF investors need to pay close attention to what's going on.
Investors can't buy a coal ETF that directly invests in coal, but they can buy an ETF that holds natural gas futures. Unfortunately, even with a recent 12% rally,
United States Natural Gas
(UNG) - Get Report
still deserves "the widow-maker" nickname that it picked up during its long, drawn-out decline to sub-$10 levels.
However, it is possible to compare
Market Vectors Coal
(KOL) - Get Report
and
First Trust ISE-Revere Natural Gas
(FCG) - Get Report
, the two heavyweight ETFs in this space.
KOL has had a distinct advantage this year, with a 96% return vs. the 30% return for FCG. One factor helping coal has been the climate-change legislation that passed the House of Representatives in June, but now the Senate is working on its own bill, and the legislation could change.
Natural gas emits less CO2, making it more popular with environmentalists, but coal prices have been more stable over time, making it more popular with utilities. Some environmentalists point out that new solutions for coal emissions will make it cleaner in the long run, though natural gas is a cleaner fuel in terms of extraction. However, none of these facts matters in the end.
The reality is that 535 legislators in Washington with questionable scientific knowledge -- Nancy Pelosi did say, "I believe in natural gas as a clean, cheap alternative to fossil fuels," on "Meet the Press" last year, twice -- and limited math skills are going to decide which fuels win out. Just as the government allowed
Lehman Brothers
and
Bear Stearns
to fail, but bailed out
AIG
(AIG) - Get Report
,
Citigroup
(C) - Get Report
,
Bank of America
(BAC) - Get Report
and
Goldman Sachs
(GS) - Get Report
, it will decide which fuel wins.
Right now, natural gas is in trouble because coal has political protection. As I briefly mentioned in "
Natural Gas Heads for Super Contango
," natural gas faces a competitive threat from alternative energy, which would receive benefits under the House legislation. An executive of
Devon Energy
(DVN) - Get Report
was quoted by
giving the following blunt assessment: "By allowing free emission allowances to maintain coal production from existing coal plants, while providing mandates that there be more wind and solar, you squeeze gas out in the middle."
If climate-change legislation passes as currently written, coal has an edge over natural gas. KOL beats FCG, hands down. However, if climate-change legislation passes, will it be a Pyrrhic victory? Higher energy prices will crimp demand to the point that coal and natural gas may be fighting over which industry will lose the least.
The only clear winner from cap-and-trade is nuclear energy. The existing legislation would allow nuclear utilities to lift prices in tandem with other producers, but because nuclear utilities emit no CO2, their price increases all would drop to the bottom line. In that case,
Market Vectors Nuclear
(NLR) - Get Report
may be the best bet in ETFs. Alternative energy ETFs such as
Market Vectors Solar
(KWT)
and
PowerShares WilderHill Clean Energy
(PBW) - Get Report
should benefit as well. Also, consider
SPDR KBW Capital Markets
(KBW)
, which has Goldman Sachs as its top holding. Carbon trading will be a lucrative business.
Assuming legislation passes but becomes more favorable to natural gas, in a head-to-head comparison, Market Vectors Coal (KOL) bests First Trust ISE-Revere Natural Gas (FCG) because it has global exposure. If carbon taxes lead to lower economic growth, most of the companies in FCG will be hurt. KOL has more international holdings, with Chinese and Indonesian companies dominating the top 10. Plus, close to 50% of its assets are overseas. Even if developing countries come to the table and accept limits on CO2 emissions, their solution will be to adjust the future mix of energy sources, not limit current usage.
Lastly, when investing, the most important question is price and what's baked into that price. Right now, natural gas is trading at very low levels due to near-term supply and demand imbalance, and it is fighting an uphill battle in Congress. Therefore, at this moment, FCG may in fact be the better choice between these two ETFs. However, the impact of pending legislation creates uncertainty and the fortunes for coal and natural gas could change dramatically. Investors should exercise caution in this space.
-- Written by Don Dion in Williamstown, Mass.
At the time of publication, Dion had no positions in securities mentioned.
Don Dion is president and founder of
, a fee-based investment advisory firm to affluent individuals, families and nonprofit organizations, where he is responsible for setting investment policy, creating custom portfolios and overseeing the performance of client accounts. Founded in 1996 and based in Williamstown, Mass., Dion Money Management manages assets for clients in 49 states and 11 countries. Dion is a licensed attorney in Massachusetts and Maine and has more than 25 years' experience working in the financial markets, having founded and run two publicly traded companies before establishing Dion Money Management.
Dion also is publisher of the Fidelity Independent Adviser family of newsletters, which provides to a broad range of investors his commentary on the financial markets, with a specific emphasis on mutual funds and exchange-traded funds. With more than 100,000 subscribers in the U.S. and 29 other countries, Fidelity Independent Adviser publishes six monthly newsletters and three weekly newsletters. Its flagship publication, Fidelity Independent Adviser, has been published monthly for 11 years and reaches 40,000 subscribers.