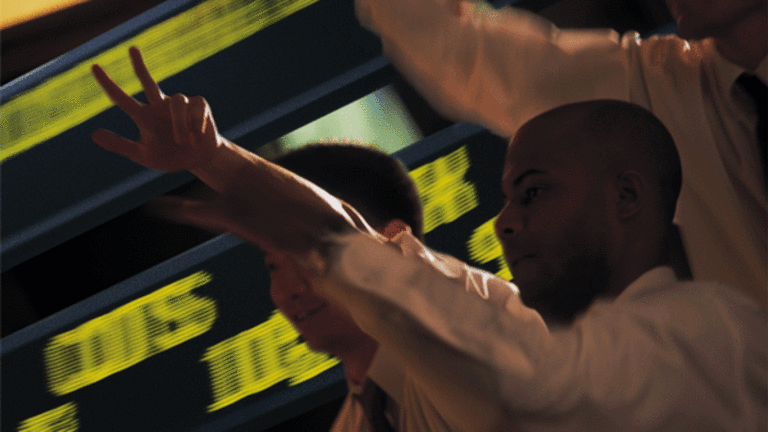 ETFs Challenge Mutual Funds Again
The ETF industry will take another swipe at mutual funds with the release of four active ETFs from Grail Advisors Thursday.
NEW YORK (TheStreet) -- The ETF industry will take another swipe at mutual funds with the release of four active ETFs from Grail Advisors today.
The actively managed funds -- RP Growth, RP Focused Large Cap Growth, RP Technology and RP Financials -- are designed to challenge the established world of actively managed mutual funds.
Will the release of the new active ETFs signal the death of mutual funds? Not so fast. Grail's first active ETF offering, the
Grail American Beacon Large Value ETF
(GVT)
, has just $3 million in assets. Actively managed products from PowerShares have also struggled to take hold.
Retirement investing is a trillion dollar industry dominated by money managers, 401(k) and pension plans, and buy-and-hold strategies. It is also an industry that has long been dominated by mutual funds. It is no wonder that the booming ETF industry is looking to swipe a piece of the retirement investing pie.
ETF investors often highlight the differences between ETFs and mutual funds to make the case for ETF superiority. ETFs are traded throughout the trading day, unlike mutual funds, making it easy for investors to trade in and out of positions. ETFs also have lower fees and higher transparency, making their strategies accessible.
While these differences have helped the ETF industry grow at such an amazing rate, these differences will make it particularly difficult for actively managed ETFs to target actively managed mutual funds and succeed.
ETFs and mutual funds trade in different ways -- a key difference that threatens the success of active ETFs the most. Mutual funds are priced once a day, and buyers and sellers are sure to get that price, which represents the value of the underlying portfolio.
ETFs trade on an exchange throughout the day; a huge indicator of the success of a fund is its average daily trading volume. A high trading volume can indicate investor interest and the growth of a particular fund. High trading volume is also an indication of liquidity, which allows investors to easily buy and sell shares.
So far, the earliest actively managed ETFs have not had success in drawing high trading volume. Grail's first actively managed ETF, the American Beacon Large Value, has a low average daily trading volume of just over 4,000 shares.
It makes sense that actively managed ETFs would be buy and hold strategies, and that consequently, the trading volume would be lower than a daily trading strategy like
Direxion Daily Financial Bull
(FAS) - Get Direxion Daily Financial Bull 3x Shares Report
. Buying into an actively managed ETF will likely be a smooth process.
In order to "seed" these actively managed ETF funds, market participants create several blocks of shares, generally 50,000 to 100,000 at a clip, when the funds debut on the marketplace. The goal, once the fund begins trading, is for the market participants to sell these shares to investors, hedge with the underlying portfolio, and create new units when they run out of the initial ones that they created. (See
)
Usually it is not difficult to get a good price when you are buying a new ETF, no matter how low the trading volume appears to be. The problem often comes when you want to sell shares of an illiquid ETF, and there are no buyers to be found. This difference is a product of the creation and redemption feature of ETFs, and the fact that most authorized participants do not want to have to redeem a small ETF back to zero.
In order to be successful, Grail's new active ETFs will have to find a way to promote liquidity on both the buy and sell side, even if the average daily trading volume of these buy-and-hold funds is low. This may require coordination between retail investors and brokers, or issuers and brokers.
Another obstacle that Grail ETFs will have to conquer is the investor expectation of low ETF fees. The new Grail funds will have a 0.89% management fee, which is significantly higher than most traditional ETF fees in the market today.
Dent
(DENT)
has an even higher management fee of 1.56%. (See
)
Another challenge will be the psychology behind ETF investing. Historically, traditional ETF funds have been driven by institutional volume and traders that use them to hedge or for short-term plays. Active ETFs are targeting an entirely different audience that has not generally used ETFs in the past.
ETFs like
SPDR S&P 500
(SPY) - Get SPDR S&P 500 ETF Trust Report
and
iShares Dow Jones Real Estate
(IYR) - Get iShares U.S. Real Estate ETF Report
track specific, predictable portfolios. Investors can add SPY to gain exposure to the broader market or IYR to gain exposure to real estate. An investor in SPY or IYR can be sure that these funds will continue to fill these roles in their portfolio for the indefinite future.
An actively managed ETF, on the other hand, will have more fluid objectives. For the new Grail Funds launching today, New York-based RiverPark Advisors, assisted by Wedgewood Partners, will pick the components on a day-to-day basis. While ETF investors can make general predictions about what the fund will own, based on the name of the fund, portfolio composition will not be as predictable as it is for traditional ETFs.
A shift from traditional, passive ETFs to active ETFs will require a new audience with different objectives than most of the ETF investors in the market today. These investors certainly exist, as is evidenced by the trillions in retirement savings, but it may take a while for them to warm to the new funds.
Grail is anticipating a rather aggressive roll-out process of 24 to 30 active ETFs over the next year or so. Investors should pay close attention to liquidity, total assets and performance before sampling the new active ETFs. Let these funds establish a track record before piling in for the long term.
-- Written by Don Dion in Williamstown, Mass.
At the time of publication, Dion Money Management was long IYR.
Don Dion is president and founder of
, a fee-based investment advisory firm to affluent individuals, families and nonprofit organizations, where he is responsible for setting investment policy, creating custom portfolios and overseeing the performance of client accounts. Founded in 1996 and based in Williamstown, Mass., Dion Money Management manages assets for clients in 49 states and 11 countries. Dion is a licensed attorney in Massachusetts and Maine and has more than 25 years' experience working in the financial markets, having founded and run two publicly traded companies before establishing Dion Money Management.
Dion also is publisher of the Fidelity Independent Adviser family of newsletters, which provides to a broad range of investors his commentary on the financial markets, with a specific emphasis on mutual funds and exchange-traded funds. With more than 100,000 subscribers in the U.S. and 29 other countries, Fidelity Independent Adviser publishes six monthly newsletters and three weekly newsletters. Its flagship publication, Fidelity Independent Adviser, has been published monthly for 11 years and reaches 40,000 subscribers.